Kaine Says Democrats to Spend Record $50 Million on Elections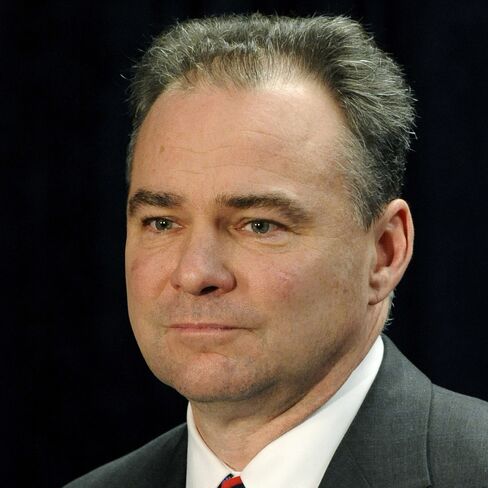 The Democratic National Committee, facing an "uphill" fight to keep its party in control of Congress, plans to spend a record $50 million on this year's election campaigns, said Chairman Tim Kaine.
With a 9.5 percent unemployment rate and slow job growth, President Barack Obama's party is "the underdog" in the November congressional elections, Kaine said. Democrats will cast themselves as "doing the heavy lifting" to restore prosperity in contrast to Republicans "standing in the way" of their efforts, he said.
"We're running into the headwind," Kaine said in an interview conducted by Lizzie O'Leary for Bloomberg Television's "Political Capital with Al Hunt," airing this weekend. "We're running uphill."
To help the party maintain control of Congress, the DNC will spend at least $20 million directly on candidates and $30 million to set up party operations nationwide, he said. "It's an historic investment for the DNC, significantly more than we've ever done in the midterms," Kaine said.
An NBC-Wall Street Journal poll conducted Aug. 5-9 showed that 52 percent of voters disapproved of Obama's management of the economy, compared with 44 percent who approved. With all 435 House seats at stake, Republicans must gain a net 40 seats to take the leadership. Democrats control a 59-41 majority in the Senate, and 37 of those seats are at stake.
"The American people definitely understand that the Republicans put America into a lost decade" with a "combination of tax cuts for the super wealthy and lax regulations and spending without paying for it on two wars," said Kaine, a former Virginia governor.
'Very Good Week'
Democrats had "a very good week," Kaine said, citing the Aug. 10 victory in Colorado's Democratic primary of Senator Michael Bennet, who was supported by Obama. Following a divisive primary, "we see the Democrats pulling together behind the gubernatorial and Senate candidates" in Colorado, Kaine said.
He also said Republican primary victories by Senate candidates backed by the Tea Party movement in Colorado, Nevada, and Kentucky will help Democrats' prospects to retain their hold on the chamber.
The Republican Party's "merger with the Tea Party" has produced "deeply flawed and ideological candidates that are giving us chances to win races that, frankly, six months ago people thought we were going to lose," he said.
Boost for Reid
In Nevada, Sharron Angle's victory in the Republican Senate primary helped boost the chances of Senate Democratic leader Harry Reid, Kaine said.
Reid held a 4 percentage-point advantage over Angle among likely voters in an Ipsos-Reuters poll conducted July 30-Aug. 1. His lead over Angle was within the survey's 4.6-point error margin.
Democrats will highlight the contrasts between their party and Republicans, who have opposed economic-stimulus, health-care overhaul and financial-regulatory legislation, Kaine said.
The congressional campaign will give voters "a very clear choice between a team that has been doing the heavy lifting to get us going again and a Republican Party that has said over and over again they are just going to go back and embrace the same policies" of President George W. Bush "that put us in the tailspin," Kaine said.
The Wall Street Journal-NBC poll found that by a 43-42 percent edge, voters prefer a Congress controlled by Democrats.
That shows "folks can differentiate between the party that's doing the heavy lifting and the party that's just saying 'no' and standing in the way," Kaine said.
'Done Enough'
A spokesman for the Republican campaign committee said the Democratic record will be hard to defend.
"If by doing the 'heavy lifting,' Democrats mean driving up the unemployment rate to 9.5 percent and spending the country into unsustainable debt, then they have done enough already," Ken Spain, a spokesman for the National Republican Congressional Committee, said in an e-mailed comment. "Republican candidates are running on getting the government's fiscal house in order and enacting policies that will encourage job creators to reinvest and prosper."
Before it's here, it's on the Bloomberg Terminal.
LEARN MORE