Hoenig Says Fed Zero-Rate Policy Fans Recovery Doubts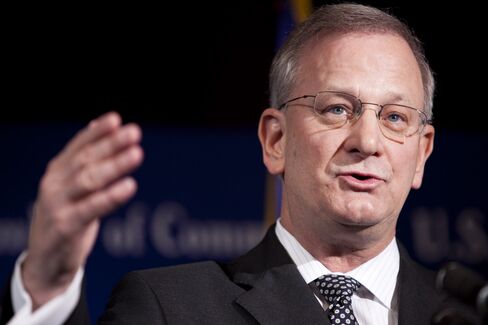 Kansas City Federal Reserve Bank President Thomas Hoenig, stepping up his criticism of Fed policy, said its plan to keep the key interest rate near zero may backfire by fanning doubts the recovery can be sustained.
"If in an attempt to add further fuel to the recovery, a zero interest rate is continued, it is as likely to be a negative as a positive in that it brings its own unintended consequences and uncertainty," Hoenig said today in a speech in Lincoln, Nebraska. Keeping the rate after a year of expansion "gives legitimacy to questions about the sustainability of growth."
Hoenig dissented from this week's decision to bolster the recovery by keeping the Fed's holdings of securities at $2.05 trillion and has objected to every statement this year. The Fed's longest serving policy maker today also dismissed concerns that deflation poses a risk to the recovery, said monetary policy isn't a cure-all for the economy and cautioned that "market participants should not direct policy."
"Of course the market wants zero rates to continue indefinitely," he said. "They are earning a guaranteed return on free money from the Fed by lending it back to the government through securities purchases."
Stephen Stanley, chief economist at Pierpont Securities LLC in Stamford, Connecticut, called Hoenig's speech "a scathing critique of monetary policy now and over the last 10 years."
FOMC 'Panicked'
Hoenig's message is that "the FOMC is panicked and being pushed into hastily-considered bad decisions by the Greek chorus of market participants wailing" with concerns that the U.S. economy faces the prospect of deflation and a relapse into recession, Stanley said in a note to clients.
Hoenig, 63, repeated his proposal for raising the federal funds rate to 1 percent, then pausing for a period of time before raising it toward 2 percent.
"At 1 percent, the FOMC would pause to give the economy time to adjust and to gain confidence that the recovery remains on a reasonable growth path," he said.
"The recovery is proceeding as many economists earlier this year outlined that it would," said Hoenig, who took office in 1991. "It is a modest recovery, with mixed results."
The Federal Open Market Committee decided this week to reinvest proceeds from maturing mortgage-backed securities into Treasuries to support a slowing recovery. The panel kept its main interest rate at zero to 0.25 percent, where it's been since December 2008, and affirmed a pledge to maintain low rates for "an extended period."
Buying Bonds
Hoenig judged that buying more bonds was not "required to support a return to the Committee's policy objectives," according to the Fed statement Aug. 10. He has also objected this year to Fed's "extended period" pledge.
The Fed's Aug. 10 statement has shown little sign of dispelling investor concerns the world's largest economy may slide back into a recession.
A decline in 10-year Treasury yields since the release of the statement hasn't yet filtered through to corporations now paying higher premiums. Corporations' borrowing costs haven't fallen as fast as Treasury yields, with the difference between companies' rates and comparable government securities widening to 1.91 percentage point today from 1.86 point on Aug. 9, according to Bank of America Merrill Lynch index data.
Stocks have declined for the three days since the announcement. The Standard & Poor's 500 Index was down 0.2 percent to 1,081.45 at 2:55 p.m. in New York trading.
Pumped Money
The central bank's total assets, which include loans and securities other than those used for monetary-policy operations, rose to $2.33 trillion last week from $878 billion at the start of 2007 as it pumped money into the financial system to battle the financial crisis.
While the U.S. economy had "some bad numbers in July," adding bonds to the Fed's balance sheet only delayed the central bank's exit from record stimulus, Hoenig said in response to audience questions. Policy makers, while well intentioned, won't know when the time is right to shrink Fed assets, he said.
"We never do," he said. "We wait. Because you never know if the economy is strong enough to pull it out."
Fed Chairman Ben S. Bernanke last month said the outlook for growth was "unusually uncertain," and indicated that signs of deeper economic weakness would be needed to justify more stimulus.
Growth Forecast
Hoenig, by contrast, said the economy is expanding at a faster pace than the last two recoveries and forecast growth of about a 3 percent rate through the remainder of the year.
"Profits are improving and corporate balance sheets for the nonfinancial sector are strengthening and are increasingly able to support investment growth as confidence in the economy rebuilds," Hoenig said.
"Also, although credit supply and demand may be an issue impeding the recovery to some extent, a shortage of monetary stimulus is not the issue," he said.
Hoenig disagreed with colleagues that deflation, or a persistent decline in prices, poses a threat to the economy.
He said the consumer price index hasn't declined "systematically" in more than half a century, and added: "I find no evidence that deflation is the most serious threat to the recovery today."
Hoenig, in response to audience questions, also said he favored an overhaul of Fannie Mae and Freddie Mac, which were set up to inject capital into the housing market and now own or guarantee more than 50 percent of U.S. mortgages. The Fed president said they shouldn't become private companies again.
'Socialized Losses'
"They are not private institutions," he said. "They were subsidized, they were guaranteed, they were nothing but a federal agency. They privatized gains and socialized losses."
Fed Bank of St. Louis President James Bullard last month said the U.S. faces a rising risk of the kind of deflation that plagued Japan in the past decade.
"The U.S. is closer to a Japanese-style outcome today than at any time in recent history," Bullard said in a research paper.
Economists have downgraded their forecasts for the second half of this year. Gross domestic product will expand at an average 2.55 percent annual rate in the last six months of 2010, according to the median of 67 estimates in a Bloomberg News survey taken July 31 to Aug. 9, down from the 2.8 percent pace projected last month.