Gates Urges Congress to Avoid Harmful Military Cuts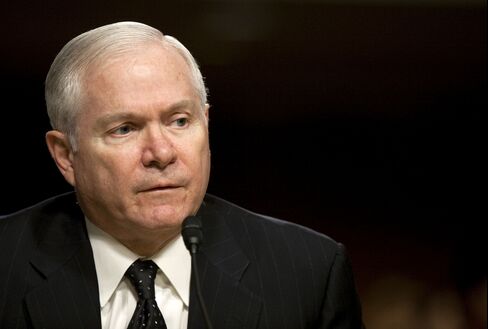 Defense Secretary Robert Gates urged Congress to avoid repeating what he called "the same mistake" made by earlier officials who slashed military spending too deeply in the face of mounting federal debt.
Defense funding has dropped after periods of conflict four times in the past 100 years, gutting national security institutions, Gates told an audience at the Marines' Memorial Club in San Francisco yesterday. The Sept. 11 attacks forced the U.S. to reverse post-Cold War spending cuts to re-arm and improve intelligence capabilities.
"It will be critically important to sustain those capabilities in the future," Gates said. "Yet in the coming years, the pressure will undoubtedly be great to repeat that mistake and to reduce our spending on defense."
Gates is betting he can ward off debilitating defense cuts with reminders of past setbacks and by demanding frugal habits to save $100 billion over five years. He announced the latest belt-tightening this week, proposing to slash spending on contractors and shutter one of the military's 10 combatant commands.
The defense chief aims to reassure lawmakers that the Pentagon isn't seeking to maintain what he called the "post-Sept. 11 spigot of defense spending." He said he favors "modest and sustainable growth" to maintain capabilities and investing "adequately" in weapons needed for future fights.
"It means shifting resources from bureaucracies and overhead to military combat capabilities needed by our combat forces now and in the future," Gates said.
More Cuts
More cuts are on the way. The Army, Navy and the Marines are considering what Gates called "dramatic" changes, yet unspecified, with the savings redirected to their higher priorities.
Gates, visiting a Marine boot camp and graduation in San Diego today, said he received an update this week from service chiefs and secretaries, and that they are taking the task "very seriously."
In the spending plan, Gates is seeking to supplement the planned defense budget growth of 1 percent over inflation with enough savings to allow annual increases of 2 percent to 3 percent for the forces and modernization of weapons.
"Congress could potentially throw a wrench into any of it if they were inclined to do so," said Todd Harrison, a senior fellow for defense budget studies at the Center for Strategic and Budgetary Assessments in Washington. "In the current fiscal environment, it is increasingly difficult for Congress to force DoD to spend money on things it has publicly identified as wasteful and unnecessary."
Foreign Affairs
In response to a question, Gates reiterated criticism that lawmakers aren't providing enough money to the State Department and the U.S. foreign-aid agency, for efforts needed to hold and develop areas recaptured from militants and to prevent conflict.
"Congress is part of the problem," he said, saying lawmakers "whacked" Secretary of State Hillary Clinton's budget request.
In the San Francisco speech, part of a lecture series named for former Secretary of State George Shultz, Gates cited his directive earlier this year to review the force structure of the Marine Corps. He wants leaders to determine the future of the Corps without losing its adaptability and core capabilities such as counter-insurgency.
Future of Marines
"I do think it is proper to ask whether large-scale amphibious assault landings along the lines of Inchon are feasible," Gates told the San Francisco audience, referring to the 1950 invasion in Korea that marked the last U.S. amphibious landing under fire.
"New anti-ship missiles with long range and high accuracy may make it necessary to debark from ships 25, 40 or even 60 miles at sea," Gates said.
Visiting the USS Higgins, an Navy destroyer based out of San Diego, Gates told a gathering of sailors earlier yesterday that the Marine Corps, which has grown to 202,000 personnel, probably would shrink after the current surge of troops in the Afghan war.
The Navy and Air Force probably won't grow, he said. The Army, which has temporary authority to expand by 22,000 personnel from 547,000 so it can increase the amount of time soldiers spend at home, will shrink again by 2013.
Gates sought to reassure a sailor who expressed concern over the cuts on the Higgins yesterday by explaining his plan to redirect savings to personnel and weapons and supplies they need to fight.
"If it works the way I want it to, you get the money," Gates said.