Education's Duncan Cracks Down on For-Profit Colleges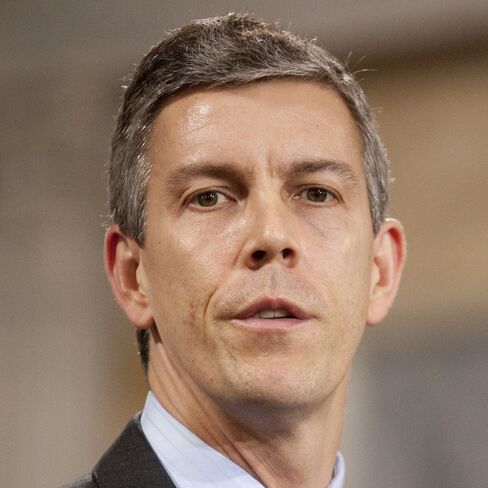 Education Secretary Arne Duncan will step up oversight of federal student financial-aid programs after an undercover government investigation found deceptive marketing practices at 15 for-profit colleges.
Duncan vowed to expand the Education Department's enforcement staff, conduct undercover probes and increase the number of program reviews, according to a letter to Senator Tom Harkin, Democrat of Iowa, that was obtained by Bloomberg News. The education department released data that details the earnings and debt repayment of for-profit college graduates. Proposed agency rules would restrict funds to programs whose graduates have poor records of repaying student loans.
Apollo Group Inc., ITT Educational Services Inc. and Career Education Corp. have fallen in U.S. markets as Harkin has held hearings on sales practices at for-profit colleges and their reliance on federal student grants and loans. The Education Department will hire more than 60 investigators and increase the number of program reviews by 50 percent after the inquiry by the Government Accountability Office, Duncan said in the letter, which was confirmed by the department.
"The unethical and potentially illegal practices uncovered by GAO are unacceptable," Duncan said. "We have a responsibility to ensure that students can make informed choices about investing in postsecondary education, and that taxpayers' investments in the federal student-aid programs are helping students."
Stocks Fall
Apollo Group, the Phoenix-based operator of the University of Phoenix, fell $1.53, or 3.8 percent, to $38.94 at 4 p.m. New York time in Nasdaq Stock Market composite trading. Career Education fell 80 cents, or 4.1 percent, to $18.79. ITT Educational fell $4.97, or 7.2 percent, to $64.33 in New York Stock Exchange composite trading. An index of 12 education stocks fell 5.1 percent and has dropped 27 percent in the past six months.
The Education Department's Inspector General will review the GAO's findings and potentially refer individuals for criminal prosecution, Duncan's letter said. The department is also considering enforcement action against schools that could result either in the return of federal money or the loss of a college's eligibility for federal financial aid, according to the letter.
The industry welcomes additional Education Department scrutiny, Harris Miller, president of the Washington-based Career College Association, said in a telephone interview.
"We look forward to working with the department," said Miller, whose group represents more than 1,400 for-profit colleges. "We're not supportive -- and we've never been supportive -- of schools or employees violating the law or accreditation requirements."
The University of Phoenix supports "robust student protections," Manny Rivera, an Apollo Group spokesman, said in an email.
Career Education, based in Hoffman Estates, Illinois, said any review should focus broadly on all kinds of colleges, spokesman Jeff Leshay said in a telephone interview. Lauren Littlefield, a spokeswoman for Carmel, Indiana-based ITT Educational didn't return a call seeking comment.