Yen Slips From 15-Year High as Officials Say They're Watching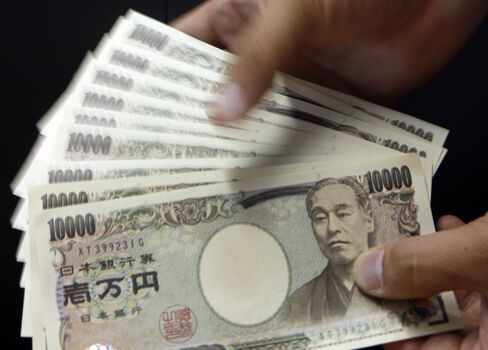 The yen weakened from a 15-year high against the dollar and fell versus the euro after Japanese officials said they're closely watching the rise of the currency, fueling concern its surge in strength may be capped.
Japan's currency dropped against 15 of its 16 major counterparts after Masaaki Shirakawa, governor of the central bank, said policy makers were studying currency markets and how they affected the country's economy. The euro pared a loss versus the dollar, after dropping the most in almost 22 months yesterday, as U.S. jobless-insurance claims unexpectedly rose.
"The fact that officials are becoming a little more vocal about the risks of yen strength to their very fragile economy, that has for the near term slowed its ascent," said Omer Esiner, chief market analyst in Washington at Commonwealth Foreign Exchange Inc., a currency brokerage. "The comments overnight by various Japanese officials have limited the yen's near-term gains."
The yen weakened 0.7 percent to 85.90 per dollar at 5 p.m. in New York, from 85.32 yesterday, when it appreciated past 85 to 84.73, its strongest level since July 1995. The U.S. currency gained as much as 0.6 percent to $1.2781 per euro before trading at $1.2829, up 0.3 percent, after a rally yesterday of 2.4 percent, the biggest since Oct. 24, 2008. The euro rose 0.4 percent to 110.19 yen, from 109.74 yesterday.
The Standard & Poor's 500 Index fell as much as 1.2 percent before paring its drop to 0.5 percent, and the MSCI World Index lost 0.6 percent.
The franc rose against all 16 of its most-traded counterparts as investors sought the Swiss currency as a haven. The Canadian dollar was the second-best performer, while New Zealand's dollar was the worst.
'Intervention Watch'
The Bank of Japan is closely watching "substantial" movements in currency and stock markets, Shirakawa said.
"They keep talking about how they're watching the market," said Brian Kim, a currency strategist at UBS AG in Stamford, Connecticut. "Choppiness in the market is being attributed to people being on intervention watch -- they're trying to play both sides."
Central banks intervene in the foreign-exchange market when they buy or sell currencies to influence exchange rates.
Japanese Finance Minister Yoshihiko Noda, pledging in an unscheduled conference call to work with Shirakawa, said he wasn't planning a phone meeting with Group of Seven counterparts to discuss currency moves.
Weaker-Dollar Benefits
The dollar may rise above 90 yen by year-end as its 8 percent drop this year boosts U.S. exports and eases concern about economic growth, Mizuho Trust & Banking Co. said.
"Once the benefits of a weaker dollar become apparent, we may see U.S. economic reports improve on the back of good corporate earnings," said Masahide Tanaka, a senior strategist in Tokyo at Mizuho Trust, in a Bloomberg interview yesterday. The firm is a unit of Japan's second-largest bank. "The U.S. economic outlook may change by the end of this year."
The euro fell earlier as data from the European Union's statistics office showed output in the euro region's economy dropped 0.1 percent from May, when it increased 1.1 percent. The median forecast of 32 economists in a Bloomberg News survey was for a gain of 0.6 percent.
The Dollar Index, which IntercontinentalExchange Inc. uses to track the currency against those of six U.S. trading partners, including the U.K., Canada and Japan, rose for a fourth day. It gained 0.4 percent to 82.588 after surging yesterday as much as 2.2 percent, the most since January 2009.
Unemployment Claims
Initial jobless claims increased by 2,000 to 484,000 in the week ended Aug. 7, the highest level since mid-February, Labor Department figures showed today in Washington. Economists in a Bloomberg survey forecast a drop to 465,000.
The Federal Reserve said Aug. 10 in its policy statement that "the pace of economic recovery is likely to be more modest in the near term than had been anticipated." Policy makers left the target rate for overnight loans between banks in a range of zero to 0.25 percent, where it's been since December 2008, and said they will reinvest principal payments on mortgage assets into U.S. debt to support the economy.
"The market was looking for the Fed to almost do nothing at this point, to be reassured that things were OK," said Christian Bendixen, director of technical research at New York-based Bay Crest Partners LLP. "And the fact that the Fed started doing something, it made market participants a little nervous."
The yen has risen 13 percent this year, the most among 10 developed-world currencies, Bloomberg Correlation-Weighted Currency Indices show. Its rally has fueled speculation the government may intervene to curb its appreciation.
Bank of Japan
Japan hasn't intervened in the currency markets since March 16, 2004, when the yen was around 109 per dollar. The Bank of Japan sold 14.8 trillion yen ($173 billion) in the first three months of 2004, after record sales of 20.4 trillion yen in 2003.
Iran will reduce the proportion of euros and dollars in its reserves, while maintaining its overseas holdings of the Western currencies, in the face of sanctions over the country's nuclear program, according to a Central Bank official in Tehran.
Dollars already have a smaller role in Iran's trade and the use of euros also will be reduced, though neither will be eliminated from Iran's accounts, Reza Nadali, head of the bank's international department, said today in a phone interview.
Before it's here, it's on the Bloomberg Terminal.
LEARN MORE