Li & Fung Offers to Buy Distributor; Shares Rise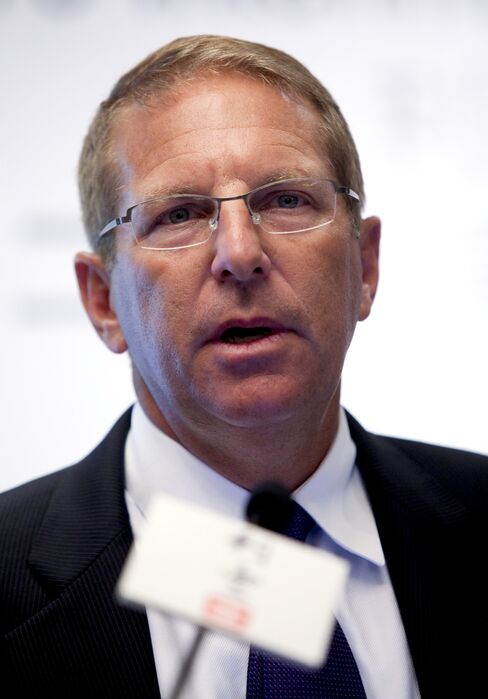 Li & Fung Ltd., the biggest supplier to retailers including Wal-Mart Stores Inc., is offering about HK$7 billion ($901 million) for a distribution company to gain a network in China. Both companies' shares rose in Hong Kong.
The Li & Fung offered HK$21, or 0.585 share for each one in Integrated Distribution Services Group Ltd., according to a statement to Hong Kong's stock exchange today. The cash portion of the offer is 36 percent more than the last closing price before the announcement.
The buyout will boost Li & Fung's revenue from China and Southeast Asia to 12 percent of its total, the Hong Kong- based company estimated. President Bruce Rockowitz today said he's considering acquisitions in Japan as part of the drive to boost the contribution for Asia, which accounted for about 2 percent of sales last year.
"Asia is where the future growth is and the acquisition of Integrated Distribution Services would open possibilities for Li & Fung to participate in the growth," said Morgan Stanley analysts Angela Moh and Penny Tu. They upgraded Li & Fung to "overweight" from "equal-weight" in a note to clients today.
Shares Surge
Li & Fung rose 0.8 percent to close at HK$38.00 on the Hong Kong stock exchange, extending its gain this year to 18 percent, beating a 3.7 percent drop at the city's benchmark Hang Seng Index.
Integrated Distribution Services rose 43 percent to HK$22.00, boosting its gain this year to 95 percent. Trading in both stocks was halted Aug. 10 and resumed today.
Li & Fung links manufacturers to retailers, sourcing goods such as Tommy Hilfiger clothing and Kate Spade bags. It also helps with design, production and shipping.
The IDS acquisition gives Li & Fung full ownership of a business that distributes consumer goods and health-care products in eight Asian nations, including China. The business also represents manufacturers and brand owners.
Li & Fung "management recognizes the need to shift focus to Asia," CLSA Ltd. analysts Aaron Fischer, Huei Suen Ng and Mariana Kou said in a note to clients late yesterday. They raised their share-price estimate for the stock by 12.5 percent to HK$45, retaining their "outperform" rating.
Deutsche Upgrade
Anne Ling, an analyst at Deutsche Bank AG, raised her recommendation to "buy" and boosted here share price target 31 percent to HK$47.05, saying the acquisition of IDS makes it easier to predict the company's growth.
"We have better visibility," Ling wrote in a report today, increasing her rating from "hold." "We believe the outlook for the next three-year plan is more promising."
Integrated Distribution Services, which has a China network covering 150 cities and 10,000 outlets, may add $1.8 billion to Li & Fung sales and $30 million to net income, Rockowitz said.
"This acquisition adds a new market for us," Rockowitz said. "Over the next 10, 20 years, real growth will come from production countries like China, India, as they become consumer-led economies. This launches the third leg, geographically, of our customer base."
Jimlar Acquisition
Li & Fung also this month acquired shoemaker Jimlar Corp., which supplies Coach Inc. and Calvin Klein, and also sells under its own brands Frye, Mountrek and RJ Colt. The cost of buying Jimlar may be $300 million at a price-to- earnings ratio of less than 10 times, the CLSA analysts said, citing the company.
The company made 64 percent of last year's HK$104.5 billion sales ($13.5 billion) in the U.S. and that may go down to 57 percent after the purchase of the distributor, Rockowitz said. Still, he said the U.S. will continue to be the company's biggest market "in my lifetime."
Rockowitz also said there is room to grow in Japan. "We're looking to expand in markets where we're weak, and Japan is one that we're working very hard to fill."
The Hong Kong-based outsourcer's first purchase in Japan will probably be in the clothing industry, he said. "We supply a number of customers in Japan, but business needs to be bigger."
Li & Fung's first-half net income surged 55 percent to HK$2.17 billion, the company said yesterday in a statement, beating analysts' estimates. Earnings per share rose to 56.9 cents a share from 38.1 cents a year ago, with sales gaining 12 percent to HK$51.8 billion.
Profit Growth
The company has increased first-half profit for 15 consecutive years, acquiring rivals and supplying retailers including Target Corp., Kohl's Corp., Marks & Spencer Plc and Inditex SA's Zara. With about $1.2 billion in acquisition funds, the company is considering "a number of deals," Rockowitz said today.
Li & Fung has forecast revenue of $3 billion this year for its U.S. onshore business, under which goods are imported for clients. The rest of its sales are generated by charging a fee for organizing factories and raw materials to make consumer products such as clothes, toys and furniture.
The Hong Kong-based company has been acquiring rivals and signing supply agreements to help meet a sales target of $20 billion this year. It has acquired seven companies and signed four licensing deals this year and they mostly will contribute to earnings in 2011, Rockowitz said.
Li & Fung's biggest shareholders are billionaire brothers Victor and William Fung.
Before it's here, it's on the Bloomberg Terminal.
LEARN MORE