Vein-Popping Stallone Leaps on Seaplane; Aussie Mobsters: Film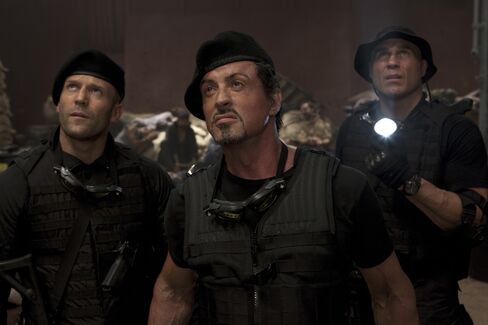 Aug. 12 (Bloomberg) -- Sylvester Stallone has assembled an all-star team of macho men in "The Expendables," his action thriller about a team of mercenaries hired to overthrow a South American dictator. The film has more testosterone than a mating bull.
The cast includes Stallone (who also directs), Jason Statham, Mickey Rourke and Eric Roberts, martial arts master Jet Li, ex-NFL player Terry Crews, former Ultimate Fighting champion Randy Couture and pro wrestling great Steve Austin. Plus cameos by Bruce Willis and California Governor Arnold Schwarzenegger, who took a break from furloughing state workers to film a brief scene in a church.
The methods of death here are varied: People are dispatched with knives, bombs, machine guns and hand-to-hand combat. I lost track of the body count somewhere between the Somali shootout and the exploding dock.
The dialogue will never be confused with Noel Coward and the humor is as subtle as a jackhammer. (The goofy character names include Hale Caesar, Lee Christmas, Toll Road and Yin Yang.) Yet, if you're in the mood for an adrenaline rush and don't mind bucketfuls of blood and earsplitting noise, "The Expendables" can be a guilty pleasure.
Rogue CIA Agent
After warming up by rescuing hostages from savage Somali pirates, Stallone's team heads to South America to overthrow an oppressive regime headed by General Garza (David Zayas.) Things get complicated when they discover the general is a puppet for a rogue former CIA agent (Roberts) who wants to turn the country into a cocaine factory.
There's talk of redemption and doing the right thing, though it's unclear how that applies to soldiers of fortune whose idea of fun is blowing up presidential palaces and flinging knives into their opponents' backs. Not that their enemies are nice guys, either. In what may or may not be torture under U.S. military guidelines, they waterboard the general's turncoat daughter (Giselle Itie), who clearly doesn't believe that father knows best.
With popping veins and bulging biceps, the 64-year-old Stallone still appears fit enough to climb the Rocky steps at the Philadelphia Museum of Art. In one scene, he dives off a dock and grabs onto the side of a seaplane as it takes off. Stallone did the stunt himself, acting like he was expendable.
"The Expendables," from Lions Gate, opens tomorrow across the U.S. Rating: **1/2
'Animal Kingdom'
Aside from baby-eating dingoes and man-killing snakes, Melbourne mobsters may be Australia's most dangerous species.
At least that's the impression I got from "Animal Kingdom," a gripping drama written and directed by David Michod. The story of a criminal family that passes on its crooked genes from generation to generation, the film centers on Joshua "J" Cody (James Frecheville), a teenager who moves in with his grandmother (Jacki Weaver) and her three wayward sons following the death of his heroin-addicted mother.
The eldest son, Pope (Ben Mendelsohn), is an armed robber being hunted by vigilante cops. Brother Craig (Sullivan Stapleton) is a drug-dealing speed addict, while Darren (Luke Ford) is a fashion plate who hangs out in trendy clubs.
Endangered Girlfriend
Joshua soon finds himself enmeshed in a seamy world and must choose between following his family's path or cooperating with a sympathetic detective (Guy Pearce) who wants him to testify against his relatives. Joshua also is worried about the safety of his girlfriend (Laura Wheelwright), who Pope suspects is talking to the cops.
Michod captures the gloomy, dead-end atmosphere of the Melbourne underworld, and the cast has an authentic street-wise flavor.
"Animal Kingdom," from Sony Pictures Classics, opens tomorrow in New York and Los Angeles. Rating: ***


What the Stars Mean:

****          Excellent
***           Good
**            Average
*             Poor
(No stars)    Worthless

(Rick Warner is the movie critic for Muse, the arts and leisure section of Bloomberg News. Opinions expressed are his own.)
To contact the writer on the story: Rick Warner in New York at rwarner1@bloomberg.net.
To contact the editor responsible for this story: Manuela Hoelterhoff at mhoelterhoff@bloomberg.net.