Toyota Shares Fall to 17-Month Low as Yen Nears 15-Year High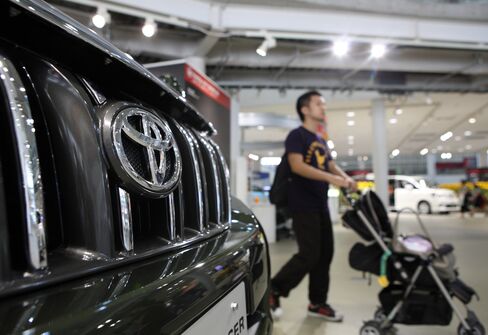 Toyota Motor Corp., the world's biggest carmaker, fell to the lowest since March 2009 after the yen touched a 15-year high against the dollar.
Toyota dropped as much as 49 yen, or 1.6 percent, to 2,971 yen, and traded at 2,987 yen as of 10:40 a.m. in Tokyo, the lowest since March 23 last year.
A stronger Japanese currency cuts the repatriated value of export earnings as well as the yen profit made on cars built outside Japan. Every one-yen gain against the dollar reduces Toyota's annual operating profit by 30 billion yen ($352 million) and by 16 billion yen at Honda Motor Co, Japan's second largest carmaker.
"Toyota's profitability is declining sharply," said Mamoru Kato, a Nagoya, Japan-based auto analyst at Tokai Tokyo Research Center. "It's unlikely the shares will make gains for a while."
While the company left its forecast for the yen against the dollar unchanged at 90 yen on Aug. 4, Toyota is almost certain to revise that outlook when it announces fiscal results for the six months through Sept. 30, Kato said.
Given the current exchange-rate situation, it isn't feasible for the company to export smaller models, less profitable models from Japan, Atsushi Niimi, Toyota's executive vice president for global manufacturing, said in an interview in San Antonio on Aug. 6.
The yen traded at 85.18 per dollar at 8:25 a.m. in Tokyo from 85.32 yesterday, when it touched 84.73, the strongest since July 5, 1995.
'Grave Concern'
""The yen's level exceeds our original projections and is likely to impact domestic production and employment greatly. This is causing grave concern for the industry," Toshiyuki Shiga, chairman of the Japan Automobile Manufacturers Association, said in a statement on Aug. 9. "We ask the government to stabilize the currency while maintaining international cooperation."
Shiga is also chief operating officer of Nissan Motor Co., Japan's third-largest carmaker, which fell 2.7 percent to 621 yen today.
Honda Chief Financial Officer Yoichi Hojo said on Aug. 5 a Japanese production structure based on 85 yen to the dollar would be "disastrous." Honda shares declined 0.9 percent to 2,755 yen.
Before it's here, it's on the Bloomberg Terminal.
LEARN MORE