Woods's Play Has Networks 'Nervous' About Next Television Pacts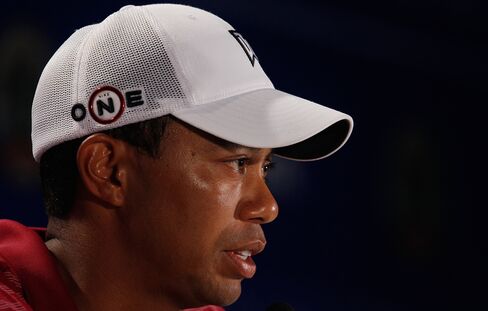 Aug. 12 (Bloomberg) -- Tiger Woods was heading out of Ohio by the time live final-round television coverage of last week's Bridgestone Invitational began.
That's become a familiar occurrence as Woods searches for his first victory since a five-month break from golf following a sex scandal. It's drawn the attention of television networks, led by CBS Corp., the sport's leading broadcaster with 21 tournaments on the U.S. PGA Tour, including this week's PGA Championship.
Ratings for the past two events on CBS -- the Greenbrier Classic and the Bridgestone -- have declined as much as 68 percent from the events held the same weeks a year ago, when Woods won them both. During his 13-year reign over the sport, Woods drove up the value of television contracts to as high as the four-year, $850 million deal that expired after the 2006 season, an increase CBS President Sean McManus termed "inflated." With the PGA Tour's current contracts with CBS and NBC set to run out in 2012, that value may soon deflate. The tour's contract with Comcast Corp.'s Golf Channel expires in 2021.
"This is a business, and right now the networks are nervous," Brad Adgate, research director at Horizon Media, a New York-based advertising company, said in a telephone interview.
Negotiations on new contracts likely won't begin in earnest until next year. McManus said he will keep a close eye on Woods, the No. 1 player in the Official World Golf Ranking and the sport's most valuable commodity.
'Monitor Carefully'
"Fortunately, we have a couple more years to go, but we have to monitor the Tiger situation very carefully and see how often he is in contention and then factor that into all the other variables and try to quantify when you're putting a value on a sports property," McManus said on a media conference call on Aug. 9. "You have to try to figure out what the intelligent bid is."
Ratings alone don't determine future contracts, McManus said. He is also relying on the return on core golf advertisers, such as the financial institutions that have shied away from the sport due to government criticism over the past two years.
"That marketplace, having been very depressed in '08 and '09, has come back very strong this year," McManus said. "So I would say that's a positive factor."
The sport's biggest negative lately has been Woods. At the Bridgestone event in Akron, Ohio, a tournament he had won a PGA Tour-record seven times, Woods finished 18-over-par, 30 shots behind winner Hunter Mahan. It was his worst performance as a professional.
Woods, 34, began his final round at about 7:45 a.m. local time and was out of the Firestone Country Club almost three hours before CBS went on the air at 2 p.m. There was no live coverage of his final round anywhere.
Underdog
Woods's fall has left him an underdog at this week's PGA, where Masters Tournament winner Phil Mickelson, 40, is favored by Las Vegas oddsmakers. Woods remains stuck at 14 major titles, four behind Jack Nicklaus's record, and in jeopardy of failing to qualify for the PGA Tour's season-ending FedEx Cup playoffs. The four-event finale was created in 2007 to coincide with the start of the new television contracts as a way to draw more viewers to golf as football and baseball viewership picks up.
Woods also may not play in the Ryder Cup, the biennial team competition between the U.S. and Europe. He is two spots out of the eight that automatically qualify in the U.S. standings.
Woods's play has left even his opponents wondering when it will turn around, if ever.
"Slumps come with a lot of soul searching," U.S. Open winner Graeme McDowell said in a press conference at Whistling Straits in Kohler, Wisconsin. "You start questioning absolutely every aspect of what you're doing. Questioning the deep, dark, depths of your soul as to what you've done wrong and where you need to go from there. You make some big decisions."
Scores Up, Ratings Down
As Woods's scores have soared, ratings have plummeted.
The final round of the Greenbrier event in White Sulfur Springs, West Virginia, two weeks ago drew a 1.2 national rating compared with a 3.7 rating for the 2009 Buick Open, which was held the same week and won by Woods. This year's tournament, which Woods skipped, was won by Stuart Appleby with a final-round score of 59, only the fifth time a U.S. PGA Tour golfer has broken 60 during tournament play.
Golf Value
Without Woods dominating golf, CBS will have to decide if the sport is worth as much as it has been in the past.
McManus said he "doesn't worry" about how Woods or Mickelson, golf's No. 2-ranked player, fare on the course because he "can't control it."
McManus can control how much CBS spends for a sport that has been migrating to cable. Walt Disney Co.'s ESPN took over early-round coverage of the Masters in 2008 and aired all four rounds of this year's British Open. The Golf Channel airs the first two rounds of 29 PGA Tour events and all four rounds of 14 others.
And with Woods slipping, Adgate said, it wouldn't be surprising to see more weekend coverage of golf tournament being carried on cable when new contracts are negotiated. In the meantime, unless Woods is able to regain his form, advertisers might be looking for some golf bargains.
"Come next year, this could open up," Adgate said. "There are three (advertising) rate cards now. There's Tiger in contention, Tiger not in contention and Tiger not in the field. And two of those three are not good."
To contact the reporter on this story: Michael Buteau in Kohler, Wisconsin at mbuteau@bloomberg.net.
To contact the editor responsible for this story: Michael Sillup at msillup@bloomberg.net