Seared Scallops Meet Naked Tomatoes at Gauthier: Richard Vines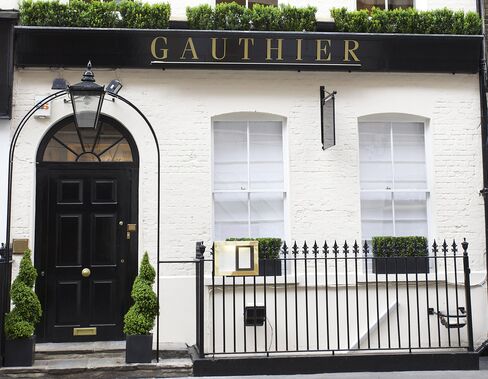 Gauthier is about as polite as a London restaurant can get. You ring the doorbell to gain admission and from then until you are decanted onto the street at the end of your meal, the service is solicitous and unshowy.
It's like a private club: Not the Groucho Club, whose members like to party and where the washrooms warn against drug taking; more like the Carlton, where the main dining room is open to "Members, Lady Associate Members and their guests."
Gauthier is in the heart of Soho, known for its lively bars and diverse sex shops. The previous chef on the site, Richard Corrigan, said he'd miss the crack dealers. At Gauthier, the style is a la Michelin mode and that dodgy geezer acting oddly in the corner is more likely to deal in tires.
(During a closing dinner at Richard Corrigan at Lindsay House last year, the anecdotes flowed as freely as the alcohol. The Irish chef told how he locked himself out after a night of drinking and -- when caught trying to climb in through the window -- had trouble convincing the police in his brogue that he was the owner.)
At Gauthier, diners can mix and match from various courses: There are five for dinner before you even hit the tasting menu. The cooking is modern French: light and seasonal, the vegetables as important as the meat, rather than being the culinary spear-carriers of more traditional cooking.
For lunch (when there are three courses) you might start with seared scallops with confit of tomatoes, red spring onions, and then move on to ricotta gnocchi with yellow and red carrots.
Rich, Beautiful
The portions are aimed at diners with modest appetites --in the hospitality business, they are known as "women" or "ladies" -- and the desserts are as strong as anything else, from a blackberry mille feuille with vanilla ice cream through to a chocolate option that's as rich as it's beautiful.
Each dish is beautifully composed, the elements as polite and harmonious as a string quartet or a performance by Justin Bieber. The word exquisite comes to mind. In fact, it doesn't just come to mind, it dominates my thoughts about Gauthier.
Not everyone likes this kind of cooking. They prefer bigger flavors. Indeed, the culinary trend in London is toward a more earthy style, as demonstrated by some of the recent hit restaurants -- Terroirs, Hix and Koffmann's -- where a Michelin star would be an unexpected visitor, like Sidney Poitier showing up for dinner back in 1967.
Although I like the choice and variety offered by tapas-sized portions, the dishes at Gauthier don't lend themselves to sharing, so you may find yourself still eating when your guest is done with her plate because she has opted for a different course. It's a bit complicated and formal if you're going out to relax and you want food you can enjoy without having to admire it, too.
Naked Cooking
There are occasional lapses. Over three visits, I tried a beef dish that had everything except for meat with real flavor. If the produce isn't exactly right, the weakness shows through. This is near naked cooking: The plates are prettily dressed but the adornments are so light as to be transparent.
There is a place -- a prominent place -- in the London restaurant world for the artistry of a chef such as Alexis Gauthier, with his respect for ingredients, his focus on flavor and his attention to detail. For all the lip service we pay to seasonal local produce, there are few chefs in London with such a focus on vegetables, as Gauthier previously showed at Roussillon.
Just give me a big steak.
Gauthier, 21 Romilly Street, London, W1D 5AF.
The Bloomberg Questions
Cost? Set lunch is 25 pounds for three courses, or 33 pounds with half a bottle of wine.
Sound level? Hushed: Below 70 decibels.
Inside tip? Pick the ground-floor room, which is closer to the kitchen.
Special feature? Strong vegetarian menu.
Will I be back? Yes, when I'm in touch with my feminine side.
Date place? Yes.
Rating? ***
What the Stars Mean
**** Incomparable food, service, ambience
***  First-class of its kind.
**   Good, reliable.
*    Fair.
0    (no stars) Poor.
(Richard Vines is the chief food critic for Muse, the arts and leisure section of Bloomberg News. Opinions expressed are his own.)
Before it's here, it's on the Bloomberg Terminal.
LEARN MORE