Blagojevich Jurors to Return Aug. 16 After Deciding Two Counts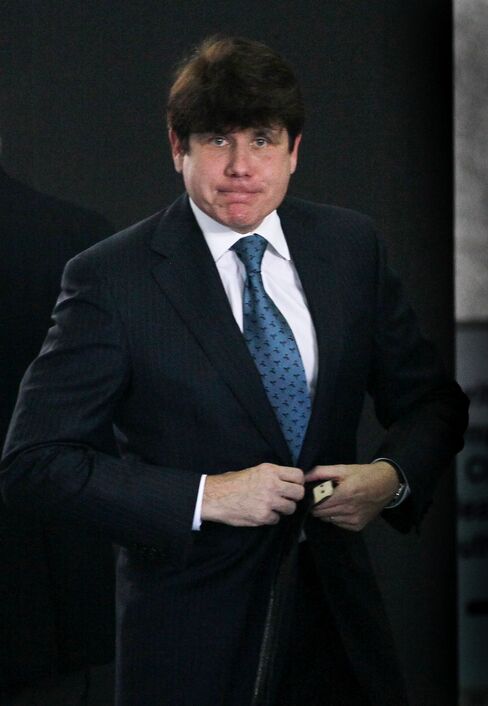 Aug. 13 (Bloomberg) -- Jurors in the corruption trial of former Illinois Governor Rod Blagojevich are scheduled to resume deliberations Aug. 16 after telling the judge yesterday that they had reached a decision on two of the 24 counts.
U.S. District Judge James B. Zagel told Blagojevich, his lawyers and federal prosecutors that he would instruct the jury to work through each of the other 22 counts until they've reached a conclusion on all charges in the trial at Chicago's federal courthouse. The jury didn't say what verdicts it had reached.
The twice-elected Democrat is accused of linking official acts -- including the selection of a U.S. Senator to replace President Barack Obama -- to campaign contributions. The trial started June 3.
"We have reached unanimous decision on two counts. We are unable to reach agreement on any of the remaining counts," the jurors told Zagel in a note yesterday that he read in court. The panel of six men and six women has been deliberating since July 28 and said on Aug. 11 that it may be deadlocked.
The jurors told the judge they haven't addressed any of the 11 pending wire fraud counts, which are punishable by as long as 20 years imprisonment, and have been "unable to reach an agreement" on the remaining 11 charges. All of the counts are felonies.
Zagel, after consulting with defense attorneys and prosecutors, said he would tell the panel it should address each count until jurors come to a resolution, even if the outcome is that they can't all agree.
Wire Fraud Counts
"You should deliberate on the wire fraud counts, to the extent necessary to enable you to decide on those counts," the judge said.
"A deliberative decision by you on each of those counts should be made, even if it is a decision that you cannot reach unanimity as to any of those counts," Zagel said.
Chicago-Kent College of Law Professor Richard Kling was present for the reading of the jury's note. He is also a practicing criminal defense attorney.
"The fact that they said 'we have been unable to reach a verdict' doesn't mean they're irreconcilably deadlocked," Kling said in an interview. "We have been unable to reach a verdict is a lot different from 'we cannot reach a verdict," Kling said. He said the jury's comment that it hasn't deliberated on the wire fraud counts may actually mean jurors haven't voted on those counts.
"You have to believe they've been talking about them for two weeks," the professor said.
"I learned a long time ago never to guess what a jury's going to do," Sam Adam Sr., one of the ex-governor's defense attorneys, told reporters outside the courtroom. "I have no idea what they're going to do."
"I think there's a lot of cautious optimism," said Adam's co-counsel, Aaron Goldstein. "Endless speculation, that's where we're at right now."
The case is U.S. v. Blagojevich, 08-cr-00888, U.S. Northern District Court, Northern District of Illinois (Chicago).
To contact the reporter on this story: Andrew M. Harris in Chicago federal court at aharris16@bloomberg.net; Elizabeth Campbell in Chicago federal court at ecampbell14@bloomberg.net
To contact the editor responsible for this story: David Rovella at drovella@bloomberg.net