Android Outsells the IPhone in the U.S., Gartner Says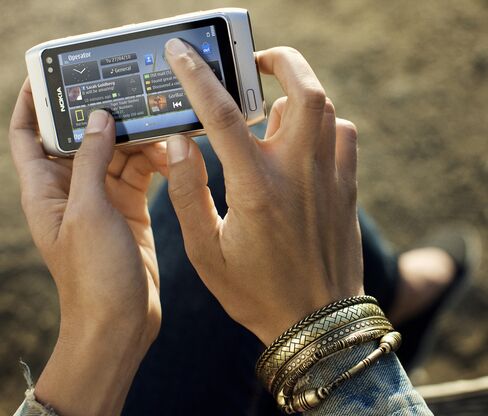 Google Inc.'s Android platform is the most popular smartphone software in the U.S., overtaking Apple Inc.'s iPhone and the BlackBerry from Research In Motion Ltd., according to Gartner Inc.
Worldwide, Android became the third-best-selling operating system in the second quarter, with 17.2 percent of sales compared with 1.8 percent a year earlier, the Stamford, Connecticut-based market researcher said in a note today. It trails Nokia Oyj's Symbian and RIM, Gartner said.
The Android operating system has outpaced sales of Apple software in the U.S. and abroad this year because it's available on a wider array of phones and carriers, analysts have said. The two operating systems are competing for share of smartphone sales, which gained 50.5 percent in the quarter. That's more than three times the growth for the market as a whole.
"There's been such huge emphasis on Android, with all the vendors backing the platform and the carriers advertising and being a little more generous with subsidies, especially in the U.S. market," Carolina Milanesi, a research vice president at Gartner's Egham, England unit, said in an interview.
Apple's iOS fell behind Mountain View, California-based Google's Android to fourth place among smartphone platforms with a 14.2 percent market share as the iPhone 4 ramped up production.
Motorola Inc., which makes a number of Android-based handsets for carriers including Verizon Wireless, increased 32 cents, or 4.2 percent, to $8.02 in New York Stock Exchange composite trading at 4 p.m. Google rose 27 cents to $492.01 in Nasdaq Stock Market trading. Cupertino, California-based Apple, up 19 percent this year, gained $1.60 to $251.79.
Symbian Loss
Symbian, also used on some phones from other vendors, lost almost 10 percentage points of market share to 41.2 percent as Nokia struggled to revamp it and ship new handsets.
Nokia, the world's largest maker of mobile phones, saw share of global handset sales to end-users fall to 34.2 percent from 36.8 percent in the year-earlier period, Gartner said.
The top five smartphone device vendors globally were Nokia with a 37.4 percent market share, followed by RIM, Apple, HTC Corp. and Motorola Inc., Milanesi said.
The slide in the Symbian platform may have been bigger without the positive response to Sony Ericsson Mobile Communications AB's Vivaz line in the second quarter, she said.
"Even if Nokia had a solid high-end portfolio you would see some market-share loss for Symbian" because of the Android groundswell, she said.
Nokia N8
Nokia is readying the N8, its first handset with Symbian 3, a new version optimized for touchscreen use, for shipment this quarter. The company and retailers are taking advance orders in some countries. Nokia has promised that the N8 will be followed by more high-end smartphones with Symbian 4 and MeeGo, a more powerful platform it's readying with Intel Corp.
The overall mobile phone market increased 13.8 percent to 325.6 million units as prices fell on tougher competition, Gartner said.
Samsung Electronics Co. maintained its position as the second-biggest mobile-phone vendor overall with a 20.1 percent market share, up from 19.3 percent last year. Apple gained to 2.7 percent of the market, making it the world's seventh-largest mobile-phone maker.
Samsung's Galaxy S and HTC's handsets were among the most successful Android devices, Milanesi said. She expects the smartphone market to narrow to three or four platforms with room for some regional variation.
"If you look at Symbian, for instance, that's a good example of an operating system that is strong at a worldwide level, but you go to the U.S. and they don't even know what that is," she said. "Normally, you would say beyond three is difficult, but I think considering RIM and Apple, probably four is what you'll see."
Following are tables of sales and market share for all mobile-phone models and the smartphone segment:
Worldwide Mobile-Phone Sales:
           Units Q2'10  Share Q2'10  Units Q2'09  Share Q2'09
            (millions)   (percent)   (millions)   (percent)
Nokia         111.5         34.2        105.4        36.8
Samsung        65.3         20.1         55.4        19.3
LG             29.4          9.0         30.5        10.7
RIM            11.2          3.4          7.7         2.7
Sony Ericsson  11.0          3.4         13.6         4.7
Motorola        9.1          2.8         15.9         5.6
Apple           8.7          2.7          5.4         1.9
HTC             5.9          1.8          2.5         0.9
ZTE             5.5          1.7          3.7         1.3
GFive           5.2          1.6
Others         62.6         19.3         46.0        16.1
Total         325.6        100.0        286.1       100.0

Worldwide Smartphone Sales by Platform:
           Units Q2'10  Share Q2'10  Units Q2'09  Share Q2'09
            (millions)   (percent)   (millions)   (percent)
Symbian        25.4         41.2         20.9        51.0
RIM            11.2         18.2          7.8        19.0
Android        10.6         17.2          0.8         1.8
iPhone OS       8.7         14.2          5.3        13.0
Windows Mobile  3.1          5.0          3.8         9.3
Linux           1.5          2.4          1.9         4.6
Others          1.1          1.8          0.5         1.2
Total          61.6        100.0         41.0       100.0