Cisco, IBM Sales May Signal Slowdown in U.S. Corporate Spending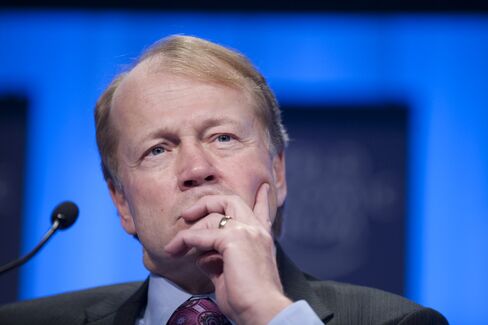 Weaker-than-forecast sales at Cisco Systems Inc. and International Business Machines Corp. may signal a slowdown in the corporate spending that has led the U.S. recovery.
"It's been business investment, particularly technology, that's been in the driver's seat," said Stuart Hoffman, chief economist at PNC Financial Services in Pittsburgh. Should equipment spending slow significantly, "unless something else picks up the pace, it means the outlook for the economy is going to be that much dimmer."
Corporate investment is among the few remaining sources of economic growth as the effects of government stimulus measures wane and unemployment remains stuck near a 26-year high. Economists this week cut their forecasts for the second half of the year as the more than 8 million jobs lost during the recession hamstring consumer spending.
Federal Reserve policy makers on Aug. 10 lowered their outlook for the economy and said they would reinvest principal payments on mortgage assets into U.S. debt to support growth. A wider-than-forecast trade deficit reported this week prompted economists to reduce their estimates of second-quarter growth to less than 1.5 percent, which would mark the weakest pace in a year.
"CEOs see mixed signals and they're a little bit slower to put their foot down on the gas pedal, and they pick their foot off the gas pedal a little bit faster," John Chambers, Cisco's chief executive officer, said in a Bloomberg Television interview yesterday.
Manufacturing Shipments
San Jose, California-based Cisco this week said revenue in the current quarter will be $10.64 billion to $10.83 billion, compared with a $10.95 billion median estimate in a Bloomberg survey. The stock fell as much as 12 percent in intraday Nasdaq trading yesterday.
The Institute for Supply Management's manufacturing gauge dropped for a third month in July, signaling a cooler pace of factory growth, which accounts for 11 percent of the economy. Orders placed with factories fell 1.2 percent in June after a 1.8 percent month-on-month decline in May, the Commerce Department reported last week.
According to the Obama administration, about 72 percent of the $862 billion stimulus program funds have been spent or obligated. The unemployment rate held unchanged at 9.5 percent in July, near a 26-year high of 10.1 percent.
The Standard & Poor's 500 Index slid 3.3 percent in the two days following the Fed announcement on Aug. 10. The yield on the two-year Treasury note fell to a record 0.4892 percent on Aug. 11.
To be sure, Cisco said it hired 2,000 workers last quarter and would add an additional 3,000 to help its businesses grow globally. That signals confidence in the recovery, said Simon Leopold, an analyst at Morgan Keegan & Co. in New York.
Routers, Switches
Investors look to Cisco as an indication of the health of the technology industry because the company dominates the market for routers and switches, products that direct the flow of Internet traffic. Large companies account for most sales of switches, while phone and Internet-service providers typically buy the more expensive routers.
IBM, the world's biggest computer-services company, last month reported revenue that missed analysts' estimates, citing a decline in services-contract signings. Signings fell 12 percent to $12.3 billion, the second straight quarterly drop in contracts for services, which make up more than half of IBM's total revenue.
"The weakness in this type of services could lead investors to question broader" technology spending, JPMorgan Chase & Co. analyst Mark Moskowitz said in a research note published on July 20.
Before it's here, it's on the Bloomberg Terminal.
LEARN MORE