World Wrestling's Ex-CEO McMahon Wins Senate Nod in Connecticut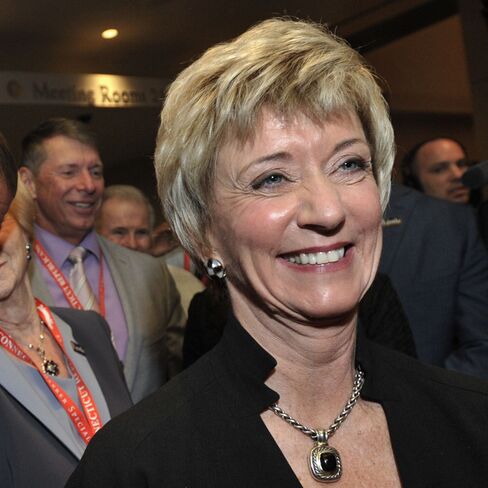 Aug. 11 (Bloomberg) -- Linda McMahon, former chief executive officer of World Wrestling Entertainment Inc., won the Republican U.S. Senate nomination in Connecticut and will face Democrat Richard Blumenthal in November's election.
McMahon, 61, defeated former U.S. Representative Rob Simmons and Peter Schiff, president of Westport, Connecticut-based Euro Pacific Capital Inc., in yesterday's primary.
With about 90 percent of the vote counted as of early today, McMahon had 49 percent of the vote to 28 percent for Simmons and 23 percent for Schiff, according to the Associated Press.
Blumenthal, 64, who has been Connecticut's attorney general since 1991, ran unopposed for the Democratic nomination to fill the seat of retiring Senate Banking Committee Chairman Christopher Dodd, a Democrat.
In the race for Connecticut governor, Democrats nominated former Stamford Mayor Dan Malloy, 55, while Republicans picked as their candidate Tom Foley, 58, a former U.S. ambassador to Ireland.
In the Senate matchup, a poll by Quinnipiac University completed earlier this month gave Blumenthal a 10 percentage point lead over McMahon, 50 percent to 40 percent. The survey of registered voters had a margin of error of plus or minus 2.7 percentage points. In a Quinnipiac poll released July 16, Blumenthal had a 17 percentage point lead. In a June survey he was ahead by 20 percentage points.
'Real Smackdown'
"The McMahon-Blumenthal Senate race in Connecticut could be a real smackdown, as the Republican has the money and momentum, cutting into Blumenthal's lead month-to-month," said Douglas Schwartz, director of the Quinnipiac University Polling Institute in Hamden, Connecticut.
Blumenthal suffered a political embarrassment in May when, following a New York Times report, he said he had unintentionally misspoken in claiming during some past public occasions that he served in the Vietnam War. He was in a Marine Reserve unit based in the U.S. at that time.
McMahon ran the Stamford, Connecticut-based World Wrestling Entertainment with her husband, Vince, who remains its chairman. The pair, both from North Carolina, built a small promotion company into a public company with a market value of more than $1 billion.
In her Senate campaign, McMahon has faced questions about past steroid use by the wrestlers employed by WWE and the propriety of its staged violence and skits.
Governor Nominees
In the gubernatorial primaries, Republican Foley defeated Lieutenant Governor Mike Fedele and Oz Griebel, a business development executive. With about 90 percent of the votes counted as of early today, Foley had 42 percent while Fedele had 39 percent and Griebel had 19 percent, according to AP.
Democrat Malloy defeated businessman Ned Lamont, who was making his second run for statewide office. With about 90 percent of the vote counted, Malloy had 58 percent while Lamont had 42 percent, according to AP.
In 2006, Lamont defeated incumbent Joe Lieberman in the state's Democratic U.S. Senate primary. Lieberman, 68, ran in that November's election as an independent and won. On Capitol Hill, he caucuses with the Senate's Democratic majority.
To contact the reporter on this story: John McCormick in Chicago at jmccormick16@bloomberg.net
To contact the editor responsible for this story: Mark Silva in Washington at msilva34@bloomberg.net