Vedanta Said to Hold Talks on Deal With Cairn Energy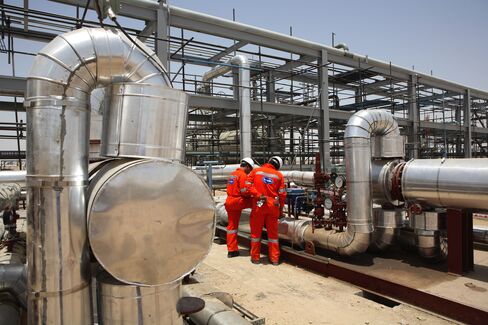 Vedanta Resources Plc is in talks to purchase assets or take a multibillion-dollar equity stake in Cairn Energy Plc, a U.K. oil and gas exploration company, according to people with knowledge of the matter.
The talks are advanced, and a deal may be announced later this month, said the people, who declined to be identified because the negotiations are private. The companies have discussed a range of options, including an equity stake, asset purchases or a complete takeover of Cairn, one person said.
The move would represent a strategic shift by London-based Vedanta, the metals producer controlled by Indian billionaire Anil Agarwal, 57. Edinburgh-based Cairn has a market value of 6.22 billion pounds ($9.7 billion) and is exploring for oil off Greenland. Its biggest asset is a 62 percent stake in Cairn India, which operates the country's largest onshore oil field.
"This will allow Vedanta some learning in oil and gas exploration, a business in which it has no experience, and will give Cairn much-needed cash to invest in the Arctic areas," said P. Phani Sekhar, who manages funds for wealthy individuals at Angel Broking Ltd. in Mumbai. He holds shares in Sterlite Industries (India) Ltd., Vedanta's largest unit.
An external London-based spokesman for Cairn declined to comment. Pavan Kaushik, a Vedanta spokesman based in Udaipur in the Indian state of Rajasthan, said he wasn't immediately able to comment. A London-based spokeswoman also declined to comment.
Power Plants, Mines
Vedanta said in 2008 it will spend $20 billion in India on mines and power plants over four years. Agarwal has sought to increase power-generation capacity as his Sterlite Industries competes with larger rivals such as Reliance Energy Ventures Ltd. and NTPC Ltd. India has "tremendous potential for growth," he said last year.
Vedanta, with a market value of 6.11 billion pounds, fell 2.1 percent to 2,308 pence in London trading at 9:41 a.m., extending this year's loss to 11.6 percent. Cairn rose 13 pence, or 3 percent, to 457.9 pence.
Cairn's Indian unit, listed in Mumbai as Cairn India Ltd., has a market value of about $13.5 billion. The U.K. company is drilling exploration wells off the coast of Greenland through its Capricorn subsidiary.
Cairn is betting $400 million this year on striking oil off Greenland. Waters off its coasts may hold 50 billion barrels of crude and gas, the U.S. Geological Survey has estimated, enough to meet Europe's energy demand for almost two years.
Arctic Region
"The Arctic region is believed to be one of the major remaining sources of undiscovered hydrocarbons," according to Cairn Energy, which sold a 10 percent stake in six blocks off Greenland to Petroliam Nasional Bhd. in 2009. Petronas, as the Kuala Lumpur-based company is known, also holds a 14.9 percent stake in Cairn India, according to data compiled by Bloomberg.
Cairn India rose as much as 2.9 percent today to 342 rupees in Mumbai, the biggest increase since July 23, and traded at 334.75 rupees at 11:17 a.m. local time.
The stock has gained 19 percent this year, compared with an increase of 2.8 percent for the Bombay Stock Exchange's Sensitive Index, or Sensex. Goldman Sachs Group Inc. analysts this month upgraded the shares to "buy" from a "sell" rating.
"We're seeing gas prices come up in India, and people with upstream assets are becoming more attractive," Tony Regan, a consultant at Tri-Zen International Ltd. said from Singapore. "That's one of the triggers that would bring Cairn to people's attention, along with the expectation prices will go up more."
Rich List
Agarwal ranked 10th on the annual Sunday Times Rich List of the wealthiest people in the U.K., the London-based newspaper reported in April, with an estimated fortune of 4.1 billion pounds. He built his wealth around aluminum, zinc, copper and iron ore businesses after acquiring Shamsher Sterling Corp. in 1979.
Vedanta was the first Indian company to list its shares on the London Stock Exchange, according to its website, and employs 30,000 people.
Net income almost tripled to $602.3 million in the year ended March 31, from $219.4 million, Vedanta said May 6. That compared with the $568 million average estimate of six analysts compiled by Bloomberg.
"Cairn obviously won't sell its largest asset at a discount," said Angel Broking's Phani Sekhar. "But it could work well for Vedanta by allowing it to diversify into a new business."
Before it's here, it's on the Bloomberg Terminal.
LEARN MORE