Bennet's Victory in Colorado Primary Is Win for Obama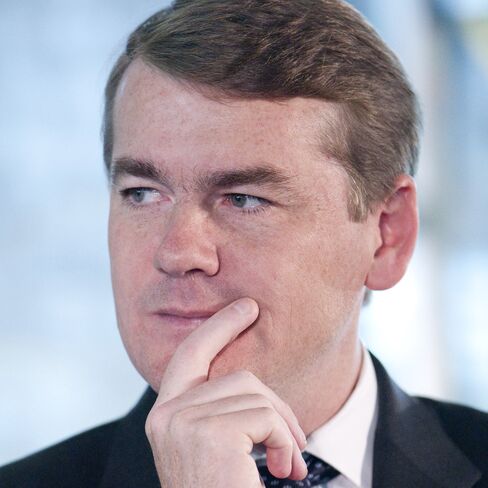 U.S. Senator Michael Bennet, who was backed by President Barack Obama, won his party's nomination in Colorado yesterday in a test of the White House's influence among Democrats.
Bennet, 45, beat former Colorado House Speaker Andrew Romanoff, 43, who was endorsed by former President Bill Clinton. The split between the current U.S. chief executive and a past one helped spur national interest in the primary contest.
In November's general election, Bennet will face Republican Ken Buck, 51, a favorite of Tea Party activists, a loose-knit coalition of voters seeking limits on government spending, taxes and debt.
Analysts rate the race a tossup. Buck, a county prosecutor, yesterday defeated a primary opponent supported by the Republican Party's national leadership.
Nominating contests also were held yesterday in Connecticut, Georgia and Minnesota.
In Connecticut, former World Wrestling Entertainment Inc. Chief Executive Officer Linda McMahon won the Republican U.S. Senate nomination, setting up a November match against Democrat Richard Blumenthal, the state's attorney general.
Former Stamford Mayor Dan Malloy won the Democratic nomination for governor in Connecticut over businessman Ned Lamont, who ran unsuccessfully for the U.S. Senate in 2006. In November, Malloy faces Tom Foley, a former U.S. ambassador to Ireland, who captured the Republican nomination in a three-candidate race.
Georgia Race
In Georgia, former U.S. Representative Nathan Deal won the Republican runoff for the gubernatorial nomination after former Georgia Secretary of State Karen Handel conceded the race today. The contest featured competing endorsements from potential 2012 Republican presidential candidates, including Sarah Palin, who supported Handel.
The Colorado race was the one most closely watched by the White House. No other Democratic contest this year had attracted as much involvement from Obama, who made one of his first 2010 fundraising trips to Colorado to help Bennet. The president also made telephone calls for him, appeared in television ads and spoke to voters in an electronic town-hall-style meeting.
Obama aides also tried to keep Romanoff from challenging Bennet by raising the prospect of an administration job.
Obama Visits
After relying on the White House efforts throughout the primary, Bennet said recently that he wasn't sure he wanted help in his general election bid from Obama, whose approval rating in national polls is below 50 percent.
Obama "came and raised money earlier in the year, and we'll make a judgment in the fall about whether it's helpful to the general or whether it's not," Bennet said in an interview last month when asked if he wants the president to keep campaigning for him.
Bennet, a former Denver schools superintendent, was appointed to his seat early last year after Obama named then-Senator Ken Salazar as Interior Department secretary.
Romanoff, who supported Secretary of State Hillary Clinton's 2008 bid for the Democratic presidential nomination against Obama, was endorsed June 29 by her husband, Bill Clinton. The former president lent his name to Romanoff's fundraising efforts and recorded automated phone calls for him.
Senate Majority
The prospect that Democrats could lose the Colorado seat is one reason analysts give Republicans a chance at winning a Senate majority in November's election. The seat is among 13 rated as tossups by the non-partisan Cook Political Report in Washington.
In the Republican primary, Buck beat former Lieutenant Governor Jane Norton, 55. She was backed by the National Republican Senatorial Committee and the U.S. Chamber of Commerce.
The Colorado primary encapsulated the tumult marking a campaign season in which two senators and four U.S. House members have lost re-nomination bids elsewhere. All of the Senate candidates ran as outsiders, though each has served in public office.
Buck last month said one reason he deserved support was that he wears cowboy boots, rather than high heels. The Norton campaign spotlighted that comment, believing it would help her win votes from women.
Norton, in an interview last month, said Buck couldn't win the general election because his views are too extreme. "We have to have a message that reaches into our unaffiliated voters and some disenfranchised Democrats," she said.
Buck dismissed Norton's contention. "The folks in D.C. are the extremists," he said at an event last month. "They're out of their minds, and we're going to teach them in November just how much they are out of their minds."
Hispanic Vote
As a prosecutor, Buck won attention from some voters when he targeted illegal immigrants for prosecution. While the issue may have helped him in the primary, Democrats believe it could hurt him as a Senate nominee in a state where Hispanics in 2008 accounted for 20.2 percent of the population, according to the Census Bureau.
In a statement, Senator Robert Menendez, chairman of the Democratic Senatorial Campaign Committee, called Buck an "extremist candidate" who is "more concerned with imposing a strict social doctrine than with growing the economy."
In Colorado's Republican gubernatorial primary, businessman Dan Maes won the nomination, beating former U.S. Representative Scott McInnis, who was hurt by charges of plagiarism that prompted calls from some party members for his exit from the race. The allegations, which he disputes, include a report on water rights he delivered as part of a $300,000 fellowship.
Hickenlooper, Tancredo
Maes will compete against Denver Mayor John Hickenlooper, a Democrat, to fill the post being vacated by Democrat Bill Ritter. Tom Tancredo, a former Republican congressman, has announced he will run for the office as the American Constitution Party candidate.
In Connecticut, McMahon, 61, defeated former U.S. Representative Rob Simmons and Peter Schiff, president of Westport, Connecticut-based Euro Pacific Capital Inc.
Blumenthal, 64, who has been Connecticut's attorney general since 1991, ran unopposed for the Democratic nomination to fill the seat of retiring Senate Banking Committee Chairman Christopher Dodd, a Democrat.
Vietnam Issue
A poll by Quinnipiac University completed earlier this month gave Blumenthal a 10 percentage point lead over McMahon, 50 percent to 40 percent. The survey of registered voters had a margin of error of plus or minus 2.7 percentage points.
"The McMahon-Blumenthal Senate race in Connecticut could be a real smackdown, as the Republican has the money and momentum, cutting into Blumenthal's lead month-to-month," said Douglas Schwartz, director of the Quinnipiac University Polling Institute in Hamden, Connecticut.
Blumenthal suffered a political embarrassment in May when, following a New York Times report, he said he had unintentionally misspoken in claiming during some past public occasions that he served in the Vietnam War. He was in a Marine Reserve unit based in the U.S. at that time.
McMahon ran the Stamford, Connecticut-based World Wrestling Entertainment with her husband, Vince, who remains its chairman. The pair, both from North Carolina, built a small promotion company into a public company with a market value of more than $1 billion.
In her Senate campaign, McMahon has faced questions about past steroid use by the wrestlers employed by WWE and the propriety of its staged violence and skits. She has spent about $20 million of her own money on the race.
In Minnesota, state Representative Tom Emmer won the Republican nomination for governor, while former U.S. Senator Mark Dayton was the victor in the Democratic primary.