Massey Executives to Be Subpoenaed in Probe of Blast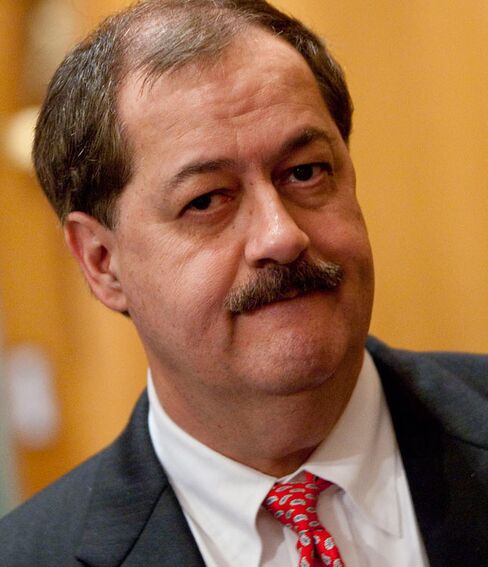 Massey Energy Co. executives will be subpoenaed in the U.S. investigation of a deadly West Virginia coal mine explosion that a safety regulator today called "a preventable occurrence."
The Mine Safety and Health Administration and state regulators have so far interviewed 166 people about the April 5 blast at the Upper Big Branch Mine, Joseph Main, assistant secretary of Labor for mine safety, said on a call with reporters. Main said executives will be summoned and declined to comment on the possibility of a subpoena for Massey Chief Executive Officer Don Blankenship.
"To accommodate moving the investigation forward, there is the use of the subpoena process to effectively conclude the interview process," Main said. "We are going to scour the earth to determine what happened at the Upper Big Branch Mine."
The explosion in the rural West Virginia mine killed 29 workers, the worst such U.S. coal-industry accident in 40 years. The Labor Department said in a report to President Barack Obama in April that most mine blasts of that magnitude are sparked by accumulations of methane, combustible coal dust and air.
Massey fell $2.11, or 6.4 percent, to $30.99 at 4:01 p.m. in New York Stock Exchange composite trading, and has declined 43 percent since the explosion.
Investigators at the West Virginia mine are searching for methane detectors, Main said. A large portion of the mine remains unmapped and the investigation isn't complete, he said.
Methane Detectors
Investigators are examining eight detectors used in the mine before the explosion, Main said. Data from four has been extracted with additional testing to be conducted, he said. Officials think other units from the mine are missing, he said.
Main and Kevin Stricklin, MSHA's assistant administrator for coal, disputed a Massey statement they said was made to the families of the workers who died that a 150-foot crack along the mine's long wall of coal may have allowed a buildup of methane to trigger the explosion.
Investigators have seen "floor heaving" and cracks that would be expected in longwall mining, and none were "close to 150 feet," Stricklin said. Investigators have seen cracks 6 inches deep and 8 inches wide of varying lengths, he said.
"There hasn't been enough evidence amassed yet to reach any conclusions on the causes," Main said.
Massey posted pictures on its website today and said the photographs had been shown to relatives of the blast's victims.
'Fully Examined'
"These photos show a crack in the mine floor in the longwall section of the UBB mine," Shane Harvey, Massey's vice president and general counsel, said in a statement. "The crack along with other potential sources in the mine need to be fully examined by company, federal and state investigators."
The West Virginia Office of Miners' Health, Safety and Training is conducting its own investigation. The U.S. Labor Department and the state office decided early on subpoena all witnesses after a few employees failed to show up for interviews, Main said.
Massey's upper-level managers will be interviewed "in the next month or so," Stricklin said. "We want them all in here. We want to interview all of them."
Before it's here, it's on the Bloomberg Terminal.
LEARN MORE