Kraft Pitches Brazilian Tang in Emerging Market Blitz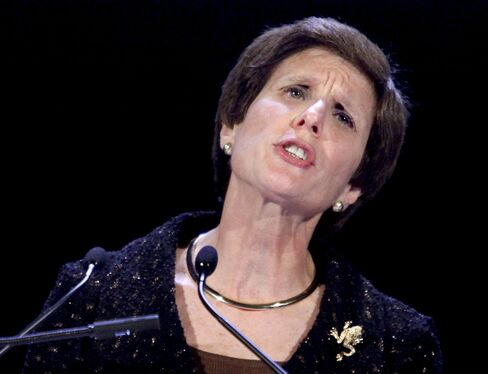 Kraft Foods Inc., the world's biggest confectioner after buying Cadbury Plc, will start making Tang powdered beverage and chocolate next year at a new plant in Brazil, fueling expansion in faster-growing developing markets.
The move is part of Chief Executive Officer Irene Rosenfeld's strategy to use Cadbury's strength in those regions and prove to investors that the merger makes sense. Kraft now gets about one-quarter of its almost $50 billion in sales from emerging markets because of Cadbury.
Rosenfeld has spent much of this year since the $21.6 billion purchase traveling the globe -- Zurich two weeks ago, Singapore this week, England next month -- to lay out her strategy. Operations in developing countries will be crucial as she tries to offset stalling sales growth in North America.
"No rest for the weary," Rosenfeld said in an interview last week at Kraft's headquarters in Northfield, Illinois. "We have a lot to do. We laid down a strategy four years ago to turn this company around, and Cadbury is the last piece of that puzzle."
The $50 million Brazilian plant, in the Northeastern state of Pernambuco, will employ 600 and may also eventually make Trident gum, a Cadbury brand whose Brazilian sales have climbed 30 percent this year, Kraft Brazil president Marcos Grasso said in an interview.
In Brazil, Russia and China, Rosenfeld plans to channel Cadbury's Trident gum through Kraft's existing distribution and manufacturing systems. In India and Mexico, Rosenfeld says, the strategy is about pushing Kraft's Oreos and Lacta chocolate through Cadbury's network of small mom-and-pop stores.
'IPod Pack'
Another big brand is Kraft's Club Social crackers, the top-selling cracker in Brazil. Club Social is now sold in small packages - dubbed the "iPod pack," which can fit in back pockets and kids' backpacks. The packaging has helped increase sales 27 percent this year.
"The focus of our investments will be disproportionately in developing markets," said Rosenfeld, 57. Before becoming CEO, the Long Island native's only previous experience outside the U.S. was a stint running Kraft's Canadian operations in the late 1990s.
Rosenfeld is grappling with challenges, including penny-pinching shoppers shifting to private label products, rising commodity costs for coffee and meat, and a stock that trades below its $31 IPO price from 2001.
Kraft fell 69 cents to $29.58 at 4 p.m. in New York Stock Exchange composite trading. The shares have risen 8.8 percent this year.
North American Sales
Last quarter, Kraft's North American organic sales, which exclude acquisitions, divestitures and foreign currency fluctuations fell 1.3 percent, the only region to show a decline. The emerging market division's sales climbed 8.1 percent, more than twice the pace of Europe.
Grasso, previously head of Cadbury's South American operations, is expanding Kraft's manufacturing and distribution capabilities in Brazil, beginning with the new factory, which will make the powdered Tang beverage. Sales of the brand have surged 40% this year in Brazil, its single largest market, Grasso said. He's fueling sales partly with a marketing campaign that encourages kids to recycle Tang packages so they can be made into backpacks and pencil cases.
"Tang in Brazil is on fire," Rosenfeld said. The recycling campaign, she said, reminds her of work she did early in her career in marketing to revitalize brands such as Kool-Aid and Jell-O.
Cadbury Influence
Cadbury's board and shareholders agreed to Rosenfeld's sweetened bid earlier this year. Former Cadbury managers now make up about one-third of the top 400 employees, Rosenfeld says.
"We feel like owners," said Grasso, 48. "I stayed with Kraft because I saw how I could influence the culture of the company."
Rosenfeld now needs to persuade shareholders such as Berkshire Hathaway's Warren Buffett and Bill Ackman, head of Pershing Square Capital Management, that Cadbury was worth the price.
"It's a pivotal time for them -- there are still skeptics out there," said Ted Moore, a fund manager at Fifth Third Asset Management in Cleveland, which has $18 billion under management including Kraft shares. "People look at Kraft as a company that is congenitally incapable of material revenue growth."
Before it's here, it's on the Bloomberg Terminal.
LEARN MORE