Intesa Purchases Stake in Drug Company Controlled by Berlusconi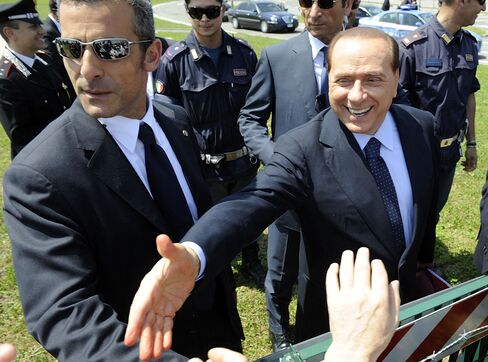 Intesa Sanpaolo bought a stake in Molecular Medicine SpA, the cancer-drug company whose biggest investor is Italian Prime Minister Silvio Berlusconi.
Italy's second-largest bank owns 3.83 percent of Milan- based MolMed as of Aug. 5, according to a filing on the website site of Italian regulator Consob. Earlier this year, Intesa managed the drug company's capital increase through its Banca Imi SpA unit.
Berlusconi, 73, cut his stake in MolMed through his holding company Fininvest SpA to 23.9 percent from 24.1 percent, Consob also said. The drug company's second-biggest shareholder, Milan foundation and clinic San Raffaele del Monte Tabor, reduced its stake to 10.4 percent from 21.1 percent, the regulator said.
MolMed was founded in 1996 and has two potential cancer medicines. One attacks tumors and clinical tests are under way to measure its effects. The product "could help us make a giant leap," Chief Executive Officer Claudio Bordignon told reporters May 12. The other drug helps rebuild the immune system of leukemia patients using stem-cell transplants from family members who aren't a perfect match, the company says.
Berlusconi isn't the only aging industrialist to invest in MolMed. Ennio Doris, 70, chief executive officer of finance and insurance group Mediolanum SpA, in which Fininvest holds a 35 percent stake, owns 8.1 percent of the biotechnology company. Leonardo Del Vecchio, 75, founder of eyewear company Luxottica Group SpA, owns 4.3 percent after cutting his stake from 8.1 percent, according to today's filing.