Goldman, Nomura Said to Face More Japanese Oversight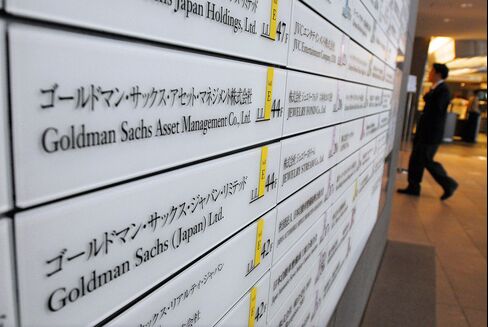 Aug. 12 (Bloomberg) -- Japan's financial regulator picked Goldman Sachs Group Inc., Morgan Stanley and Nomura Holdings Inc. as initial subjects of a new unit to scrutinize risk-taking among investment banks, a person with direct knowledge of the matter said.
The team of at least 10 inspectors will examine the three firms' local trading in derivatives and bets using their own money, the person said, requesting anonymity as no public announcement has been made. The Financial Services Agency will carry out checks to make sure the companies don't take risks that jeopardize their local operations, the person said.
Regulators have moved to limit banks' risk-taking to avert a repeat of the financial crisis that sparked a global recession. Japan passed legislation in May aimed at ensuring financial stability and providing greater protection for investors. Under the new law, the regulator was given authority to inspect the holding companies of large brokerages such as Nomura and require them to meet set capital adequacy ratios.
"Japan often follows the lead of international regulators," said Neil Katkov, senior vice president for Asia at Celent, a Boston-based financial consulting company. "It is a positive to look under the hood at foreign institutions in Japan, as it is a fact that these very large global banks have very large global system risk."
More Risk Oversight
Nomura is Japan's largest securities firm and New York-based Morgan Stanley runs two local brokerage ventures with Mitsubishi UFJ Financial Group Inc. Goldman Sachs has said it gets about 10 percent of annual revenue from so-called proprietary trading.
The regulator's securities division previously had about three people devoted to making sure overseas brokerages comply with local regulations, the person said. It had a similar number of inspectors overseeing Tokyo-based Nomura, the person said.
The watchdog plans to extend its risk management oversight to include more foreign investment banks, said the person. The new team includes officials who have worked for financial companies or have experience in dealing with overseas firms, according to the person. FSA spokesman Toshiharu Mashita declined to comment.
Nomura spokesman Tohru Namikawa, Natsuo Nishio at Morgan Stanley and Goldman Sachs spokeswoman Miyako Takebe declined to comment on the FSA's increased scrutiny or provide details on derivatives and proprietary trading operations in Japan.
U.S. Regulatory Overhaul
The companies will be required to provide more information than previously to the FSA about their trading and investment risks, the person said. The regulator chose Goldman Sachs and Morgan Stanley for initial checks because of the size of their local operations and their importance to global financial markets, the person said without providing specifics.
U.S. President Barack Obama signed into law the biggest overhaul of the U.S. financial-regulatory system since the Great Depression on July 21, limiting proprietary trading and investment in hedge funds and private equity funds by U.S. banks. The package came in response to an economic crisis that pushed the banking industry to the brink of collapse, and led to $700 billion in taxpayer bailouts to firms such as Citigroup Inc.
Obama's overhaul also includes setting up a new council of regulators to monitor systemic risks and gives the government new powers to unwind failing financial firms. Regulators worldwide already share information on international financial institutions through "supervisory colleges" set up in 2009.
SEC Meeting
Securities and Exchange Commission Chairman Mary Schapiro met with Katsunori Mikuniya, Japan's FSA commissioner, on June 29 in Washington to discuss cross-border market supervision and enforcement among other matters, the SEC said in a statement July 2. The U.S. "cannot fully protect investors" without the help of regulators in other major capital markets like Japan, Schapiro said in the statement.
Goldman Sachs, which earned $5.61 billion in trading revenue during the quarter ended June 30, made money on that business in 55 of 65 days in the period, according to a SEC filing Aug. 9. Losses on Goldman Sachs's trading desks exceeded $100 million on three days during the period, the filing showed. Morgan Stanley lost money 11 days during the quarter, and losses never exceeded $75 million daily, the bank said the same day.
Nomura's Internal Unit
Nomura, with 14.4 trillion yen ($169 billion) of trading assets on March 31, set up an internal advisory group in April to bolster risk management, Namikawa said. Trading assets refer to the value of outstanding trading positions at any given time.
The firm posted a record full-year loss of 708.2 billion yen for the 12 months through March 31, 2009, because of costs stemming from the purchase of Lehman Brothers Holdings Inc.'s Asian and European operations in 2008. Nomura returned to profit last fiscal year as the credit crisis eased.
Morgan Stanley's Japanese brokerage unit lost 77 billion yen in the fiscal year ended March 31, according to filings to the Finance Ministry. The company had 1.78 trillion yen of trading assets in Japan at the end of March, according to the filing.
Mitsubishi UFJ, Japan's largest publicly traded bank, owns about 20 percent of Morgan Stanley after investing $9 billion in the Wall Street firm in October 2008. The companies started two joint ventures in May in Japan, spanning securities trading and investment banking.
Goldman Reshuffle
Goldman Sachs's Japanese unit recorded a profit of 37.3 billion yen in the latest fiscal year and had trading assets of 1.2 trillion yen at the end of March, according to financial statements from the New York-based company.
Goldman Sachs, the bank that earns the most revenue trading stocks and bonds, is weighing a plan to transform the business that makes bets with the company's own capital into a fund and raise outside money, a person with direct knowledge of the matter said on Aug. 5.
Morgan Stanley and Goldman Sachs trailed Wall Street rival JPMorgan Chase & Co.'s 2.3 trillion yen of locally reported trading assets as of March 31. The local brokerage unit of Deutsche Bank AG, Germany's largest lender, had 1.4 trillion yen of trading assets at the time.
To contact the reporter on this story: Finbarr Flynn in Tokyo at fflynn3@bloomberg.net; Shingo Kawamoto in Tokyo at skawamoto2@bloomberg.net;
To contact the editor responsible for this story: Philip Lagerkranser at lagerkranser@bloomberg.net