Beckham Has No Future With England Soccer Team, Capello Says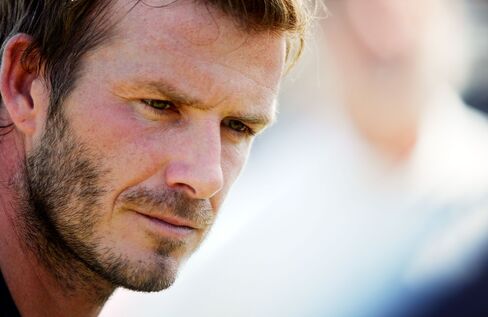 David Beckham won't play another competitive soccer match for England under coach Fabio Capello, signaling the end of his international career at the age of 35.
Beckham will be given one more opportunity to play for his country in an exhibition match at Wembley Stadium once the former captain recovers from an Achilles injury, Capello told reporters last night after England's 2-1 win over Hungary.
"David is a fantastic player but I think we need new players for the future," Capello said at a news conference.
Asked by broadcaster ITV before the game if Beckham would return to the team, Capello said the Los Angeles Galaxy midfielder is "probably a bit too old" before adding, "Thank you, David."
Beckham has appeared for England 115 times, more than any outfield player and second to goalkeeper Peter Shilton, who played 125 times from 1970-90.
Capello said he hadn't contacted Beckham to inform him that he's no longer in his plans. Beckham wasn't at Wembley for the exhibition match with Hungary, England's first since a second-round exit at the World Cup in June. The player's spokesman Simon Oliveira said in a text message that the midfielder hasn't contemplated retiring from international soccer.
"There has been no discussion of retirement," Oliveira said. "He will always be available for his country, when fit, and if needed he will always be there."
Beckham made his national-team debut against Moldova in September 1996 and has scored 17 goals in international play. He made his World Cup debut against Romania in 1998 and has three goals in 12 games at the tournament.
Infamous Moment
His World Cup low point came on June 30, 1998, in St. Etienne, France, when he was ejected for kicking Diego Simeone during a second-round match against Argentina. Beckham was vilified in the English media after Argentina won a penalty shootout following a 2-2 draw.
Almost four years later, Beckham was lauded as the team's savior for scoring with a 25-yard (22-meter) free kick in the second minute of injury time to give England a 2-2 draw with Greece and a place in the 2002 World Cup.
In that tournament, he played after breaking a bone in his left foot in the run-up and made amends for his ejection at the 1998 edition by scoring from the penalty spot to give England a 1-0 group-stage win over Argentina.
Beckham traveled to this year's World Cup with the English squad after Capello asked the former Manchester United and Real Madrid player to join his coaching staff for the tournament.
Empty Seats
Last night, only 72,024 spectators watched England play Hungary at London's 90,000-seat Wembley Stadium, even after ticket prices were slashed to spur demand following the team's performance in South Africa. It ended with England's worst World Cup loss, a 4-1 defeat by Germany.
Captain Steven Gerrard scored in the 69th and 73rd minutes after 27-year-old central defender Phil Jagielka turned a low cross into his own net to give Hungary a 62nd-minute lead.
Capello included only 10 of the 23 players who made up the World Cup squad.
Four of the survivors -- Chelsea trio John Terry, Frank Lampard and Ashley Cole, and Manchester United's Wayne Rooney -- were jeered by fans until they were replaced by substitutes.
"I think we found new players, young players for the future," the coach said. "People spoke about the fans booing and there was big pressure but the new players played with confidence."
Before it's here, it's on the Bloomberg Terminal.
LEARN MORE