Cisco Falls After Forecast Misses Analysts' Estimates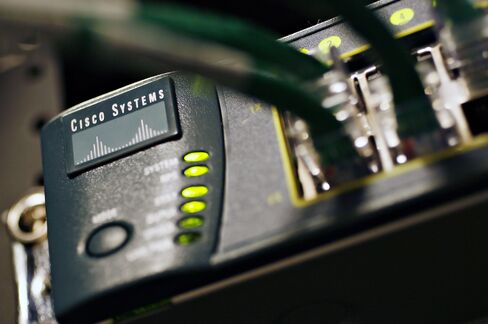 Cisco Systems Inc., the world's largest maker of networking equipment, fell 10 percent in Nasdaq trading after forecasting sales that missed analysts' estimates and saying the recovery may be slowing.
The stock dropped the most since 2008, falling $2.37 to $21.36 at 4 p.m. New York time on the Nasdaq Stock Market. Revenue in the current quarter will be between $10.64 billion and $10.83 billion, the San Jose, California-based company said on a conference call. Analysts surveyed by Bloomberg had estimated $10.95 billion.
Spending by global companies on information technology equipment will slow to 4 percent next year as the economy weakens, according to Goldman Sachs Group Inc. While Cisco is expanding into more than 30 new markets, the company said concerns about the European economy and job growth in the U.S. caused it to be conservative in its forecast for growth in the fiscal first quarter.
"There are obviously headwinds," said Catharine Trebnick, an analyst at Avian Securities Inc. in Boston, who has a "positive" rating on the shares. "The growth to get back to a normal economy is slower than anticipated."
Juniper Networks Inc., the second-biggest networking-gear maker, fell 6.8 percent on the New York Stock Exchange. JDS Uniphase Corp., the maker of fiber-optic equipment, slid 5.7 percent on the Nasdaq, and storage-computer maker NetApp Inc. lost 8.7 percent.
Unlikely Double Dip
Chief Executive Officer John Chambers, 60, said the company was seeing "unusual uncertainty" and getting "mixed signals" about the health of the economy. While many of its customers were planning on 2 percent growth in the second half of the calendar year, the pace of the recovery in the U.S. and Europe was less clear, Chambers said. That doesn't mean the company expects the economy to worsen, he said.
"We're not making a call on the economy going down," Chambers said yesterday on a conference call. "I think the probabilities on a double dip, or whatever you want to call it, are relatively low."
Fourth-quarter sales climbed 27 percent to $10.8 billion, the company said in a statement. Analysts had predicted $10.9 billion in the period ended July 31. Net income jumped 79 percent to $1.94 billion, or 33 cents a share, from $1.08 billion, or 19 cents, a year earlier.
Excluding some costs, fourth-quarter profit was 43 cents a share, above the 42-cent average estimate.
"There is some growing evidence that the economy is starting to have an impact," said Erik Suppiger, an analyst at Signal Hill Capital Group in San Francisco. He has a "buy" rating on the shares and doesn't own them.
Billions for Acquisitions
Investors look to Cisco as an indication of the health of the technology industry because the company dominates the market for routers and switches, products that direct the flow of Internet traffic. Large companies account for most sales of switches, while phone and Internet-service providers typically buy the more expensive routers.
Cisco took advantage of the economic slump by making acquisitions. It paid more than $4.5 billion to buy seven companies since the start of 2009 as businesses delayed spending on infrastructure during the recession.
The acquisitions of Tandberg ASA, which sells lower-cost videoconferencing products, and Pure Digital Technologies Inc., which makes the Flip video camera, were aimed to position Cisco for faster growth as the economy recovers.
By promoting video cameras and videoconferencing gear, the company aims to generate even more Internet traffic, increasing demand for its routers and switches. Global data traffic probably will more than double every year through 2013, according to Cisco.
Hiring Workers
Cisco said it hired 2,000 workers last quarter and would add an additional 3,000 to help its burgeoning businesses grow globally. That signals confidence in a recovery, said Simon Leopold, an analyst at Morgan Keegan & Co. in New York.
"There's an element of good news in this forecast," said Leopold, who rates the shares "outperform" and doesn't own them. "This is a company that's hiring, not firing."
Before it's here, it's on the Bloomberg Terminal.
LEARN MORE