China's 'Peak' Inflation May Leave Room for Stimulating Economy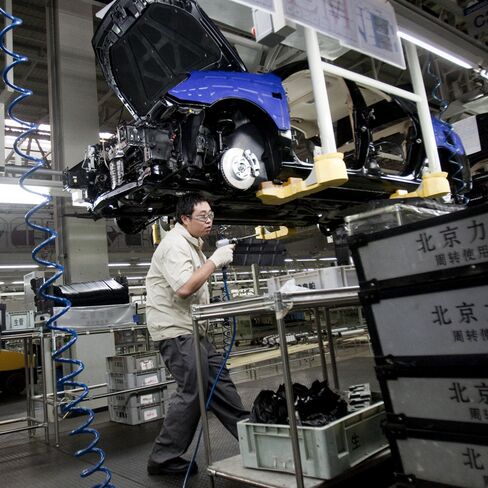 Chinese policy makers may have extra room to loosen lending curbs and boost investment in coming months after slower growth in retail sales and industrial output signaled ebbing inflation pressures.
July's 3.3 percent gain in consumer prices, announced by the statistics bureau in Beijing yesterday, may be the peak for the year, according to Nomura Holdings Inc. and Mizuho Securities Asia Ltd.
Industrial production expanded at the weakest pace in 11 months in July, highlighting the moderation in growth triggered by government curbs including a 7.5 trillion yuan ($1.1 trillion) lending limit for 2010. Softening export orders show the risk that weakness in overseas demand will drive a deeper slowdown in the world's third-biggest economy.
"Policy makers may have more room to sustain growth if needed," said Sun Chi, a Hong Kong-based economist at Nomura, who previously worked for the U.S. Treasury in Beijing. "The lending quota could be loosened to sustain ongoing investment projects."
July's inflation rate, the highest in 21 months, was pushed up by floods that destroyed crops, leading to increased food costs, and the comparison with a year earlier, when China had a 1.8 percent decline in consumer prices.
Morgan Stanley sees inflation cooling after this month, while China International Capital Corp. predicts price gains will slow in the fourth quarter as the effects of the natural disaster fade. Bank of America-Merrill Lynch said yesterday that inflation is "around the peak."
Investment Slowdown
New lending, producer prices and money supply increased at a slower pace in July, reports showed yesterday. Growth in urban fixed-asset investment also cooled, rising 24.9 percent in the first seven months from a year earlier, the statistics bureau said. That compared with a 25.5 percent first-half gain.
The Shanghai Composite Index rose 0.5 percent yesterday, rebounding from the biggest decline in six weeks, on speculation that the government could loosen policies.
New loans were 532.8 billion yuan in July, the central bank said. That was less than the 600 billion yuan median estimate in a survey of economists. M2, the broadest measure of money supply, rose 17.6 percent, the least in 20 months.
China's export orders contracted in July, according to a manufacturing index released this month by HSBC Holdings Plc and Markit Economics, highlighting the risk that weakness in the global economy could undermine the nation's growth.
Grain Prices, Wages
Inflation may slow in coming months as comparisons are made with higher year-earlier levels, the statistics bureau said yesterday. The government can meet a target of capping full-year price gains at 3 percent even as wages and global grain costs increase, spokesman Sheng Laiyun said.
Some economists echoed a central bank caution this month that inflation risks persist.
July's jump in the consumer-price index "largely reflects food prices, partly due to severe floods, but there are a number of other factors that could push it higher still in the next few months, including big wage increases earlier this year and liquidity conditions that are still very loose," said Brian Jackson, an emerging-markets strategist for Royal Bank of Canada.
In a note, Nomura said that inflation is likely to have peaked "unless China suffers continued flooding or other serious weather conditions."
Government measures cooling the economy after three quarters of growth of more than 10 percent include a crackdown on real-estate speculation and factory closures to meet energy- efficiency targets.
Government Curbs
In the latest phase of the energy campaign, officials told companies including Aluminum Corp. of China Ltd., the nation's No. 1 producer of the metal, and steelmaker Hebei Iron & Steel Group, to shut outdated plants by the end of September.
Officials are also tightening oversight of bank lending after a record expansion of credit in 2009 and limiting multiple home purchases to prevent real-estate bubbles. July's money-supply growth was "too restrictive" and may damp domestic demand, Goldman Sachs Group Inc. economists Song Yu and Helen Qiao said yesterday.
Retail sales grew an annual 17.9 percent in July, compared with 18.3 percent in the previous month, yesterday's data showed. Producer price inflation slowed to 4.8 percent from 6.4 percent in June.
China's economic growth cooled to 10.3 percent in the second quarter from 11.9 percent in the first three months of the year.
Before it's here, it's on the Bloomberg Terminal.
LEARN MORE