BP Spill Fund May Be Backed by Drilling Revenue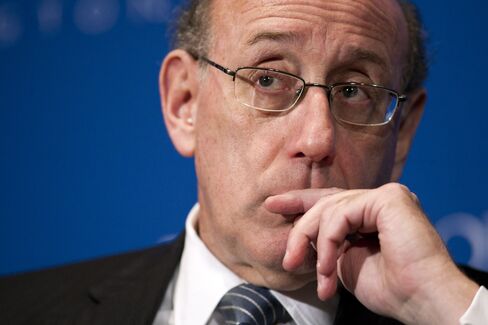 The $20 billion fund for victims of BP Plc's oil spill may be backed by the company's U.S. oil and gas production, an arrangement that an advocacy group called a conflict of interest for the Obama administration.
Provisions of the Deepwater Horizon Oil Spill Trust were released today at the White House. BP agreed to the trust fund, to be administered by Kenneth Feinberg, after a June meeting at the White House with President Barack Obama and BP executives including Chairman Carl-Henric Svanberg.
Using BP's production as collateral is "wildly inappropriate" because it may give the administration pause in pursuing criminal charges against the London-based oil company and in cracking down on its safety failings, Public Citizen, a Washington-based advocacy group, said today in a statement.
"It's to their advantage to have an upper hand with an open-ended criminal investigation still pending," Tyson Slocum, director of the group's energy program, said in an interview. "The upper hand is an agreement that directly links a continued robust presence by BP in the Gulf of Mexico to financing an Obama administration priority, the victims' fund."
Hannah August, a spokeswoman for the U.S. Justice Department, said oil and gas production was one option for securing the fund.
"The negotiations are ongoing for the security arrangements," August said in an interview.
Alternative Collateral
The agreement specifies that BP's U.S. production revenue will be used as collateral unless the company and the fund's trustees agree to substitute other property that isn't specified.
BP reported a second-quarter loss of $17.2 billion compared with a profit of $4.39 billion in the year-earlier period. The April 20 explosion of the Deepwater Horizon drilling rig, leased from Transocean Ltd., killed 11 workers and set off the biggest oil spill in U.S. history.
BP said this week that it made an initial payment of $3 billion into the fund. Citigroup Inc. will be the fund's corporate trustee and paying agent. John S. Martin, a former federal judge, and Kent Syverud, dean of the Washington University in St. Louis School of Law, were appointed individual trustees.
The cost of the spill rose to $6.1 billion, excluding the escrow-fund deposit, BP said Aug. 9. The well spewed an estimated 4.9 million barrels of crude before it was capped July 15. BP said it will deposit an additional $2 billion into the fund by the end of the year and $1.25 billion each quarter until it reaches $20 billion.
Cost to Communities
That may not be enough to pay all claims, according to Roger Dow, president and chief executive officer of the U.S. Travel Association in Washington.
The spill may cost Gulf coastal communities $22.7 billion in lost revenue over the next three years, Dow told the House Energy and Commerce Subcommittee on Commerce, Trade and Consumer Protection in July.
Robert Dudley, who replaces Tony Hayward as BP's CEO on Oct. 1, said in June the company will keep U.S. assets to guarantee the trust fund and sell other interests to help cover costs of the disaster. BP said July 27 it plans to dispose of as much as $30 billion in assets in the next 18 months.