Blagojevich Jury May Be Deadlocked in Case Against Ex-Governor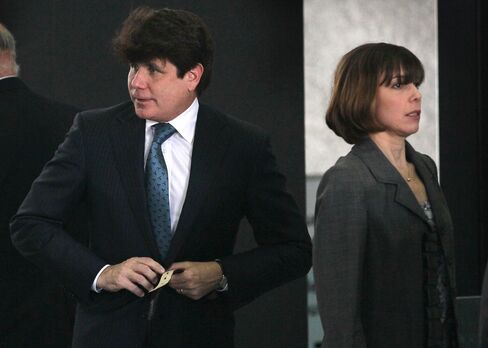 The jury in the Chicago corruption trial of Rod Blagojevich may be deadlocked on some of the counts against the former Illinois governor.
Jurors asked how to proceed if they can't reach a unanimous verdict, U.S. District Judge James B. Zagel said, reading the panel's note yesterday in a full courtroom while Blagojevich and his brother and co-defendant Robert listened, along with their attorneys and prosecutors.
"In a situation where jurors cannot agree on a unanimous decision," Zagel read, "what should the next logical step be?"
Blagojevich, a twice-elected Democrat, faces 24 corruption counts, including an allegation that he tried to trade his power to appoint a U.S. senator to replace President Barack Obama for campaign donations or personal favors.
Robert Blagojevich, who chaired his brother's campaign finance committee in 2008, is charged with four criminal counts. They face as long as 20 years in prison if found guilty of the most serious charges, which include wire fraud.
The jury didn't specify the counts on which they agreed or disagreed, Zagel said.
With the consent of prosecutors and defense lawyers, the judge said he would tell jurors it was permissible for them to reach a unanimous verdict on some counts, while remaining deadlocked on others.
Didn't Understand
Michael Ettinger, a lawyer for Robert Blagojevich, told reporters in the courthouse lobby after the hearing that he didn't fully understand the jury's note.
While it appears the jury can't reach a decision, Ettinger said, "The bottom line is I don't know."
Sam Adam Sr., an attorney for the ex-governor, said, "The judge has asked the defense and the prosecution to make no statements."
"It isn't as much as an order, it is a request," Adam said.
The note is the third sent by the panel of six women since the start of deliberations on July 28. The jurors have deliberated for all or part of 11 days.
Zagel denied the jury's request for transcripts of the lawyers' closing arguments at the outset of deliberations.
On July 30, jurors asked if transcripts of testimony were available without specifying whose testimony they wanted to review. Zagel told the panel that, while it was possible to get such transcripts, it could take time to prepare them. The jurors didn't submit a follow-up request.
Citing his trial experience, Zagel said yesterday that jury deliberations are typically quiet except when disagreements erupt. This jury, he said, has had no such incidents.
He called the jurors "exceptionally disciplined."
The case is U.S. v. Blagojevich, 08-cr-00888, U.S. District Court, Northern District of Illinois (Chicago).
To reach the reporters on this story: Andrew M. Harris in federal court in Chicago at +1-312-427-5474 or aharris16@bloomberg.net; Elizabeth Campbell in Chicago at +1-312-443-5941 or ecampbell14@bloomberg.net.
To reach the editor responsible for this story: David E. Rovella at +1-212-617-1092 or drovella@bloomberg.net.