Air India Boosts Demand From Boeing for 787 Delays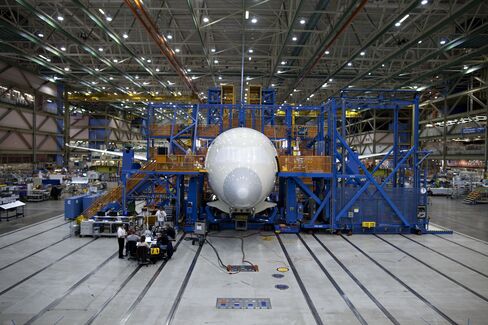 National Aviation Co. of India Ltd., Air India's state-owned parent, plans to seek about $840 million in compensation from Boeing Co. for a delay of almost three years in delivery of its 787 Dreamliner jets.
National Aviation has raised the amount from a January 2009 demand for $710 million, according to a statement yesterday. Deliveries of the 27 Dreamliners Air India has on order are expected to begin in next year's second quarter, according to Dinesh Keskar, president of Boeing India. The original target was September 2008.
The Indian company, which hasn't posted a profit since its formation in 2007, said the delays have hampered its growth plans and saddled it with additional costs. The company may increase the compensation claim again should the delivery date be delayed further, according to the statement.
"A cash payment would be very handy for Air India at this stage," Binit Somaia, an analyst at the Centre for Asia Pacific Aviation in Sydney, said by telephone. "I would imagine the manufacturer though would opt for non-cash components, in the form of discounts for future orders and training."
The debut of the 787, the first composite-plastic airliner, has been set back more than two years as Chicago-based Boeing has struggled with new materials, parts shortages, redesign work and increased reliance on suppliers. The company said last month that the Dreamliner's entry into service may slide into 2011, rather than the most recent target of the end of this year.
Negotiating With Customers
Boeing has said it's negotiating with customers over penalties for the delays. Spokesman Mike Tull declined to comment yesterday about Air India. Boeing has orders for 847 Dreamliners from 55 customers, making the model its best-selling new jet ever.
"The majority of planes in the backlog have been affected by the delay and would be subject to some sort of penalty," said Myles Walton, an analyst at Deutsche Bank AG in New York. "What's unlikely is that any individual customer would rise to this level. I would find it highly unlikely that the claims being quoted for Air India will ever come to pass."
Boeing's penalties to all customers will probably reach about $5 billion, Walton said. The company will probably seek to satisfy those claims through discounts, maintenance agreements, options, purchase rights, delivery-slot availability and other means instead of cash payments, he said.
Air India said the delay has resulted in the loss of opportunities, business and market share. The company sought compensation on the grounds of hampered growth plans, inability to use more fuel-efficient aircraft, continued leasing of jets at high cost, and additional interest burden on pre-delivery payments it made for the planes.
Equity Infusion
National Aviation, based in Mumbai, will receive an equity infusion of 12 billion rupee ($255 million) from the government during the fiscal year ending March 2011, as it seeks to break even in five years.
Air India aims to fly an 25 million travelers a year domestically and 15 million on overseas routes to break even in fiscal year 2015, Arvind Jadhav, chairman and managing director, said on July 25.
Before it's here, it's on the Bloomberg Terminal.
LEARN MORE