Taymor's $50 Million 'Spider-Man' to Open Dec. 21 on Broadway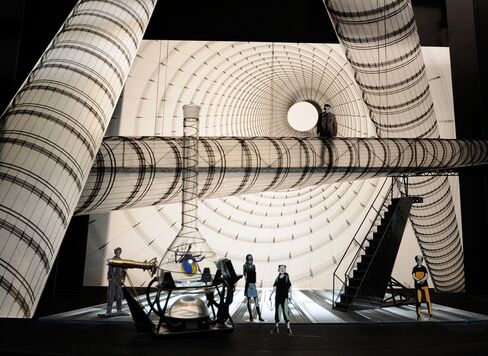 Rehearsals are under way and an opening date of Dec. 21 has been set for "Spider-Man Turn Off the Dark," at $50 million and counting the most expensive Broadway musical ever mounted.
Previews are to begin Nov. 14 at the Foxwoods Theatre in Times Square, lead producer Michael Cohl announced today.
The show, which includes songs by Bono and The Edge of the rock group U2, is staged and co-written by Julie Taymor, whose imaginative direction of "The Lion King" continues to sell out after almost 13 years on Broadway.
Costs spiraled from $31 million to an estimated $50 million for the show, which will feature flying superheroes designed by a team from Cirque du Soleil and a life-size subway car whizzing around the theater.
Ticket prices will range from $67.50 to $140.
Production was halted last year when the original producer, David Garfinkle, ran out of cash. Several cast changes followed, as key actors took on other assignments.
"Spider-Man" will star Reeve Carney in the title role, Jennifer Damiano as Mary Jane Watson and Patrick Page as Spidey's nemesis, Norman Osborn, aka the Green Goblin.
The book is co-written by Taymor and Glenn Berger. The set design is by George Tsypin, with Donald Holder handling the lighting, Eiko Ishioka creating the costumes and Daniel Ezralow as choreographer.
Huge Gamble
The show represents a huge gamble for the producing team, which includes Garfinkle, Jeremiah J. Harris, Sony Pictures Entertainment and Land Line Productions in association with Marvel Entertainment.
The Foxwoods Theatre has undergone a name change and a major renovation. It was called the Ford Center for the Performing Arts and the Hilton Theatre before it was renamed this week.
With such high costs, the show will need to run at capacity for years to return any money to investors. Touring versions will require similar expenses in order to recreate the Broadway experience.
Nevertheless, the show already has raised expectations that it could be a blockbuster like Taymor's "Lion King" and such long-running money-makers as "The Phantom of the Opera" and "Wicked."
Before it's here, it's on the Bloomberg Terminal.
LEARN MORE