Rangel Says He Won't Resign House Seat, Seeks Hearing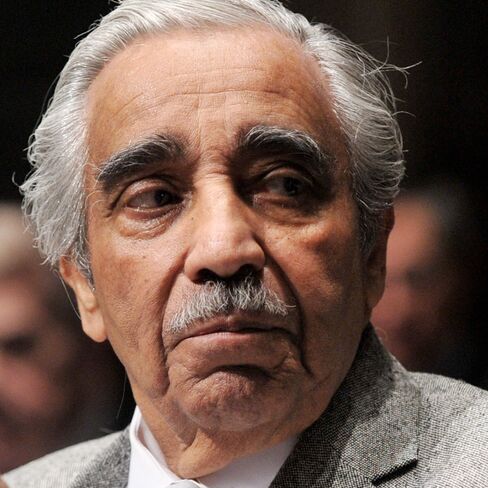 U.S. Representative Charles Rangel of New York, accused by the House ethics committee of improper fundraising, rebuffed calls for his resignation and urged the panel to "expedite" its hearing so he can defend himself.
"I am not going away. I am here," Rangel, 80, said to applause from some fellow Democrats during a sometimes emotional 30-minute speech in the House chamber yesterday. "Don't leave me swinging in the wind until November."
Several Democratic representatives, including Walt Minnick of Idaho, Michael Arcuri of New York and Betty Sutton of Ohio, called on Rangel to resign from office or consider it after the ethics panel announced 13 charges against the former chairman of the House Ways and Means Committee.
Rangel reminded those Democratic lawmakers who are calling for his resignation that "I am the guy who was raising money in Republican districts to get you here."
Arcuri, elected in 2006 to succeed a 12-term Republican who had retired, gave "all campaign contributions from Congressman Rangel to charity months ago," his campaign spokeswoman, Carolyn Ehrlich said in an e-mail.
Rangel also responded to President Barack Obama's July 30 comment in a CBS News interview that the lawmaker should be "able to end his career with dignity."
Rangel Scandal
"Some people have said the president has suggested his life might be made easier if there was no so-called Charlie Rangel scandal," Rangel said. "But I interpret" Obama's comment "another way."
"When the president said that he wanted me to end my career in dignity, he didn't put a time limit on it," Rangel said. "And I would think his concern would be" that any member accused of wrongdoing be afforded a "process" to explain himself.
"The president wants dignity; let's have dignity in the House where the ethics committee means something," Rangel said. "I do want the dignity that the president said" was his due, he said. "If I don't get my dignity back here, then fire your best shot in getting rid of me with expulsion."
Last month, the House Committee on Standards of Official Conduct charged Rangel with improperly soliciting and obtaining more than $8 million in donations for an academic center at City College of New York bearing his name from companies and foundations with legislation before Congress. He is also accused of breaking House rules by sending solicitation letters on congressional letterhead that were prepared by House staffers.
Letters to Lobbyists
Rangel's misuse of the letterhead is not as serious as sending the letters to lobbyists and corporate executives with business before Congress, Washington ethics lawyer Stefan Passantino said yesterday in an interview.
Rangel's "efforts to minimize" the allegations against him "doesn't do him any good and potentially could do him harm with his colleagues," Passantino said.
Rangel stepped aside as chairman of the tax-writing Ways and Means committee in March after the ethics panel admonished him for accepting corporate-sponsored Caribbean trips.
In his speech yesterday, Rangel said "it appears as though partisanship has entered the ethics committee" because the investigating subcommittee's recommendation that he be reprimanded was "turned down" by Republicans.
'A Corrupt Thing'
Rangel said he complained to his lawyer "when I found out that one of the Republicans" sitting on the panel that will hear the evidence "made remarks condemning me for my contributions to City College" and called it "a corrupt thing," Rangel said.
The lawyer replied that "the ethics committee can do what they want," Rangel said.
House Speaker Nancy Pelosi, a California Democrat, defended the ethics committee in a statement issued in response to Rangel's speech. The "independent, bipartisan" panel "is the proper arena for ethics matters to be discussed," she said.
Rangel, first elected to his Harlem-based House seat in 1970, said the ethics panel hasn't been able to tell him when a hearing will be held. He faces a Democratic primary challenge on September 14, and he said the hearing may not take place before the November election.
"All I desire and demand is a right to be heard," Rangel said. Apologizing for "hurting anyone's feelings" or embarrassing fellow Democrats during an election year, Rangel said he is seeking "equity, fairness and justice" for any other lawmaker accused of ethical wrongdoing.
Legal Bills
Saying that he has accrued almost $2 million in legal bills during the investigation, Rangel said he was "not asking for leniency. I am asking for exposure of the facts."
Rangel argued that the ethics charges against him don't allege that he was guilty of personally benefitting from his actions. "No one says I have broken any laws," he said.
The ethics panel's complaint did outline violations of federal laws, such as misuse of congressional postal privileges for private fundraising.
Rangel said he may be guilty of "grabbing the wrong stationery" when he sent more than 100 letters soliciting donations from companies that included Verizon Communications Inc., New York Life Insurance Co. and American International Group Inc.
"It may be stupid; it may be negligent. But it's not corrupt," Rangel said.
He also said his failure to report income from a vacation villa he owns in the Dominican Republican on tax returns and House financial disclosure reports -- another of the charges against him -- was due to "negligence" by his accountant.
"Is that an excuse that is worthy? Of course not," Rangel said. "The fact that I signed it does not really give an excuse as to why I should not apologize to this body" for not paying closer attention to the tax and disclosure forms.
Before it's here, it's on the Bloomberg Terminal.
LEARN MORE