Octopus Paul Swims Clear of Euro; Gets Tentacles on Book Deal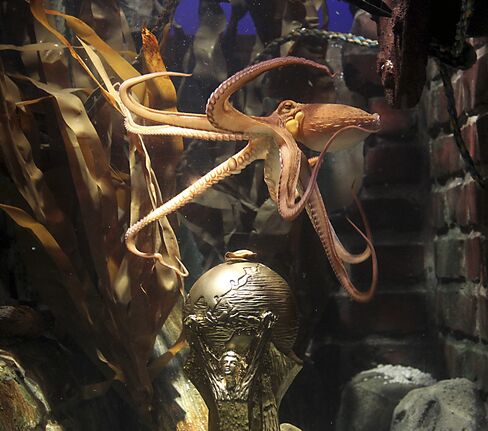 Paul the Octopus oracle declined to give Bloomberg News an exclusive long-term forecast for the euro's performance against the dollar.
From his tank at the Sealife aquarium in Oberhausen, Germany, the eight-legged sage accurately foretold the result of all the German team's matches in the World Cup soccer tournament by choosing between two mussels in separate containers marked with the relevant flag. He went on to predict, correctly, that Spain would beat the Netherlands in the final.
Now, Paul is reaping the rewards -- and resting on his underwater laurels when it comes to prophecies.
"If he tipped the dollar or the euro, there could be an economic crisis," Oliver Walenciak, the biologist in charge of displays at Sealife, said over coffee on a balcony at the aquarium. "For us, it was always just fun. But there were people who really believed him and bet accordingly, and made a lot of money. So it's better if he steers clear of financial markets."
Paul's tank is adorned with the flags of World Cup countries and, inside, a replica trophy recalls his successes. Sealife staff report an increase in Spanish visitors grateful for Paul's accurate predictions, and a stream of Asians fascinated by his psychic skills. The Spanish town of Carballino even sent a delegation to present Paul with a bronze statue.
Unfazed by Fame
Paul seems unfazed by fame. When a hand bearing a long silver fish appeared at the top of his tank, he uncoiled a few probing tentacles and sidled up the glass for breakfast, changing color to a dark brown from a sandy beige as he moved.
"Luca, look, that's Paul!" Marcus Meyer, a father visiting Sealife from Hamburg, called out to his young son. "Germany lost because of him."
Paul laps up the crowds and attention, Walenciak said.
"Whenever there are cameras, he comes out and presses himself against the glass," he said.
The requests keep coming. Paul has a book deal, a movie contract and a series of endorsements, including advertising for the German supermarket chain Rewe Handelsgruppe AG. He is now a "multimillion brand," according to talent agent Chris Davis, whose Worcester- and London-based company Chris Davis Management Ltd. is representing Paul.
Paul's publishing debut will be an interactive book, produced by Riva Verlag in Munich, that allows readers to ask the oracle what the future holds for them, Davis said.
Greek Turtles
"Will I fall in love? Will I make money? That kind of thing," he explained in a phone call. There will also be a fluffy toy Paul with similar fortune-telling capacities, Davis said. Paul's earnings will go to help turtles at a sanctuary in Zakynthos, Greece, he said.
A Russian sports-betting entrepreneur even offered 100,000 euros ($132,000) for Paul, Davis said. "We said no," he said. "He came back and offered 300,000 -- we said no again."
Davis took a more business-like approach when asked whether Paul would be available for currency forecasts.
"Bloomberg would have to write a very large check to the turtle sanctuary in Greece," he chuckled.
Walenciak has fended off a stream of other proposals.
"One reporter asked me to ask Paul whether his wife was being unfaithful to him," he said. "From Australia, someone asked whether he would predict the outcome of the elections."
Poached Polpo
Yet Paul has his detractors as well as supporters. Some German fans threatened to boil, roast, fry or poach him into polpo after the team's defeat. Iranian President Mahmoud Ahmadinejad accused the West of attempting to "manipulate people's minds through superstition, an octopus, fortune-telling and such things."
A sign by Paul's tank describes him as "octopus vulgaris," or "common octopus," though it also points out that he is anything but common.
"Paul has not only nine brains and three hearts, he also managed to predict the German games during the football World Cup in 2010!" it proclaims.
Octopuses do have talents that other related creatures such as slugs and snails lack. They can unscrew lids, find their way through labyrinths, and tests have even shown that they can learn by observation -- something most mammals are incapable of. They are also playful, said Walenciak.
"If they get bored, they start chewing themselves and die early," he said. "So you give them tasks, like trying to get food out of jars with lids, which they usually master very quickly. They also play games which are the equivalent of humans throwing a ball against the wall."
Octopus Intelligence
In a test in Naples, an octopus learned to choose a red ball instead of a white one by watching another octopus doing the exercise first. Walenciak said humans don't understand octopus intelligence because we are too different.
"Octopuses have a radically different environment and different challenges," he said. "It's often said that octopuses are as clever as a two-year-old child, or as a rat, but it's a completely different kind of intelligence.
"We don't know, for example, how they orientate themselves, but octopuses can go foraging for food in one direction and come home via a short cut."
So no one knows what Paul is thinking now. Perhaps he is mulling the random nature of celebrity. Or he's simply waiting for his next fish.
Or, just maybe, he's already weighing Germany's prospects for the European Championship in 2012.
(Catherine Hickley writes for Muse, the arts and leisure section of Bloomberg News. The opinions expressed are her own.)
Before it's here, it's on the Bloomberg Terminal.
LEARN MORE