GDF Buys International Power, Pays Special Dividend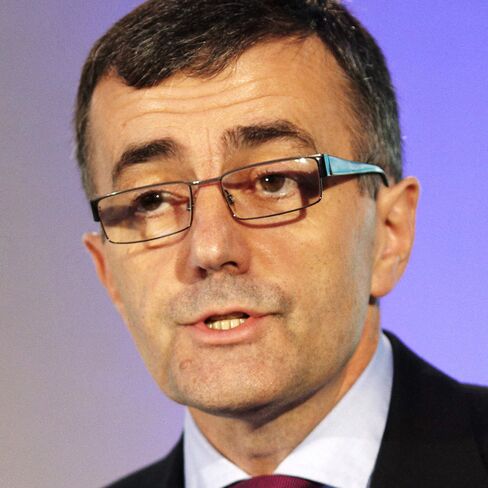 GDF Suez SA, operator of Europe's largest natural-gas network, agreed to buy International Power Plc, creating an electricity producer worth $30 billion with plants from Brazil to Australia.
GDF will transfer power plants and pay International Power owners a special dividend of 92 pence a share ($1.45), or 1.4 billion pounds, the companies said today. The London-listed company will have a generation capacity of 66,000 megawatts.
The enlarged entity combines GDF's unit outside Europe and assets in the U.K. and Turkey with those of International Power and will be headed by current Chief Executive Officer Philip Cox. GDF will own about 70 percent of the company as part of a plan by Chief Executive Gerard Mestrallet to expand abroad because profits in France are capped by regulated prices.
"The overall structure and potential benefits to both sets of shareholders are even better than we hoped for," Fraser McLaren, an analyst at Bank of America Merrill Lynch, said in a note. He had estimated the dividend would not exceed 90 pence.
The U.K. utility has interests in more than 45 power stations, ranging from wind farms in Canada to gas-fired plants in the United Arab Emirates and Thailand. Its shares dropped 7.4 pence, or 2 percent, to 372.6 pence at 4:45 p.m. in London, valuing the company at 5.7 billion pounds.
Fast Growing
"The new International Power will have market leading positions in some of the world's fastest growing regions," including Brazil, the Middle East and Asia, Mestrallet said on a conference call today. The new company will have about 5.1 billion outstanding shares, Cox said. That would value the company at about 19 billion pounds based on today's share price.
GDF Suez Energy International has about 32,000 megawatts in operation including in Brazil and the U.S. In the U.K., it owns Europe's largest combined-cycle gas turbine electricity plant and is also one of Turkey's largest natural-gas distributors. GDF fell 42 cents, or 1.6 percent, to 26.37 euros in Paris.
The company will have an investment grade credit rating of at least BBB- by Standard & Poor's Ratings Services, Cox said at a press conference in London today.
The cost of insuring International Power bonds from default dropped to 174.36, the lowest in almost three years, at 3:39 p.m. in London, signaling an upgrade in its credit rating. The contracts are used to hedge against losses on bonds and speculate on creditworthiness.
Cost Savings
The deal will result in about 165 million pounds of annual pretax cost savings and revenue enhancement, Cox said, with about 75 percent of these benefits being realized by 2012. The special dividend will be paid to shareholders "shortly after the deal is signed off," he said.
Today's agreement is a reverse takeover under British rules. International Power was advised by Nomura Holdings Inc., Morgan Stanley and JP Morgan Cazenove. GDF advisers included Goldman Sachs Group Inc., Rothschild, BNP Paribas and Blackstone Group LLP.
The companies said they expect to complete the transaction at the end of the year or in early 2011 after obtaining approval from authorities, employees and shareholders.
"International Power faces a number of challenges in coming years," including a "problematic re-financing from 2012 and "bombed out U.S. markets for a number of years," Lakis Athanasiou, an analyst at Evolution Securities Ltd., said in a note. "Agreeing the GDF 'merger' probably seems the easy solution."
Separately, GDF reported a 9.3 percent increase in first-half profit, boosted by a cold winter in France and investment in power projects. Net profit rose to 3.6 billion euros, beating the 3.2 billion euro median estimate of nine analysts surveyed by Bloomberg. International Power first-half profit from operations dropped 5 percent to 524 million pounds.
Before it's here, it's on the Bloomberg Terminal.
LEARN MORE