Former U.S. Senator Stevens Dies in Remote Alaska Plane Crash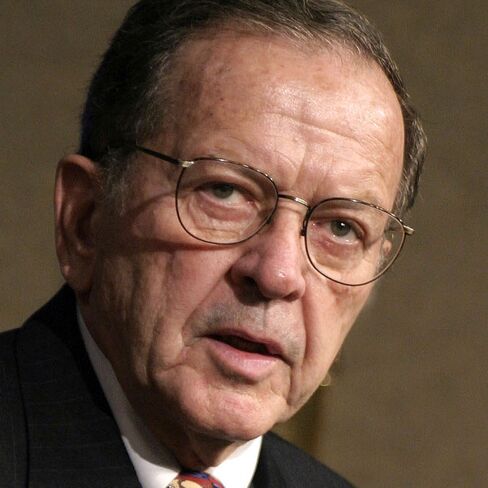 Aug. 11 (Bloomberg) -- Ted Stevens, who spent four decades in the U.S. Senate from Alaska before losing re-election in 2008, was killed in the crash of a small plane during a fishing trip in a rural part of the state.
Lawmakers said Stevens, a Republican whose Senate tenure set the record for his party, leaves a legacy that included helping achieve Alaska's statehood and fighting for the interests of his adopted home state.
"Ted always said, 'To hell with politics. Do what is best for Alaska'" Louisiana Senator Mary Landrieu, a Democrat, said in a statement. "He never apologized for fighting for his state, and Alaska is better for it today."
Former Alaska Governor Sarah Palin, the 2008 Republican vice presidential nominee, called Stevens, who was 86, "a warrior and a true champion of Alaska."
Stevens and eight other people were en route to a fishing camp on August 9 when the plane, owned by General Communication Inc., the Alaskan telecommunications provider, crashed near Dillingham, Alaska, National Transportation Safety Board Chairman Deborah Hersman said yesterday. The flight left from a lodge owned by GCI, Hersman said at a press briefing at the Anchorage airport named for Stevens.
Stevens was among five passengers who died in the crash.
Survivors
Four people, including former National Aeronautics and Space Administration head Sean O'Keefe, the chief executive officer of EADS North America, and his son, Kevin, survived.
After the DeHavilland DHC-3T plane crashed, "good Samaritan" aircraft spotted the plane on a 40-degree slope in the remote Alaskan wilderness, state officials said yesterday at an Anchorage news conference.
While rescuers were unable to reach the site with aircraft, they lowered a physician who tended to the survivors until they could be evacuated to Anchorage yesterday, Hersman said.
GCI's senior vice president of legal, regulatory and governmental affairs, Dana Tindall, 48, and her 16-year-old daughter, Corey Tindall, were among the victims. Pilot Terry Smith and William Phillips Sr., a former aide to Stevens, also died.
The other survivors were 13-year-old William Phillips Jr. and former Stevens aide Jim Morhard, of Alexandria, Virginia.
The survivors were taken to Providence Hospital in Anchorage with "varying degrees of injuries," Alaska State Troopers spokeswoman Megan Peters said in a statement.
The group had intended to fish for silver salmon and departed after lunch on Aug. 9, Hersman said. A search started after a call to the fishing camp revealed that the plane hadn't arrived, she said.
Icing Possible
The weather was overcast and conducive to icing when the plane was believed to have crashed, said State College, Pennsylvania-based Accuweather.com in a statement.
"At the layer above 6,000 feet to 10,000 feet, the air was saturated and below freezing, which could have led to icing on the airplane," AccuWeather.com senior meteorologist Henry Margusity said. Icing can disrupt airflow over the wings and rob an aircraft of lift.
The plane is a single-engine turboprop manufactured in 1957, according to the Federal Aviation Administration's registration database.
The fatal accident was the second plane crash in which Stevens was involved. He survived a 1978 plane crash at Anchorage International Airport that killed five people, including his wife, Ann. He later remarried.
Committee Chairman
In the Senate, Stevens was known for scrapping with fellow lawmakers to get his way on legislation. As chairman of the Appropriations Committee during part of his service, he would wear an Incredible Hulk tie on days the Senate debated one of his spending bills.
"He liked the battle," said Jack Roderick, a longtime friend who practiced law with Stevens in Anchorage.
In a White House statement, President Barack Obama recalled the attention Stevens gave to his state. "Senator Ted Stevens devoted his career to serving the people of Alaska," Obama said.
Stevens lost his re-election bid in 2008 following a conviction that was later overturned. The Alaska Republican was accused of failing to disclose more than $250,000 in gifts from a former oil executive and others and was convicted in October 2008.
Overturned Verdict
The verdict was overturned by a U.S. judge who ordered an investigation into alleged criminal conduct by prosecutors. The Justice Department abandoned the case after finding that prosecutors withheld evidence that could have helped Stevens contest the charges of omissions from financial disclosures.
Stevens was born in Indianapolis, Indiana, on November 18, 1923 and spent part of his childhood in California. He graduated from the University of California-Los Angeles and Harvard Law School and moved to Alaska in 1950.
He was appointed to his Senate seat in December 1968, then won it in an election two years later.
O'Keefe served as administrator of NASA from December 2001 to December 2004. He led the U.S. space agency after the space shuttle Columbia disaster. From 2005 to 2008, he was chancellor of Louisiana State University.
He became EADS North America's chief executive officer in November 2009. Prior to joining the company, O'Keefe worked for General Electric Co., leading the Washington operations of the GE Aviation business. He had served as secretary of the Navy under former President George H.W. Bush.
To contact the reporter on this story: Jeff Bliss in Washington at jbliss@bloomberg.net
To contact the editor responsible for this story: Mark Silva at msilva@bloomberg.net