Buffett Shortens Bond-Holding Duration After Inflation Warning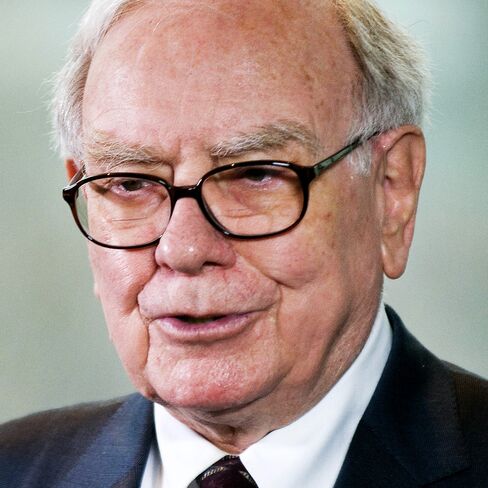 Warren Buffett shortened the duration of bonds held by his Berkshire Hathaway Inc. after warning that deficit spending could force inflation higher.
Twenty-one percent of holdings including Treasuries, municipal debt, foreign-government securities and corporate bonds were due in one year or less as of June 30, Omaha, Nebraska-based Berkshire said in a filing Aug. 6. That compares with 18 percent on March 31, and 16 percent at the end of last year's second quarter.
"It may be a sign that Buffett expects interest rates to start rising, maybe sooner than the conventional wisdom," Meyer Shields, an analyst in Baltimore at Stifel Nicolaus & Co. who has a "sell" rating on Berkshire, said in an interview.
Inflation has fallen to a 44-year low even as the Federal Reserve more than doubled its balance sheet in two years to $2.33 trillion to help draw the economy out of recession. A U.S. jobs report last week showing that companies hired fewer workers than forecast in July pushed the two-year Treasury yield to a record low. Bill Gross, founder of Pacific Investment Management Co., advised investors to buy longer-dated maturities.
Buffett, 79, urged Congress last year to guard against inflation as the U.S. economy returned to growth. In an August 2009 op-ed in the New York Times, the Berkshire chief executive officer said government must address the "monetary medicine" that was pumped into the financial system after the 2008 crisis.
"The United States is spewing a potentially damaging substance into our economy -- greenback emissions," Buffett wrote. "Unchecked greenback emissions will certainly cause the purchasing power of currency to melt." Buffett didn't return a message for comment left with an assistant.
Record Deficits
The Obama administration forecasts the federal government will run a record $1.47 trillion budget deficit this year. Since the end of 2007, U.S. borrowing to support the economy has raised the total outstanding public Treasury debt to $8.18 trillion, an 80 percent increase.
Buffett accumulated the world's third-biggest personal fortune through decades of stock picks and takeovers. Berkshire maintains a fixed-income portfolio valued at about $32 billion to back claims against storm damage and car crashes covered by insurance units like Geico Corp. and General Re.
Berkshire's holdings of fixed-income securities due in one year or less advanced 8.5 percent in three months to $6.08 billion on an amortized cost basis as of June 30. Bonds maturing after a year fell 8.6 percent to $22.7 billion in the period. In each of the last three quarters, holdings of bonds due in 12 months or less advanced, while securities maturing in more than a year slipped.
'Biased Toward Inflation'
"He's probably biased toward inflation down the road," said Glenn Tongue, a partner at T2 Partners LLC, which is a Berkshire shareholder. "He would want to gradually make the duration decline because in an inflationary environment it's a longer-term instrument that will be the most hit."
The rate of increase for the consumer price index excluding food and energy held at 0.9 percent for the three months ended in June. The Labor Department will say Aug. 13 that the rate remained unchanged in July, according to the median forecast of 35 economists in a Bloomberg News survey.
The spread between yields on 10-year notes and Treasury Inflation Protected Securities show money managers expect consumer prices to increase an average of about 1.8 percent annually in the next 10 years, down from a median expectation of about 2.2 percent during the previous 10 years.
Stocks, Cash
Berkshire's fixed-maturity portfolio was valued at $32.1 billion as of June 30, compared with $35.1 billion a year earlier. Holdings of non-U.S. government debt dropped 7.7 percent to $10.2 billion in that period, and corporate bonds declined 3.9 percent to $12.7 billion. Investments in Treasuries and agency securities slipped 7.3 percent to $2.25 billion.
Investments in equities had a market value of $54.7 billion as of June 30, led by holdings of Coca-Cola Co., Wells Fargo & Co. and American Express Co. The firm had a cash hoard of about $28 billion.
Before it's here, it's on the Bloomberg Terminal.
LEARN MORE