Sara Lee CEO Barnes to Resign After Suffering Stroke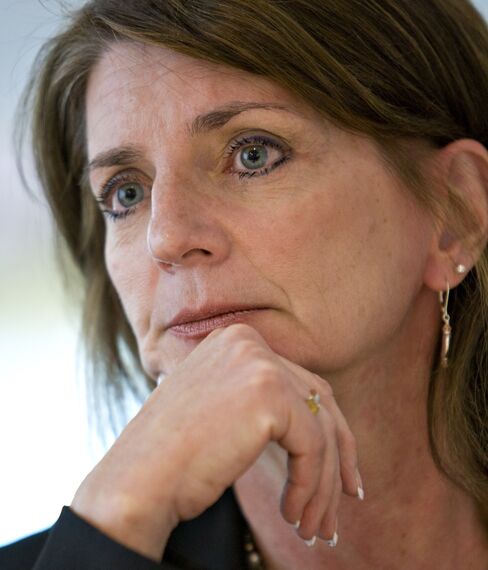 Sara Lee Corp., the maker of Ball Park hot dogs and Senseo coffee, said Brenda Barnes is resigning as chairman and chief executive officer, focusing on her health after taking leave in May to recover from a stroke.
Marcel Smits will continue as interim CEO and James S. Crown will remain chairman during the search for a successor, Sara Lee said today. Smits and C.J. Fraleigh, head of the North American retail and foodservice operations, are both contenders for the job, D.A. Davidson & Co. analyst Tim Ramey said.
The successor to Barnes, who led Sara Lee for more than five years, faces the task of reviving sales that have stagnated or dropped for six straight quarters. The new chief may pursue purchases, using proceeds from asset sales, to keep up Barnes's efforts to fuel revenue from packaged foods, according to Peter Jankovskis, co-chief investment officer at Oakbrook Investments.
"Barnes had started the process of paring down the company to focus on foods, but it is going to take time," said Jankovskis, who helps manage about $2 billion, including Sara Lee shares, at Lisle, Illinois-based Oakbrook. "Once they've sold enough assets, perhaps they'll make an acquisition. That seems to be the right strategy."
Search firm Egon Zehnder will work with Sara Lee's board to find a successor, according to a person familiar with the situation. Jill Totenberg, a spokeswoman for Egon Zehnder, declined to comment.
Fraleigh's History
Fraleigh, who joined the company in 2005, formerly worked at PepsiCo Inc, as did Barnes. He also is a member of the office of the chairman, a group created to oversee Sara Lee's strategy after Barnes went on leave. Crown will keep heading that group, Sara Lee said in a statement.
Sara Lee, based in Downers Grove, Illinois, fell 2 cents to $14.82 at 4 p.m. in New York Stock Exchange composite trading. The shares have climbed 22 percent this year.
Under Barnes, 56, Sara Lee sold off units including its body-care business to Unilever and its air-freshener unit to Procter & Gamble Co. for a combined 1.59 billion euros ($2.1 billion). The company hired Bank of America Corp. to advise it on options for its North American bread unit, people familiar with the matter told Bloomberg News last month.
Sara Lee shares dropped 24 percent under Barnes, who took charge in February 2005 and divested divisions, including apparel, and spent more to develop and advertise new varieties of Jimmy Dean breakfast foods and breads. Revenue sank 2.4 percent to $8.02 billion in the first nine months of the year.
Quarterly Results
"The change of leadership comes at a critical time for the company," Craig Hutson, an analyst at Gimme Credit LLC, said in a report today. "While it has become a better company with a stronger culture of accountability, its shareholders have not been rewarded."
Sara Lee plans to report fourth-quarter results Aug. 12. It forecast in May that profit would be 17 cents to 21 cents a share in the fourth quarter, excluding some items. Analysts on average project 21 cents, according to estimates compiled by Bloomberg.
Barnes joined Sara Lee in 2004 as president. Earlier, she was head of PepsiCo's Pepsi Cola North American unit until the end of 1997. She had spent 22 years at PepsiCo in posts including vice president of marketing for Frito-Lay. From November 1999 to March 2000, she served as interim president and chief operating officer of Starwood Hotels & Resorts Worldwide Inc.
Board Memberships
Barnes has served on the boards of The New York Times, Avon Products Inc., and Staples Inc. With her departure, there are now 14 female chiefs of Fortune 500 companies, according to Catalyst, a New York-based research and advocacy group for women in business.
Sara Lee will continue to pay Barnes' base salary for approximately three months and provide health coverage at her expense, according to a regulatory filing today. Her base salary was $1.15 million in fiscal 2009, which was not increased in 2010 due to a salary freeze among upper management, according to the company's annual proxy report.
Smits, Sara Lee's interim CEO, had served as finance chief for seven months before taking over some of Barnes's duties in May. He came in October 2009 from Dutch phone company Royal KPN NV, where he served as CFO. He previously spent 13 years at Unilever, the world's second-biggest maker of consumer products.
In Smits and Fraleigh, "You have two really great internal candidates," said Jeffrey Sonnenfeld, a dean at Yale University's School of Management, in a telephone interview. "Brenda's was not the most spectacular reign. But among her legacies was building an organization with great bench strength, so they don't have to go outside fishing for a CEO again."
Before it's here, it's on the Bloomberg Terminal.
LEARN MORE