Algonquin Cat Hosts Posh Fundraiser for Homeless Pals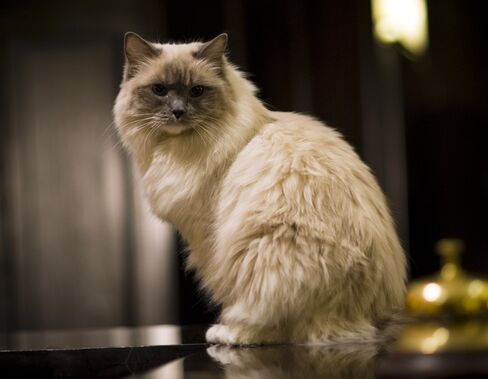 Aug. 9 (Bloomberg) -- "Matilda is a gravy girl," said Alice de Almeida, executive assistant at the Algonquin Hotel in Manhattan's Theater District. "She does have her dry food and then she loves her wet food, but it has to have gravy."
The hotel has catered to the city's literary upper-crust since the 1920s, when Dorothy Parker, Robert Benchley and their friends traded barbed bon mots over drinks. De Almeida, however, was referring to her feline charge, the hotel's ninth resident cat since a stray first walked through the front doors 80 years ago.
Matilda has free run of the lobby, along with a personal assistant, an email account, a kitty lounge and an annual birthday bash to raise money for an animal-related charity. This year's party -- her 15th -- is on Wednesday; proceeds will benefit New York's North Shore Animal League America, one of the largest no-kill shelters in the world.
The original Algonquin cat was named Rusty, a name the wits of the Algonquin Round Table found declasse. "John Barrymore was playing Hamlet so they changed the cat's name to Hamlet," de Almeida said.
Matilda may stick with gravy, but there will be hors d'oeuvres, a cake and themed cocktails -- Purrtinis, of course, and Pink Pussycats -- for the biped celebrants.
Catty Runway
Broadway and cabaret performer Sarah Rice will lead the "Happy Birthday" caterwaul at the end of the night, but the main event will be the annual cat fashion show, where "mewdels" from the Westchester Feline Club will slink down the runway in elaborate outfits by Carla Reiss of Meow Wear.
Cat therapist Carole Wilbourn will be on hand to provide Reiki, a Japanese relaxation technique. In their dressing rooms, the privileged kitties will also be soothed by the music of Pet Acoustics.
Hosting the show and the party will be John Fulton, of Animal Planet's upcoming cable TV series, "Must Love Cats." The event will be featured on the show, in which Fulton cruises the country showcasing airworthy cat stories. He also writes songs for them.
"I'm a musician first," Fulton said in an interview. "If it rhymes with kitty I've probably written it.
"My message is definitely spay and neuter," he continued. "There are so many cats out there that are in shelters and they really do need to be adopted."
Dogs, Too
If furry divas aren't up your alley, North Shore Animal League America will have a mobile unit on-site, stocked with adoptable dogs and cats for passersby and attendees.
They will also be taking donations; monetary, in-kind, food, litter and other supplies will be accepted. Last year the event raised $8,300 for the group, said Byron Logan, North Shore Animal League's corporate development director. He hopes to break $10,000 on Wednesday.
The organization adopts out 20,000 pets each year, but there are always more that need homes.
"When you adopt a pet you not only save the life of the pet, but that free cage space can now be used by the shelter or rescue group to go out and rescue another homeless pet," said Logan.
Pets end up at North Shore for many reasons, none of which are their fault.
"Shelter pets are wonderful," said de Almeida. "It's a really good cause and Matilda holds it dear to her heart. She wants all of her friends to have homes."
Matilda's birthday celebration and fundraiser benefitting the North Shore Animal League America is Wednesday, August 11, at the Algonquin Hotel, 59 W. 44th St. A minimum $25 donation is required at the door and reservations are necessary. Information: +1-212-419-9197; matildaalgonquincat@algonquinhotel.com. Go to http://www.animalleague.org/adopt for more dogs and cats.
(Alix Greenwald is an intern at Muse, the arts and leisure section of Bloomberg News. The opinions expressed are her own.)
To contact the reporter on this story: Alix Greenwald in New York at agreenwald5@bloomberg.net.
To contact the editor responsible for this story: Manuela Hoelterhoff in New York at mhoelterhoff@bloomberg.net.