Lehman, HSBC Face New York Lawsuit by H.K. Investors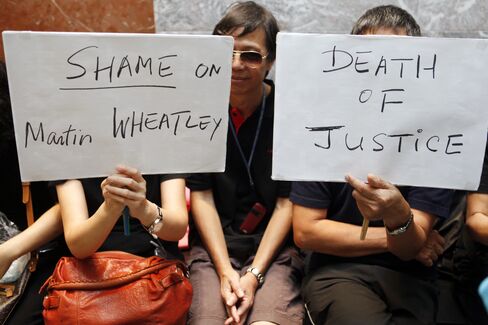 Lehman Brothers Holdings Inc. and HSBC Holdings Plc may be sued over $1.6 billion in worthless securities sold to retail investors in Hong Kong, a judge in New York ruled yesterday.
U.S. District Judge William H. Pauley III reversed part of a decision by Lehman's bankruptcy judge, who threw out a suit by seven holders of structured financial notes called minibonds. The plaintiffs seek to represent a class of investors in the notes from June 16, 2003, to Sept. 15, 2008, Pauley said in his decision.
An estimated $1.8 billion of minibonds were sold to about 43,000 investors in Hong Kong, according to local regulators. Lehman's bankruptcy in 2008 wiped out the value of the investments, resulting in protests outside bank branches that have continued even after last year's government-brokered settlement between sellers and buyers of minibonds.
"This shows that the courts around the world have investor protection at heart," said Lewis Man, a partner at Hong Kong law firm Gall.
Hong Kong doesn't have a mechanism for filing class action lawsuits.
David Hall, a Hong Kong-based spokesman for HSBC, didn't have a response to the ruling. Kimberly Macleod, a Lehman spokeswoman, didn't return a voice-mail message left yesterday seeking comment.
Dismissal Reversed
In two orders, issued in November and December, U.S. Bankruptcy Judge James Peck ruled that the plaintiffs lacked standing to sue and that any attempt to revise their complaint would be futile. Pauley yesterday reversed the dismissal of one count against HSBC and Lehman and permitted the plaintiffs to amend two dismissed counts.
Pacific International Finance Ltd. issued the minibonds and marketed them as linked to the credit of financially sound companies and backed by AAA-rated collateral, Pauley said. A Hong Kong regulatory investigation disclosed that Lehman designed the minibonds program, the judge said. HSBC Bank USA was selected as trustee of the collateral securing the notes, Pauley said, citing testimony in the Hong Kong proceeding.
Public outcry over the collapse of the minibonds led to street protests in Hong Kong and an investigation by regulators into how banks sold the products. The head of the city's securities watchdog, Martin Wheatley, was called repeatedly to testify before Hong Kong's legislature.
Settlement Offer
Two BOC Hong Kong (Holdings) Ltd. managers in June pleaded not guilty in the city's District Court to charges of fraudulently selling minibonds. BOC Hong Kong was the biggest seller of the securities. The trial of the two employees starts in November.
Hong Kong banks offered to pay at least 60 cents on the dollar to investors in July last year as part of a buyback agreement brokered by the SFC. By the end of March, about 30,000 investors had accepted the agreement, according to the regulator's 2009-2010 annual report. HSBC didn't sell any minibonds and wasn't among banks involved in the repurchase agreement.
The case is Wong v. HSBC USA Inc., 10-cv-00017, U.S. District Court, Southern District of New York (Manhattan).