HP Drops as Hurd Quits, Leaving Lesjak Slowing Growth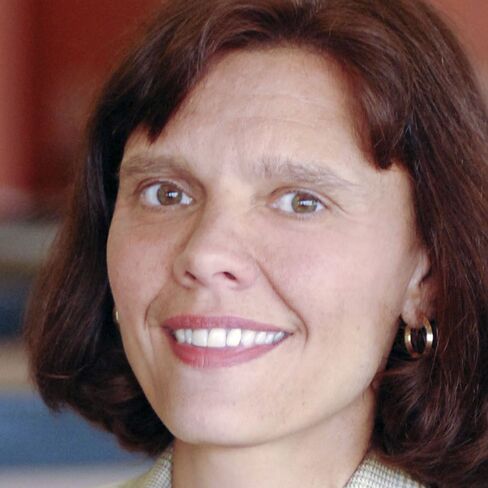 Hewlett-Packard Co. slid the most in six years in New York trading following the Aug. 6 resignation of Chief Executive Officer Mark Hurd, who leaves behind a company with slowing growth and a senior staff that may be distracted by jockeying for the top job.
Cathie Lesjak, the interim CEO who addressed reporters and analysts twice in the past three days, is seeking to play down concerns about the shakeup. Hurd left after a probe found inaccurate expense reports and a personal relationship with a contractor named Jodie Fisher, a former actress and reality TV contestant. She worked at the company for two years, helping organize executive events.
Going into what has been HP's biggest quarter, the computer maker forecast sales of $32.5 billion to $32.7 billion. That would be up about 6 percent from a year earlier, a slower rate than the past three quarters. The CEO search makes running the operations more complicated. Several outsiders will be considered for the CEO post, along with executive vice presidents Todd Bradley, Dave Donatelli, Ann Livermore and Vyomesh Joshi, said Abhey Lamba, an analyst at ISI Group.
"If one of them gets the job, what are the chances the other three stay on? That is the question HP has to deal with," Lamba said. The New York-based analyst recommends buying the shares, which he doesn't own himself.
Shares Tumble
Hewlett-Packard slid $3.70, or 8 percent, to $42.60 at 4 p.m. in New York Stock Exchange composite trading -- the biggest drop since August 2004. The shares have fallen 17 percent this year.
HP's closing price was initially misreported on Aug. 6 as $41.85 instead of $46.30 because Direct Edge Holdings LLC reported trades without the correct code attached, making it appear the computer maker's stock tumbled before Hurd quit.
At least seven analysts lowered their forecast for the company's stock price, according to a Bloomberg survey. Investors may demand a lower price for shares because of concerns Hurd's replacement won't be able to match his "cost- cutting acumen," said Chris Whitmore, an analyst at Deutsche Bank AG who lowered his 12-month price target to $45 from $52 in a note today.
'Under Pressure'
"We expect HPQ's valuation to remain under pressure," Whitmore said, adding that change could also bring opportunity. "While effective at cost cutting, Hurd's team lacked a compelling organic-growth strategy. We expect the board to bring in outside management who is focused on investing for growth."
Lesjak, 51, took herself out of the running for the permanent post. The company's goal is to find the best candidate for the job, she said.
Hurd's replacement will have to follow through on his five-year run of dominating the personal-computer market and expanding into new areas. Under his guidance, Palo Alto, California-based HP unseated Dell Inc. in PCs and undertook more than $20 billion in acquisitions, pushing deeper into computer services, networking equipment and smartphones.
Candidates from outside HP include Steve Mills, who has run the software group at International Business Machines Corp. for a decade and recently took over the hardware division, and former Oracle Corp. executive Ray Lane, who's now a managing partner at Kleiner Perkins Caufield & Byers, according to analysts and recruiters.
Previous Report
In May, Hurd reported quarterly sales that were about $1 billion more than analysts estimated. Revenue growth accelerated to 13 percent from the year earlier as the company shook off the recession. In the preliminary report for last quarter, which HP will release officially on Aug. 19, the company pegged sales growth at 11 percent.
Its forecast for the current quarter suggests that management is being more conservative, possibly because of the CEO change, Lamba said.
The company investigated Hurd after receiving a letter from Fisher's lawyer on June 29. Hurd turned the letter over to HP General Counsel Michael Holston within roughly a half-hour, according to a person familiar with the situation.
While the company determined that he didn't harass Fisher, it found that she received numerous inappropriate payments from HP during her two years as a marketing contractor. Hurd and Fisher settled the case out of court, according to her lawyer, Gloria Allred.
CEO Forums
The woman's job was to organize forums for CEOs and chief information officers that gave customers access to Hurd and other HP executives. She would gather background information on invitees and introduce executives to one another.
Fisher didn't have "an affair or intimate sexual relationship" with Hurd, she said in a statement released by her lawyer. Allred described Fisher as "a single mom focused on raising her young son. She has a degree in political science from Texas Tech and was recently the vice president of a commercial real estate company."
Fisher worked on the House Select Committee on Narcotics Abuse and Control, Allred said. Fisher also has appeared as an actress in such films as 1992's "Intimate Obsession," "Body of Influence 2" and "Sheer Passion," according to her Internet Movie Database page, which lists her age as 50.
Expense Reports
HP said Hurd submitted inaccurate expense reports that concealed his personal relationship with Fisher. The expenses, which range between $1,000 and $20,000, were for meals and travel, and Hurd intends to pay back the amount, according to a person familiar with the matter.
The investigation was led by Holston, along with outside counsel, under the supervision of the board, according to a person with knowledge of the situation.
The board's nominating and governance committee, which consists of board members Lawrence Babbio, Sari Baldauf, Lucille S. Salhany and G. Kennedy Thompson, is responsible for enforcing HP's standards of business conduct, a set of ethical guidelines for employees that HP said Hurd violated.
At the start of Hurd's tenure at HP, he had to defuse a boardroom-spying scandal. Hewlett-Packard had hired investigators who posed as reporters and company directors to obtain phone records, a practice called pretexting, to root out board members who gave information to the media. (Bloomberg reporter Peter Burrows, whose private phone records were sought by investigators for HP, settled with the company.)
In a conference call yesterday, Lesjak said Hurd's resignation won't affect customer relationships and that the depth of the company's management is the best in its history. HP's success over the past five years has been a team effort, not just Hurd's doing, she said.
"There's no question he did a very good job," Lesjak said. "But he doesn't do everything. He was one person."
Before it's here, it's on the Bloomberg Terminal.
LEARN MORE