Dish Slides After Losing Subscribers Amid Competition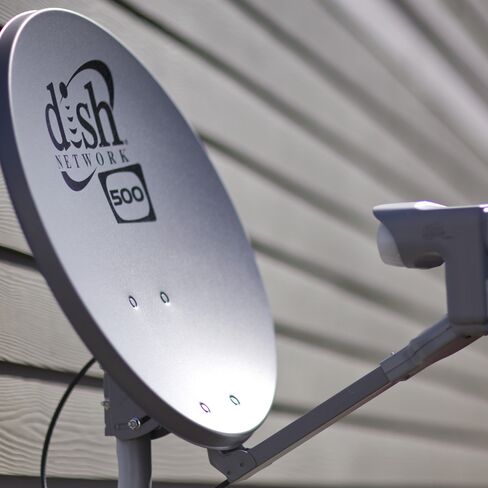 Dish Network Corp., the second-largest U.S. satellite-television provider, fell the most in more than a year in U.S. trading after losing subscribers last quarter.
The Englewood, Colorado-based company, which competes with larger rival DirecTV, said today it lost 19,000 subscribers in the second quarter. Todd Mitchell, an analyst at Kaufman Bros. LP in New York, had predicted a gain of 130,000 subscribers.
Dish, which had offered discounts and run promotions such as "Free HD for Life" to lure users, attributed the decline to competitive pressures and customers rolling off their contracts. Churn, or the fraction of users who cancel their service each month, widened to 1.78 percent from 1.73 percent a year earlier.
"Churn is a real issue, you're seeing a lot of former subscribers coming off Dish's $19.99 offer and not coming back," Mitchell said, referring to a promotion that had helped Dish win customers in recent years. "Competition has hurt them and clearly DirecTV is doing better."
DirecTV added 100,000 U.S. subscribers in the quarter and Comcast Corp., the largest U.S. cable operator, added 394,000 digital-video customers.
Dish fell $2.12, or 10 percent, to $18.72 at 4 p.m. New York time in Nasdaq Stock Market trading, for the biggest drop since March 2, 2009. The stock has declined 9.9 percent this year.
Economic Hardship
A weak U.S. economy also contributed to higher churn rates, Tom Cullen, an executive vice president, said on the company's conference call with analysts. Growth in the U.S. economy slowed to 2.4 percent in the second quarter from 3.7 percent in the first quarter. Last week, the U.S. jobless rate held at 9.5 percent as companies hired fewer workers than forecast in July.
"We haven't seen any significant improvement in the economy in general," Cullen said. "As the value provider in the industry, we feel that more than others."
Chief Executive Officer Charlie Ergen wasn't on the company's conference call because he was vacationing with his family.
Dish's net income rose to $257 million, or 57 cents a share, from $63 million, or 14 cents, a year ago. Sales climbed
9.1 percent to $3.17 billion. Analysts projected profit of 53 cents on sales of $3.13 billion, the average of estimates compiled by Bloomberg.
Higher Bills
An increase in customers' bills helped offset the subscriber defections. Average monthly revenue per user rose 3.3 percent to $73.05 after subscribers chose advanced options such as digital video recorders and the company raised prices. Expenses related to the company's legal battle with TiVo Inc. dropped 84 percent to $30.7 million.
In May, the U.S. Court of Appeals for the Federal Circuit said it would reconsider TiVo's previous victory against Dish for infringing a digital video recording patent. TiVo is seeking a court order that would halt Dish's DVR service and force the satellite-TV company to pay licensing fees. Dish's Ergen has told a court it would cost the company "several hundred million dollars" a month to shut down its service.
The appeals court will hear arguments in November in the proceedings. Dish expects a decision may be made in the spring, R. Stanton Dodge, Dish's general counsel, said on the conference call.
(Dish held a conference call at noon New York time. For a replay go to http://dish.client.shareholder.com.)
Before it's here, it's on the Bloomberg Terminal.
LEARN MORE