China's July Car Demand Growth Slowest in 16 Months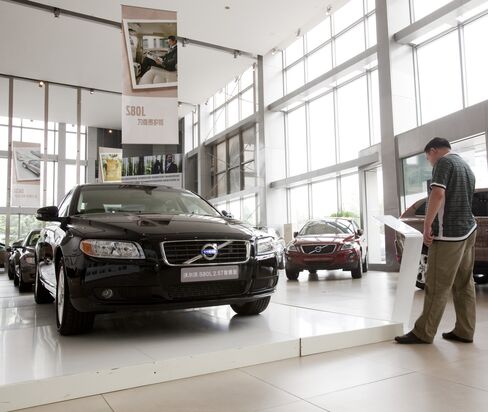 China's passenger-car sales to dealerships increased 13.6 percent in July, the slowest pace since March 2009, as weaker consumer sentiment hampered demand.
Wholesale deliveries of passenger cars rose to 946,200 in July, compared with 19 percent growth in June, the China Association of Automobile Manufacturers said today in an e-mailed statement. In July 2009, sales gained 70.5 percent as the government offered incentives to boost car purchases.
Even as growth slows, inventory of unsold vehicles is building as inflation erodes disposable incomes in the world's biggest auto market and reduces consumers' appetite for new cars. Sales may begin shrinking as early as September, according to the Daiwa Institute of Research.
"The car market was super-hot last year and it cannot go on like that," said Lin Huaibin, a Shanghai-based analyst at automotive consultant IHS Global Insight. High summer temperatures may have kept customers away from showrooms temporarily, Lin said.
Pressure on wholesalers to meet sales targets may lead to a decline in China's vehicle prices in the second half of 2010, the country's planning ministry said last month. China's car prices fell 1.18 percent in the first half from a year earlier, the National Development and Reform Commission said July 23.
While dealers are adding sales incentives to attract customers and the government is offering 3,000 yuan ($443) to promote purchases of fuel-efficient models, a wait-and-see attitude among consumers is limiting the impact, said Marvin Zhu, a senior market analyst at JD Power & Associates.
'More Incentives'
"Everyone is offering more and more incentives, and the customers are waiting for more," Zhu said. "We hear from some dealers that the transaction volumes are lower than a month ago."
Inflation in the world's third-largest economy accelerated to 3.3 percent in July, the fastest pace in 21 months, according to economists' median estimate before an announcement due Aug. 11. Rising labor and resource costs and "relatively loose" global monetary conditions may put further pressure on prices, the nation's central bank said.
China's gross domestic product expansion eased to 10.3 percent in the second quarter after the government put in measures to cool economic growth. The economy expanded 11.9 percent in the preceding three months.
General Motors, SAIC
Last week, General Motors Co., the largest foreign auto maker in China, said its local sales increased 22 percent in July, down from 23 percent in June. SAIC Motor Corp., a partner of GM and the largest domestic carmaker, said its sales rose 24 percent to 278,947 vehicles, the lowest increase since the company started publicly releasing its numbers in October 2009.
BYD Co., the Chinese automaker backed by Warren Buffett, cut its annual sales target for 2010 to 600,000 vehicles from an earlier goal of 800,000, the company said last week.
Vehicle sales including buses and trucks gained 14.4 percent in July to 1.24 million, the association said in today's statement.
The China Automotive Technology & Research Center said Aug. 4 that retail deliveries of cars, sport-utility vehicles and multipurpose vehicles rose 15.4 percent last month from a year earlier to 822,300 as dealers increase incentives. That compares with 10.9 percent growth in June.