AIG Faces Fed Scrutiny as Buffett Bets Spared by Law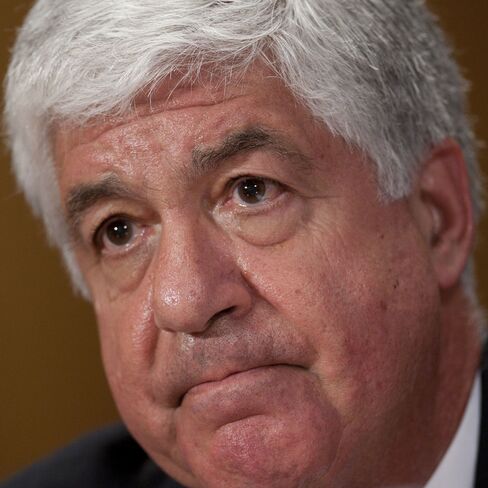 American International Group Inc. said controls on Wall Street signed into law by President Barack Obama may force the insurer to raise capital, undergo stress tests and limit bets on private equity and hedge funds.
The Dodd-Frank Act could "materially and adversely affect AIG's businesses" and hurt cash flows and credit ratings, the New York-based firm said Aug. 6 in a filing. The Federal Reserve may be the bailed-out insurer's regulator if a new risk watchdog determines that an AIG failure could threaten U.S. economic stability, the firm said.
"A lot of these constraints would hamper AIG in a competitive market with companies that aren't designated as having systemic importance," said William Poole, senior economic adviser to Merk Investments LLC and a former Federal Reserve Bank of St. Louis president. "If I were a private consultant, I'd tell them to fight it tooth and nail."
The financial overhaul, signed by Obama in July, is forcing changes at some of the world's biggest firms while Warren Buffett's Berkshire Hathaway Inc. may be spared from major disruptions. Omaha, Nebraska-based Berkshire, which gets about half its profit from insurance and didn't need a U.S. bailout, said last week that the Dodd-Frank Act wasn't likely to hurt financial performance.
"Although the Reform Act may affect some of our business activities, it is not expected to have a material impact on our consolidated financial results" or force the company to post more collateral on pre-existing derivative trades, Berkshire said in an Aug. 6 filing. The firm has about $37 billion at risk in equity-linked contracts and had lobbied against regulation that would have forced firms to post collateral on contracts written prior to the bill's passage.
JPMorgan, Goldman Sachs
The overhaul may cause a "significant loss of revenue" at JPMorgan Chase & Co. as the second-biggest U.S. bank faces potential curbs and business-practice changes, the company said on Aug. 6. Goldman Sachs Group Inc., the most profitable Wall Street firm, plans to discontinue a proprietary trading business to comply with the law, a person with direct knowledge of the decision has said.
AIG, previously overseen by the Office of Thrift Supervision because the insurer has a lending operation, said the Fed could become the regulator if the firm is deemed a savings and loan holding company or a potential risk to financial markets.
'Burdensome and Costly'
The rules may "impose burdensome and costly requirements" that boost costs and could limit hedge funds and private equity stakes, the insurer said. AIG, which invests premiums ahead of policyholder claims, owned more than $18 billion in so-called alternative assets as of June 30. The holdings generated $508 million in second-quarter profit, compared with a loss of $193 million in the year-earlier period.
The insurer said it may have to raise funds if Fed stress tests determine that AIG doesn't have "the capital necessary to absorb losses as a result of adverse economic conditions."
AIG may "have more constraints going forward, but market forces may be headed in that direction anyway," said Bill Bergman, an analyst at Morningstar Inc. in Chicago. "It's not clear to me that Federal Reserve regulation will be draconian or is at odds with AIG building value."
Regulators including the OTS overlooked the risk posed by trades at AIG's derivatives business through 2008, the Congressional Oversight Panel said in a June report. AIG's insurance units are overseen by state regulators.
Federal Reserve Chairman Ben S. Bernanke told lawmakers last year that AIG operated like a hedge fund and that having to rescue the insurer made him "more angry" than any other bailout of the financial crisis.
'More Angry'
"If there is a single episode in this entire 18 months that has made me more angry, I can't think of one other than AIG," Bernanke said in a March 2009 hearing in Washington.
The Dodd-Frank Act, named after Connecticut Senator Christopher Dodd and Massachusetts Representative Barney Frank, will help prevent failing firms from threatening the financial system while ensuring companies bear the costs of risks they take, Treasury Secretary Timothy F. Geithner has said.
It gives the government powers to unwind failing firms, creates a risk regulator in charge of systemically significant companies, imposes new rules on derivatives markets and creates a consumer-protection agency. Treasury and other officials need to complete regulations that will give the framework for enforcing the law, a process that may take a year.
'Complete Government Exit'
AIG, once the world's largest insurer, was saved in 2008 after soured housing bets pushed it to the brink of collapse, threatening losses at bank trading partners including Goldman Sachs. The Fed and Treasury Department oversee AIG after committing as much as $182.3 billion in a rescue that includes up to $69.8 billion from the Troubled Asset Relief Program.
AIG Chief Executive Officer Robert Benmosche, 66, told employees last week that he was in talks with regulators about a "complete government exit." The CEO must divest assets and improve profits at AIG's remaining operations to fully repay the U.S., which holds a stake of almost 80 percent in the firm. AIG's core insurance units produced $2.2 billion in second-quarter operating profit, AIG said last week. Benmosche has been scaling back derivative bets.
The insurer's strategy to gain independence "could result in the issuance of a large number of additional shares of AIG common stock," the company said in the Aug. 6 filing. The new securities "could result in significant dilution to AIG's current shareholders," the firm said. Mark Herr, a spokesman for the company, declined to comment.
'Leverage Problem'
Berkshire, which competes with AIG in selling workers' compensation and commercial property coverage, holds the second-highest credit rating at Standard & Poor's and the third-highest at Moody's Investors Service.
"Berkshire is extremely well capitalized, it doesn't have the leverage problem AIG has," said Poole. Buffett also "has a better reputation with the public than anyone else."
Buffett protected his company by stockpiling $44 billion in cash at the end of 2007. During the financial crisis he drew on those funds to invest in firms including Goldman Sachs whose normal sources of financing withdrew. Berkshire had about $28 billion in cash at the end of June.
Buffett has accumulated losses for Berkshire on equity derivatives since the 2008 financial crisis. The contracts, which mature starting in 2018, lose value when stock indexes decline. Berkshire's second-quarter profit plunged 40 percent after the derivative bets on equity markets accounted for a $1.8 billion paper loss in the period.
Collateral Damage
Berkshire's counterparties on the deals paid $4.9 billion in premiums, and Buffett arranged the contracts to minimize the collateral requirements his company could face. Liabilities tied to the equity contracts and the firm's portfolio of credit-default swaps were about $10.5 billion at June 30. The company's collateral provisions at that date were $173 million.
"AIG as a TARP recipient will be a systemically important non-bank company" because of its links to other firms, said Lawrence Kaplan, an attorney at Paul Hastings Janofsky & Walker LLP in Washington and a former senior attorney at the OTS. "Berkshire, on the other hand, is not as interconnected and dodged a bullet on derivatives."