Lee Sees S&P 500 Gain as JPMorgan Says Growth to Slow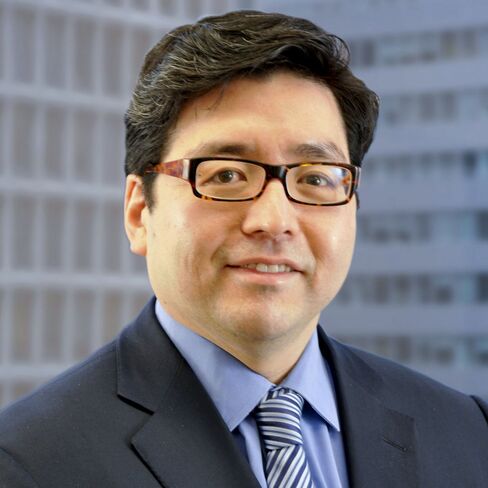 Strategists at the biggest U.S. investment banks are more bullish than ever for a second-half stock rally even as economists at the same firms say the recovery is slowing.
Tom Lee, the chief U.S. equity strategist at JPMorgan Chase & Co., says rising profits will drive the Standard & Poor's 500 Index up 16 percent from last week's close, while economist Michael Feroli says fewer factory orders are cutting growth. At Bank of America Corp., David Bianco says the S&P 500 will reach 1,300 thanks to record-low interest rates. Ethan Harris says changing financial regulation is causing the expansion to slow.
While economists are reducing their forecasts for U.S. gross domestic product, their colleagues who advise clients on investment strategy say the S&P 500 is priced low enough relative to profits to extend the 66 percent rally since March 2009. The fastest annual earnings increase in 22 years will push the benchmark gauge for American equities up 20 percent in the last six months of 2010 to 1,242, according to the average projection of 12 firms compiled Aug. 3 by Bloomberg.
"Both can be right, in the sense that you can have a slowdown in the rate of growth within the economy, which is what most economists are calling for, but still continue to see earnings grow," said Bruce McCain, chief investment strategist at Cleveland-based Key Private Bank, which manages $25 billion. "The cautiousness with respect to the economy is actually enhancing earnings because they're slowing down investments that would be a drag."
Cash Generation
Cash at S&P 500 companies has risen six straight quarters to $836.8 billion as executives fired workers and reduced capital spending, according to S&P. Earnings at the same companies will increase 35 percent in 2010, the biggest annual gain since 1988, more than 8,000 analyst estimates compiled by Bloomberg show.
Stocks rose last week, with the S&P 500 increasing 1.8 percent and reaching the highest level since May on Aug. 4. Second-quarter earnings at S&P 500 companies have beaten analysts' estimates by 11 percent, helping spur a 6.9 percent rally in July.
The index slipped 0.4 percent to 1,121.64 on Aug. 6 after hiring by private employers in the U.S. trailed forecasts, according to the Labor Department. The S&P 500 climbed 0.6 percent to 1,127.79 at 4 p.m. New York time today.
Price Multiples
The 52 percent increase in quarterly profits from a year earlier caused price multiples to shrink even as shares advanced. JPMorgan's Lee says the index is trading for 15 times earnings, 16 percent below its average since 1937 when adjusted for interest rates.
Before New York-based Alcoa Inc. began earnings season on July 12 with better-than-expected profit, investors were too concerned about China's slowing growth, Europe's debt crisis and worsening U.S. economic reports, Lee said. Projections for annual earnings growth of 35 percent in 2010 and 16 percent in 2011 should boost stocks by the end of the year, he said.
"Second-quarter results have been unequivocally strong," said Lee, the chief U.S. equity strategist at JPMorgan in New York. "U.S. housing looks like it's stabilizing. People will start to smell reflation and shift back to risk assets."
UPS, AT&T
United Parcel Service Inc. beat income projections by 9.2 percent and raised its profit forecast on July 22 as the Atlanta-based package delivery company said demand outside the U.S. boosted revenue. Sales of Apple Inc.'s iPhone helped push Dallas-based AT&T Inc.'s profit 7.8 percent higher than estimates, while Norwalk, Connecticut-based Priceline.com Inc.'s forecast topped estimates on a gain in hotel bookings.
Of the 443 companies in the S&P 500 that reported results through Aug. 6, 338 exceeded analysts' forecasts, data compiled by Bloomberg show. The rate marks the fifth straight quarter in which more than 70 percent of companies have topped projections, the data show.
While income is increasing faster than predicted, GDP growth trailed forecasts in the second quarter. Feroli, JPMorgan's chief U.S. economist, says a slowdown in manufacturing and a plunge in factory orders are a bigger drag than has been reported in government data. He says second-quarter expansion was almost a percentage point below the 2.4 percent annual rate reported July 30 and expects unemployment to remain near 9.5 percent this year.
Private payrolls that exclude government agencies rose by 71,000 last month, less than forecast, after a gain of 31,000 in June that was revised lower. All nonfarm payrolls fell by 131,000 in July, twice the estimate of economists.
Economic Outlook
The economy will grow 2.5 percent this quarter, or 0.2 percentage points below the average forecast, as "shocks are still rippling through" the U.S., Feroli said in an interview.
The Federal Reserve has held its target rate for overnight loans between banks at a record low of zero to 0.25 percent since December 2008, after the collapse of New York-based Lehman Brothers Holdings Inc. three months earlier helped send the S&P 500 to its biggest loss in seven decades. Chairman Ben S. Bernanke said on July 21 that the course of the economic recovery is "unusually uncertain" and that it will take time to restore almost 8.5 million jobs lost during the recession.
"Uncertainty is the enemy of growth, and there is plenty of uncertainty today," wrote Harris, head of North America economics at Bank of America, in a July 30 note. He predicts U.S. GDP will increase 3 percent this year and 2.6 percent in 2011, trailing the median forecast of 3.1 percent and 2.9 percent in a survey of 55 economists by Bloomberg.
Bear Case
Stocks fell on Aug. 3 after the Commerce Department said consumer spending and personal incomes in the U.S. were unexpectedly unchanged in June while factory orders decreased. The same day, the National Association of Realtors' index of pending home resales dropped 2.6 percent from the prior month. Economists projected a 4 percent gain, according to the median forecast in a Bloomberg News survey.
David Kostin, Goldman Sachs Group Inc.'s equity strategist, lowered his year-end forecast for the S&P 500 to 1,200 from 1,250 today, citing weakening economic data. Jan Hatzius, the firm's chief U.S. economist, cut his prediction for 2011 GDP growth on Aug. 6 to 1.9 percent from 2.4 percent.
Interest Rates
For Bianco, Bank of America's New York-based head of equity strategy, the Fed's near-zero interest rate means companies have leeway to retire debt and return cash to stockholders. Mergers and share repurchases raise earnings while higher dividends boost shareholder returns, especially when equities are this cheap, he said. U.S. private-equity buyouts have more than doubled in 2010 to $32.9 billion after plunging last year to the lowest level since at least 1996, according to S&P data.
"An easy way to drive earnings growth when you've got companies trading at low valuations like this and interest rates being so low is to use your cash flow and use borrowings to make acquisitions or share repurchases," Bianco said in an interview. "That will accelerate. It's already happening."
Bianco boosted his forecasts today for combined S&P 500 profits this year through 2012.
Strategists have historically overestimated gains, data compiled by Bloomberg show. Using estimates at the start of August, Wall Street firms have overshot year-end projections by 8.1 percentage points since 1999. Adjusting for that margin brings this year's second-half forecast down to a 12 percent gain, according to data compiled by Bloomberg.
Credit Crisis
They also failed to foresee the credit crisis that sent the S&P 500 down 38 percent in 2008, predicting an 11 percent increase at the start of that year.
Neal Soss, the New York-based chief economist at Credit Suisse Group AG and a former aide to former Fed Chairman Paul Volcker, said July 30 it may take years before investors and consumers have confidence in the economic recovery. Andrew Garthwaite, the bank's London-based global equity strategist, says the S&P 500 will climb 13 percent to 1,270 through Dec. 31 as business spending, mergers and acquisitions pick up.
At Barclays Plc, chief U.S. economist Dean Maki doesn't see consumer spending rebounding anytime soon. Maki cut his third-and fourth-quarter GDP forecast by 1.5 percentage points and 0.5 percentage point, respectively, on July 30. He expects 2.5 percent growth this quarter and 3 percent in the final three months of the year.
November Elections
Barry Knapp, Barclays's New York-based head of equity strategy, says stocks will end the year higher as the uncertainty about the November election is resolved. Investors will get a better return from shares than top-rated corporate debt, said Knapp, who estimates the S&P 500 will climb to 1,210. He said equity valuations compared with investment-grade credit are at the most favorable level since the 1980s.
"There's a tug of war right now between people who look at the economic data and say it's still pretty disappointing, even a double dip, and other people who are looking at business trends and thinking the recovery is under way," said John Carey, a Boston-based money manager at Pioneer Investment Management, which oversees about $230 billion. "Corporate earnings are what really matters at the end of the day to investors, not economic forecasts."
Before it's here, it's on the Bloomberg Terminal.
LEARN MORE