Hot Swedish Bars Serve Up Decibels, Prices: Stockholm Dining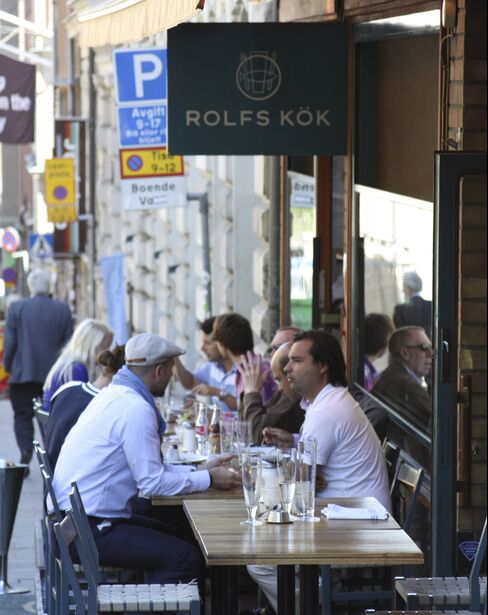 Two memories stand out from a recent dining trip to Stockholm: A restaurant bill of almost 2,500 kronor ($351) for one person; and a decibel count of 103.7 in a bar. Sustained exposure to levels of 90-95 decibels may result in hearing loss, so I might not be able to listen to complaints about the cost.
F12 is a striking modern restaurant whose menu changes each month to reflect the evolving flavors of the year, such as Herbal Garden and Flower Meadow. I made it in time for Spices, which entailed Nordic-Asian fusion dishes, such as butter-poached cabbage/kimchi; and blackened burbot (a freshwater fish) curry with green soy sauce and mustard greens.
If that sounds confused, the flavors were well balanced, the presentation was innovative and the cooking immaculate. The plates aren't as complicated as they sound and even the wine matches are inventive, such as a selection of Chenin blanc where you are invited to work out the connection between four glasses, including one from the U.S.
The dining room has that timelessly modern look of 20th-century Nordic design, its clean lines matching the uncluttered dishes. Such culinary pleasure isn't cheap. The tasting menu is 1,195 kronor and matching wines are 895 kronor, plus service.
F12, Fredsgatan 12, 11151. Tel. +46-8-248-052 or click on http://www.f12.se/. The restaurant reopens today after a summer break.
If the formality of F12 isn't for you, you may prefer the buzz of B.A.R., or Blasieholmens Akvarium och Restaurang, to give this venue its full name. The bar at the entrance was full and the packed-in tables were crowded on a Friday night.
The unique selling point is that there is a counter where you choose your fish or meat and then discuss with a chef how you want it prepared. You can choose from 10 side orders, such as roasted tomatoes or parmesan risotto, and from 10 sauces.
There's no doubting the freshness of the produce but the simplicity of the formula means B.A.R. needs to get the ambience and the service right. The place was noisy and the service was uneven, until we got a first-class waitress who was friendly and fun. Dinner for two, with wine, cost 2,916 kronor.
If you want an endorsement, I should say it was Rene Redzepi at Noma who suggested the place to me. As he's acquiring almost hero status among European chefs, that is quite a recommendation. His other two picks for Stockholm were Mathias Dahlgren (which was full) and Rolfs Koek, which I visited.
B.A.R. Blasieholmsgatan 4A, Stockholm 11148. Tel. +46-8-611-5335 or click on http://restaurangbar.se/en/.
Rolfs Koek is a crowded brasserie where you squeeze around a table and can enjoy a few beers while your food is prepared in an open kitchen. Starters include mustard-marinated kipper on rye bread; and creamed frog legs with garlic and parsley; among the mains is a Swedish entrecote with potato gratin, haricots verts and truffle butter.
Now, I was only in Stockholm for two days and went to Rolfs Koek after my lengthy dinner at F12, so I can't claim to have had much of an appetite but I was struck by the honesty of the food, which was simple but not dull. The bill for two - -well one-and-a-half, in practice -- was 1,500 kronor.
The restaurant reopens today after a summer break.
Rolfs Koek, Tegnergatan 41, 11161. Tel. +46-8-101-696 or click on http://www.rolfskok.se/.
And so to drinking. If you like cocktails and a bit of quiet luxury, the Cadier, at the Grand Hotel, may be for you. If you prefer somewhere edgy, the bar at the Lydmar Hotel features DJs and a beautiful crowd. I was taken there by Wilhelm Hamilton of bookatable.com, who proved to be an excellent guide.
Grand Hotel, Sodra Blasieholmshamnen 8, 16424. Tel. +46-8679-3500 or http://www.grandhotel.se/in_english/default.asp
Lydmar Hotel, Sodra Blasieholmshamnen 2, 16196. Tel. +46-8223-160 or click on http://www.lydmar.com/.
We also went along to Sturehof, a cafe that turns into a lively bar-disco. I watched my decibel counter rise as we went in deeper: past subway train, through Pete Townshend and beyond motorbike. There was only one other place in Stockholm I enjoyed more. Take a bow, please, Cafe Opera.
On five nights a week, this venue is a nightclub where the dress code is hot and the customers are hotter. My flight back to London was at 7:10 a.m. and I can't say I got a lot of sleep. Stockholm is an expensive city but it's worth it.
Sturehof, Sturegallerian 42, Stureplan 2, 11446. Tel. +46-8440-5730 or click on http://www.sturehof.com.
Cafe Opera, Operahuset, Kungstradgarden. Tel. +46-8676-5807 or click on http://www.cafeopera.se/.
(Richard Vines is the chief food critic for Muse, the arts and leisure section of Bloomberg News. Opinions expressed are his own.)
Before it's here, it's on the Bloomberg Terminal.
LEARN MORE