China Risks 'Sacrificing' Growth as Energy Curbs Hit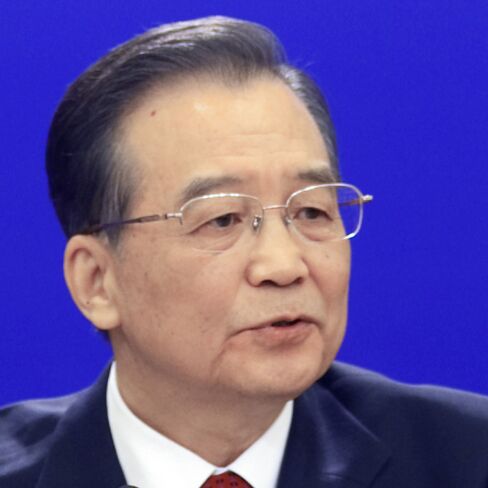 China's industrial output growth may have weakened in July as the government shuttered energy- intensive factories, highlighting how environmental goals risk damping growth just as export orders soften.
Industrial production climbed 13.4 percent from a year earlier after a 13.7 percent gain in June, according to the median estimate in a Bloomberg News survey of 29 economists. The data are scheduled for release in Beijing on Aug. 11.
China is lagging behind a target for reducing the amount of energy used relative to gross domestic product, with only months to run in Premier Wen Jiabao's five-year plan. Policy makers' determination to meet the goal may be tested by the need for "sacrificing" growth in an economy that is already cooling, according to UBS AG economist Wang Tao.
"The government is determined to meet this self-imposed target and this will likely have a direct impact in terms of weak readings of key headline indicators," said Wang Qing, a Hong Kong-based economist with Morgan Stanley. Wang estimates that measures to meet the energy-efficiency goal could cut full-year industrial output gains by 1.5 percentage points."
Wang added that the environmental campaign is unlikely to hurt the underlying strength of the world's fastest-growing major economy.
Food Costs
China's July trade data, due tomorrow, may show that exports climbed 35 percent from a year earlier, down from 43.9 percent in June, according to the survey of analysts. Import growth may have slowed for a fourth month to 30 percent, leaving a trade surplus of $19.6 billion.
Inflation may have accelerated to 3.3 percent from 2.9 percent in June, boosted by food costs and the comparison with a year earlier, when prices were falling. Economists' median estimate was for new lending of 600 billion yuan ($88.6 billion), almost matching June's 603 billion yuan.
The forecast industrial-output growth would be the weakest since August 2009, excluding distortions caused by holidays at the start of each year.
A harsher campaign of closures of inefficient factories would add to weakness in export orders, illustrated by a third monthly decline in a July index released by the logistics federation. A cooling property market, easing infrastructure investment and credit curbs are also restraining the expansion of the fastest-growing major economy. July manufacturing data showed companies are reducing stock.
Growth Risk
The energy measures add to the threat of excessive "tightening" by officials, while weakness in external demand poses the biggest near-term risk to growth, according to Ken Peng, an economist for Citigroup Inc.
China's energy used per unit of GDP rose 0.1 in the first six months from a year earlier, making it harder to meet the 2006-10 goal of a 20 percent cut. In the first four years, the reduction was 15.6 percent, according to UBS.
The industry ministry yesterday named 2,087 companies in 18 industries including steel, aluminum and cement that have been ordered to shut outdated facilities by the end of next month. Failure to meet the deadline will incur penalties that may include a suspension of power supplies and lending, according to a statement posted on the website of the Ministry of Industry and Information Technology yesterday.
Climate Change
Accelerating the closure of capacity is "a key measure to transform the country's economic growth model and improve the quality and efficiency of growth and is urgently needed to promote energy efficiency, reduce pollution and actively tackle climate change," the ministry said.
Hong Kong-listed Sanmenxia Tianyuan Aluminum Co., one of the companies named by the ministry, said on July 20 it was ordered to close 38 percent of its annual capacity for aluminum re-smelt ingots by the end of the third quarter.
The government aims to limit the economy's reliance on heavy industry and the environmental toll, illustrated by last month's Dalian oil spill and a leak of acid-laced waste at a Zijin Mining Group Co. site in Fujian.
The Communist Party's Politburo, chaired by President Hu Jintao, said July 22 that the government will continue to focus on energy-efficiency and reducing pollution.
"If the government has true resolve, then investors, especially overseas investors, may have not fully comprehended the implications of such policies on China's heavy industry and demand for commodities," UBS' Beijing-based economist Wang Tao said in a note last month.
Power Surcharges
She estimates an intensified campaign to achieve the goal could shave 1.8 percentage points from second-half economic growth.
So far, government measures have included increasing power surcharges for some aluminum companies and scrapping export tax rebates for some steel and metals. The nation aims to shut down small thermal power plants totaling 10 million kilowatts in capacity this year, according to a Nanfang Daily report citing unidentified officials.
China's economic expansion dipped to 10.3 percent the second quarter from 11.9 percent in the first three months of the year. Urban fixed-asset investment in the seven months through July probably rose 25.3 percent after gaining 25.5 percent in the first six months, the survey of economists showed. Retail sales may have gained 18.5 percent in July.
Economic growth of between 8 percent and 9 percent would be more sustainable for China, Tom Albanese, the chief executive of mining company Rio Tinto Group said Aug. 5.
Before it's here, it's on the Bloomberg Terminal.
LEARN MORE