BlackBerry Deal May Hamper Flirting for Saudi Youth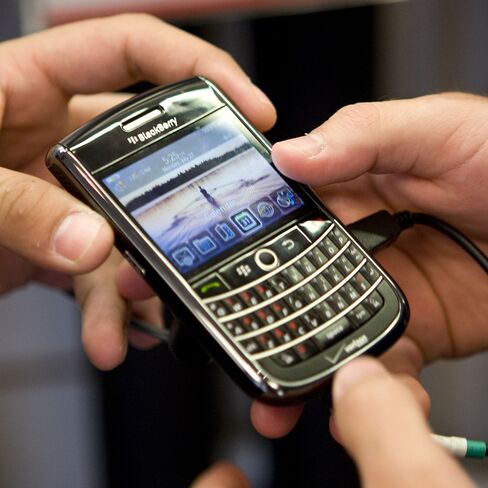 Boy meets girl has never been easy in Saudi Arabia, where religious police bar unmarried couples from meeting in public. It may get harder as the state presses Research In Motion Ltd. to let it monitor BlackBerry messages.
Many among the country's growing youth population rely on technology to bypass social restrictions. RIM's BlackBerry messenger service is one of the most popular means, and posting access codes that let users chat with one another on rear car windows and Internet group pages is a common flirting technique.
Saudi Telecom Co. and two rivals have until midnight to reach an agreement with RIM on how to make communications available to security services. The country may suspend BlackBerry's instant messaging service unless they agree. And if they do make a deal, amorous users may be left wondering who else is reading what they write.
"I'm not happy," Khalid Ali, a 23-year-old Saudi who owns two Blackberry handsets, said at a Riyadh shopping mall. "Say I'm inviting a girlfriend to a party, it is not appropriate that anyone knows that. I won't feel comfortable, even if the service is still there but monitored."
Governments including the United Arab Emirates, which last week said it plans to shut down BlackBerry e-mail and messaging functions in October, and India have cited a need to monitor calls and e-mails for security. The U.A.E. and Kuwait also cited the need for stricter controls to uphold social mores. Saudi Arabia has said it wants to monitor BlackBerry messages to prevent terrorism and illegal activities.
U.S. Secretary of State Hillary Clinton and Canada's Trade Minister Peter Van Loan said Aug. 5 that they are working with RIM and regional governments to find a solution that will allow the message networks to function.
'Evils and Flirting'
The growing use of devices like BlackBerry handsets by young Saudis has been criticized by supporters of the country's traditional Islamic rules, who welcomed the threatened ban on its messenger service.
"The best thing they can do in their life is canceling it," a reader of the Saudi newspaper al-Watan, who gave his name as Faisal, said in a post on the newspaper's website. "It has only brought evils and flirting in the streets."
Fifty percent of the Saudi population is aged 24 or below, compared with 31 percent in France, according to figures from the U.S. Census Department.
The Persian Gulf nation, the world's biggest oil exporter, enforces the Sunni Wahabbi version of Islam. The country bans cinemas and doesn't allow women to drive on public roads.
Morality Police
Religious police from Saudi Arabia's Commission for the Promotion of Virtue and Prevention of Vice patrol shopping malls to enforce separation of the sexes and other prohibitions, and can carry out spot-checks of offices.
Monitoring message traffic would give authorities "a whole new set of things to do," said Gregory Gause, professor of political science at the University of Vermont in Burlington. Still, it's likely that keeping an eye on domestic opposition groups and terrorist threats is the main motivation, he said.
Opposition groups like the Saudi Civil and Political Rights Association have called for elections and criticized what they say is corruption in the royal family. The country's dynastic rulers have also frequently been denounced by al-Qaeda for betraying Islam because of their security alliance with the U.S.
Militants have attacked targets in Saudi Arabia, including a raid on an oil installation and housing complex in the city of al-Khobar in 2004 that killed 22 foreign workers. Saudi security forces said in June they detained more than 2,000 people suspected of collecting money for al-Qaeda or engaging in "Internet activities" in support of the group.
Saudi Precedent
Saudi authorities initially ordered a ban on the messenger service starting Aug. 6, and extended the date as talks on a possible solution continued. The Wall Street Journal said yesterday that RIM had reached a preliminary agreement with carriers and regulators to install local servers in the kingdom, citing a Saudi phone company official it didn't identify.
An agreement between RIM and Saudi authorities could set a precedent for the Waterloo, Ontario-based company's talks with other governments, said Joe Stork, Human Rights Watch's deputy director for the Middle East.
"It depends on what kind of an agreement they reach," Stork said by telephone from Washington. "Whatever the contents are, it's going to influence how things develop in these other countries."
Security Monitoring
Phone companies in Saudi Arabia, which include units of the U.A.E.'s Emirates Telecommunications Corp. or Etisalat, and Kuwait's Mobile Telecommunications Co. or Zain, are required by their licenses to provide "technical capabilities" that allow security monitoring equipment to be connected to their networks. RIM said last week it can't meet requests from governments to reveal codes for reading users' communications.
It is understandable that Saudi authorities want to clamp down on terrorist cells, said Firas Alola, 29, a Saudi comedian and entertainer. He is not convinced that is the only reason behind efforts to monitor the message traffic, though.
"It's just the last thing in a long list of things that don't seem right," Alola said by phone as he headed to Bahrain for the weekend. "It might be used as an excuse to check into what people are doing and saying. I don't mind any government looking in on my correspondence, as long as I know why they're doing it."
Before it's here, it's on the Bloomberg Terminal.
LEARN MORE