Japanese Tanker Damaged in Bomb Attack Leaves U.A.E.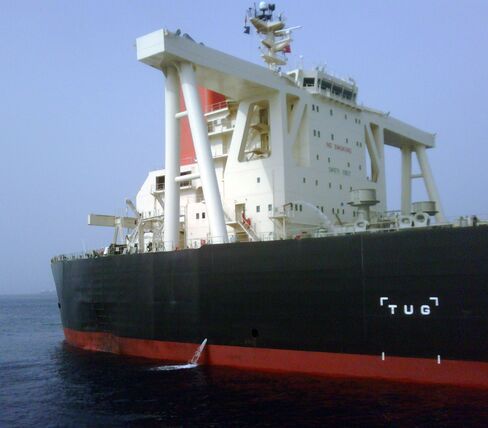 The Japanese oil tanker damaged in a bomb attack July 28 in the Strait of Hormuz has left a port in the United Arab Emirates after repairs, state-run Emirates News Agency reported, citing an unidentified Coast Guard source.
The M. Star, which had docked about 14 miles (22 kilometers) offshore in the anchorage area at the Port of Fujairah, was the target of a terrorist attack, the news agency, known as WAM, said today.
Explosives experts found a dent above the waterline of the ship and traces of home-made explosives on the hull, WAM cited the source as saying. The tanker may have been attacked by a boat loaded with munitions, according to the report.
The ship's owner Mitsui O.S.K. Lines Ltd. is investigating the cause of the explosion in the Strait, a chokepoint for oil shipments out of the Persian Gulf. The company hasn't had any confirmation on the cause of the damage from the U.A.E., a Mitsui spokeswoman said by telephone from Tokyo, declining to say whether the ship had left port.
U.S. Navy divers assisting in the investigation examined the ship's hull to ascertain the cause of damage, Lt. John Fage, a spokesman for the Fifth Fleet based in Bahrain, said yesterday. U.S. military experts would continue to work with U.A.E. officials in the investigation, he said today.
The Brigades of Abdullah Azzam, a militant jihadist group, said Aug. 4 that one of its members carried out a suicide bomb attack on the tanker, according to Site Intelligence Group, a Maryland-based monitor of terrorism-related activities.
Before it's here, it's on the Bloomberg Terminal.
LEARN MORE