Small-Town Demand Trailing NY Drags on Hotel Recovery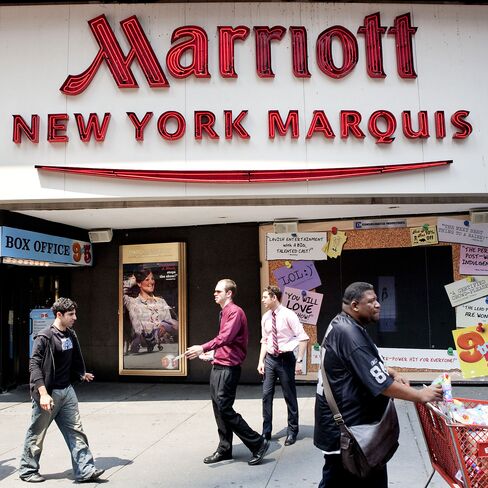 Sluggish hotel demand outside the largest U.S. cities is slowing an industrywide rebound even as an influx of leisure, business and international travelers spurs growth in metropolitan areas such as New York.
Occupancies at hotels in small towns and near highways were little changed at 49 percent in the first six months of 2010, according to Smith Travel Research Inc. They climbed to 65 percent from 61 percent from a year earlier in large cities including New York, Chicago and Washington.
Lodging demand in smaller markets has been slower to recover as the job market remains weak. While rising travel to urban areas boosted earnings at hotel owners including Marriott International Inc. and Wyndham Worldwide Corp., companies may not be able to raise rates nationwide until the second half of 2011, according to Jan Freitag, vice president at Smith Travel.
"New York City is skewing the numbers," said David Loeb, an analyst at Robert W. Baird & Co. in Milwaukee. "Urban and suburban markets are doing the best while the others are recovering more slowly."
Total hotel occupancies in the U.S. rose to 56 percent this year through June from 54 percent a year earlier, said Smith Travel. In New York, occupancies climbed to 79 percent from 72 percent, placing it first among the top 25 U.S. markets.
New York City's 514 hotels account for only 1.9 percent of the total U.S. room supply, and their revenue share is almost 6 percent, Freitag said. The U.S. average decline in room rates was 2 percent this year through June. Excluding New York hotels, the drop was 2.7 percent.
Rise in 2011
Rates in New York have been climbing since March, after almost a year and a half of declines, amid higher demand from business and leisure travelers, according to Freitag.
"I expect this trend to continue," he said. "Hotels in smaller markets won't be able to raise room rates before the second half of next year."
Revenue per available room, or revpar, was little changed in the first half of the year at hotels in smaller towns, where it averaged $37.91, and at hotels near highways, where it averaged $33.74. That compares with a revpar increase of 6.9 percent to $87.52 in urban areas, the biggest gain among Smith Travel's six regional categories.
U.S. economic growth slowed in some areas over the past two months, dragged down by commercial real estate and the expiration of a tax credit for homebuyers, the Federal Reserve said July 28. The report underscored the Fed's view that the recovery, while still moving forward, is progressing at a slower pace than earlier in the year.
Hiring Slowdown
Private employers in the U.S. added workers in July at a pace that suggests the labor-market recovery will be slow to take hold.
Private payrolls that exclude government agencies rose by 71,000 last month, less than forecast, after a June gain of 31,000 that was smaller than previously reported, Labor Department figures in Washington showed today. Economists projected a 90,000 July increase, according to the median estimate in a Bloomberg News survey.
Companies will need to gain confidence in a broad economic recovery before they hire more workers or spend money to send them on business trips outside big cities, said Loeb of Robert W. Baird.
"The financial services industry is doing better, so that boosts travel to places like New York," he said. "Manufacturing and agriculture or businesses that service the middle markets in America, on the other hand, aren't doing that well. That's what's affecting the smaller markets."
Investor Purchases
Lagging visitor demand has curtailed investors' interest in buying hotels outside major cities, said Ben Thypin, a senior market analyst at Real Capital Analytics Inc. in New York.
Lenders have almost $3.8 billion worth of foreclosed hotels on their balance sheets, according to Real Capital data. Of those hotels, 84 percent are in smaller markets, Thypin said.
"The overwhelming share of foreclosed hotels in secondary and tertiary markets is rooted in the weaker outlook for demand for lodging in those markets," he said. "This leaves the properties to languish on balance sheets with few parties interested in purchasing them from the bank."
Hotel companies are reporting improved results as their metropolitan locations drive growth. Second-quarter earnings at Wyndham, the Parsippany, New Jersey-based franchiser of Days Inn hotels and Super 8 motels, rose 34 percent from a year earlier. At the company's priciest properties, branded as Wyndham Hotels and Resorts and located mostly in vacation and urban areas, average occupancies rose to 60 percent from 55 percent.
Super 8, Days Inn
Those properties performed better than Wyndham's Knights Inn hotels, where occupancies dropped 1.3 percentage points to 38 percent, and its Super 8 and Days Inn locations, where average occupancies of 52 percent and 49 percent respectively were little changed from a year earlier. Those hotels often are located in so-called secondary and tertiary markets.
Improvements are "being led by occupancy gains across our brands, with the strongest performance in the Wyndham Hotel and Resorts brand, which has strong city-center locations," Wyndham Chief Executive Officer Steve Holmes said in an Aug. 4 e-mail.
At Marriott, the owner of the upscale JW Marriott and luxury Ritz-Carlton lines, second-quarter profit also was buoyed by the company's costlier hotels.
Luxury Hotels
Revenue per available room for the 12 weeks ended June 18 at full-service and luxury hotels in North America climbed 8.2 percent before adjustment for currency-exchange rates. That compares with a 4.5 percent increase at its limited-service brands, Bethesda, Maryland-based Marriott said July 14.
JW Marriott and Ritz-Carlton hotels are found in major cities across the U.S. including New York and Los Angeles, while its limited-service brands, including Residence Inn and Fairfield Inn & Suites, are mostly in suburban and rural areas.
Average daily rates climbed 0.6 percent at Marriott's full-service and luxury hotels, compared with a 1.6 percent decline at its limited-service brands.
"At our New York hotels, we're seeing an increase across all segments -- on the leisure side from domestic and international travelers, particularly from the U.K., Asia and the Middle East," said Kathleen Duffy, a spokeswoman for the company's hotels in the city. "But business travel is also coming back, particularly in the financial industry."
At the 665-room Marriott in Brooklyn Heights, the night of Aug. 3 was sold out, and the Marriott Marquis in Manhattan's Times Square "also does consistently well," Duffy said.
"Secondary and tertiary markets are much more linked to consumer spending and business travel, whereas primary ones get international, leisure and business travel," said Thypin of Real Capital. "Vacationers don't go to Columbus, Ohio, but they go to New York City."
Before it's here, it's on the Bloomberg Terminal.
LEARN MORE