U.S. Stocks Retreat on Unexpected Increase in Jobless Claims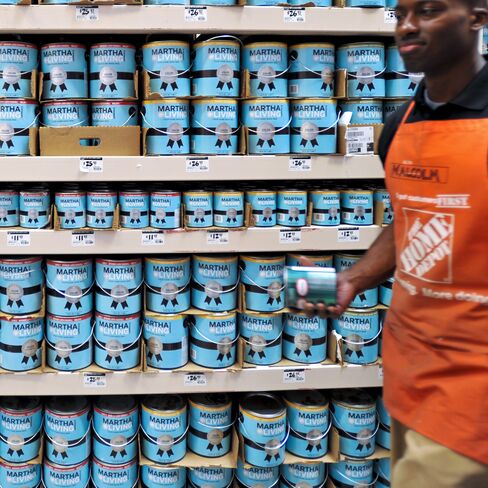 Aug. 5 (Bloomberg) -- U.S. stocks slipped, pulling the Standard & Poor's 500 Index down from an almost three-month high, as an unexpected increase in jobless claims fueled concern the economic recovery is slowing.
American Express Co., Microsoft Corp. and Pfizer Inc. led declines in the Dow Jones Industrial Average after the Labor Department said first-time claims for unemployment climbed by 19,000 to 479,000 last week. J.C. Penney Co. slid 7.7 percent after July sales unexpectedly decreased. Declines in stocks were limited as MetroPCS led a rally in telecommunications companies and a surge in wheat futures lifted agricultural companies.
The S&P 500 slipped 0.1 percent to 1,125.81 at the 4 p.m. close in New York, about 1.2 point below its 100-day average, which it hasn't closed above since May 13. The Dow average declined 5.45 points, or 0.1 percent, to 10,674.98. Almost two stocks fell for each that rose on U.S. exchanges.
"People are worried that the economy is going to slide back into negative growth, which would make it much more challenging to keep the earnings up," said Robert Lutts, president of Cabot Money Management in Salem, Massachusetts, which oversees $500 million. "What we are seeing is spending on capital, which is going to eventually result in hiring, but it's going to take some time."
The S&P 500 is still up about 10 percent from this year's low on July 2 as most second-quarter earnings topped analyst estimates. The benchmark yesterday rose 0.6 percent to its highest close since May 17 as gauges of service industries and private-sector hiring topped economist estimates.
Jobs Concern
Companies in the S&P 500 that have reported quarterly results since July 12 boosted earnings per share by 53 percent from a year earlier on average, according to data compiled by Bloomberg. About 79 percent of companies topped analysts' estimates, the data show. Sales have grown 9.7 percent this quarter, while trailing analysts' estimates by 1.4 percent.
Today's retreat comes before government jobs data tomorrow that is forecast to show the unemployment rate climbed to 9.6 percent in July. Economists forecast initial unemployment claims would fall to 455,000, according to the median of 43 projections. New claims are down from their March 2009 peak of 651,000, while above the average weekly tally of 321,000 in 2007, when unemployment averaged 4.6 percent.
Some U.S. companies say they're seeing the effects of a slowdown in household purchases, even for necessities. SuperValu Inc., the operator of the Albertson's grocery-store chain, said last week that fiscal first-quarter food sales fell compared with a year earlier and consumers purchased fewer items per basket.
Dow Stocks, Retailers
American Express, the biggest U.S. credit-card issuer by purchases, fell 2 percent to $43.22. Microsoft, the world's largest software maker, fell 1.4 percent to $25.37. Pfizer, the world's biggest drugmaker, retreated 1.5 percent to $16.19.
J.C. Penney, the third-biggest U.S. department-store chain, fell 7.7 percent to $22.12 for the biggest drop in the S&P 500. Its July sales decreased 0.6 percent. Retail Metrics forecast a 3.5 percent increase.
Big Lots Inc. fell 6.6 percent to $32.18 for the second-biggest drop in the S&P 500. The Columbus, Ohio-based seller of overstocked items said sales at stores open at least a year increased 3.8 percent during the second quarter. Cowen & Co. had estimated 5 percent.
Retailers as a group still rallied, led by Kohl's Corp. and TJX Cos., which raised their forecasts for second-quarter profit. Kohl's, the fourth-largest U.S. department-store chain, gained 4.1 percent to $49. TJX, owner of the T.J. Maxx and Marshalls clothing chains, climbed 2.1 percent to $42.
Liz Claiborne Inc. jumped 14 percent to $5.68. The designer and marketer of brands including Kate Spade and DKNY Jeans reported a narrower-than-expected second-quarter loss of 19 cents a share excluding some times.
MetroPCS, Ag Stocks
MetroPCS Communications Inc. rose 7.5 percent to $9.45 for the biggest gain in the S&P 500. The U.S. pay-as-you-go mobile-phone company posted subscriber gains that exceeded analysts' estimates. The monthly rate of customer departures, or churn, fell to 3.3 percent from 5.8 percent a year earlier.
Agricultural stocks rallied as wheat futures rose to a 23-month high after Russia, the world's third-biggest grower, banned exports because of the country's worst drought in at least a half-century.
Archer Daniels Midland Co., the world's largest grain processor, rose 5.7 percent to $30.25, an almost five-month high. Monsanto Co., the world's largest seed company, gained 3.1 percent to $61.28, a three-month high. CF Industries Holdings Inc., which makes fertilizer, climbed 3.5 percent to $85.80.
Hartford Financial Services Group Inc. declined 4.9 percent to $22.68. The insurer that repaid $3.4 billion of government aid in March cut its earnings forecast for this year to no more than $2.30 a share from the previous projection of as much as $3, saying that the "economy and market conditions remain uncertain."
Teradata Corp. fell 4.3 percent to $32.68 after closing at a record yesterday. The maker of database software forecast full-year profit of $1.60 to $1.70 a share, compared with an average analyst estimate of $1.70.
To contact the reporter on this story: Elizabeth Stanton in New York at estanton@bloomberg.net.
To contact the editor responsible for this story: Nick Baker in New York at nbaker7@bloomberg.net