Senators Who Crafted Volcker Rule Welcome Goldman's Decision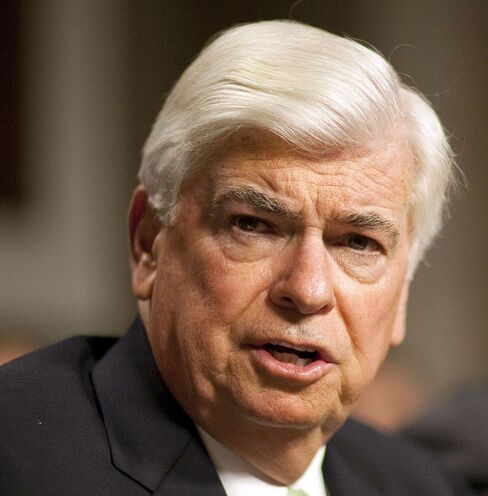 The U.S. senator who helped craft the financial overhaul bill said he was gratified that Goldman Sachs Group Inc. plans to discontinue its proprietary trading business, a signal of Wall Street's early response to the new rules from Washington.
"It sounds clearly like this is a reaction," Christopher Dodd, a Connecticut Democrat and chairman of the Senate Banking Committee, said today in an interview. "I'm glad to hear it. Nothing I'd like to see more than Goldman Sachs become Goldman Sachs again instead of the hedge fund that it had become."
Goldman Sachs may announce as soon as tomorrow that it will transform its principal-strategies business, a group that makes bets with the firm's own capital, into a fund that would raise outside money, a person with direct knowledge of the decision said. The Dodd-Frank Act signed by President Barack Obama last month prohibits banks such as Goldman Sachs from engaging in proprietary trading.
The law contains dozens of provisions that may affect the banking business. The Volcker rule and restrictions on the trading of derivatives may have the most immediate impact.
"This is just the beginning of many adjustments and responses that we're going to see by large and small banks over the next several years," said Kevin Petrasic, a lawyer at Paul, Hastings, Janofsky & Walker LLP in Washington and former special counsel at the Office of Thrift Supervision.
The proprietary trading ban was proposed by the Obama administration in January and was named the Volcker rule after former Federal Reserve Chairman Paul Volcker. The provision allows banks to contribute up to 3 percent of the equity in hedge funds or private-equity funds.
Merkley
"Shutting down proprietary trading operations is right in sync with the goal of getting high-risk investing outside of the bank-holding company," said Senator Jeff Merkley, an Oregon Democrat who pushed successfully to write the Volcker rule into the law, replacing language that would have left it to regulators to implement the ban.
"It's not a suitable activity inside a structure that has access to insured deposits and federal discount windows," Merkley said today in a telephone interview.
The ban on proprietary trading may reduce profits. Goldman Sachs, the most profitable firm in Wall Street history, has said proprietary trading generates about 10 percent of its annual revenue. The firm made $1.17 billion in 2009 from "principal investments," which include stakes in companies and real estate, according to a company filing.
Conflict of Interest
Merkley and Senator Carl Levin, a Michigan Democrat, also inserted a plan to prevent firms that underwrite an asset-backed security from transactions that would result in a conflict of interest. The provision sought to address fraudulent conduct alleged in a Securities and Exchange Commission lawsuit against Goldman Sachs that has since been settled. The firm didn't admit or deny wrongdoing.
The law also creates a regulatory structure for the $615 trillion over-the-counter derivatives market. The most contentious provision forces banks to push some of their swaps trading into subsidiaries, on the theory it would reduce taxpayers' risk if the trades are walled off from depository institutions that enjoy federal benefits including deposit insurance.
Derivatives are contracts whose value is derived from stocks, bonds, loans, currencies and commodities, or linked to specific events such as changes in interest rates or the weather.
House Financial Services Committee Chairman Barney Frank, a Massachusetts Democrat who co-authored the law with Dodd, declined to comment on the Goldman Sachs plan, saying through spokesman Harry Gural that "he doesn't plan to comment on whatever private institutions decide."
Dodd, who is not running for re-election, said Goldman Sachs's decision "very well could" set an example for other companies.