Rio Tinto's Albanese Studies M&A as Profit Jumps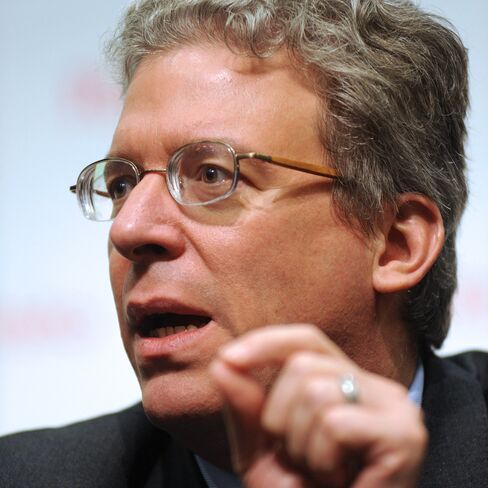 Rio Tinto Group Chief Executive Officer Tom Albanese said the world's third-largest mining company plans to boost spending 50 percent next year and is studying mergers and acquisitions after profit surged.
"Over the next 18 months we will be spending about $13 billion to continue to build these businesses," Albanese, 52, said yesterday in a Bloomberg Television interview in London. "It's not for today's markets, it's for those markets two, three, four, ten years down the road."
Rio joins competitors Anglo American Plc, Xstrata Plc and Vale SA in reporting higher profits as a recovery in the global economy pushes up commodity demand and prices. The company continues to "scan the globe" for potential M&A opportunities, Chief Financial Officer Guy Elliott said on a conference call.
"We would be surprised to see any very large acquisitions, although a lack of volume growth in iron ore and copper over the next three years suggests to us that small- to medium-sized M&A is fairly likely," Paul Cliff, an analyst at Nomura Holdings Inc. in London, said in a report.
Shares in Rio dropped 0.4 percent to A$72.69 at 11:46 a.m. Sydney time on the Australian stock exchange. They've fallen 2.9 percent this year.
Rio, spending as much as $6 billion this year on new mining projects and expansions, plans to raise that figure to $9 billion in 2011. Albanese said yesterday that International Monetary Fund forecasts of 4 percent global growth this year and next had "positive implications for metals and minerals markets."
Profit Soars
Rio yesterday said first-half net income more than tripled to $5.85 billion. So-called underlying earnings, excluding some one-time items, advanced to $5.77 billion, beating the $5.4 billion average estimate of 13 analysts compiled by Bloomberg.
Albanese has grappled with debt that ballooned after Rio's $38.1 billion purchase of Canadian aluminum producer Alcan Inc. in 2007. Xstrata, the biggest exporter of power station coal, this week also flagged it may consider acquisitions.
"After time 'in the penalty box' after the Alcan acquisition, Rio is also back on the hunt for opportunistic, small to medium-sized acquisitions - a competitive space," Citigroup Inc. analyst Clarke Wilkins said today in a report.
Rio is studying an expansion of its Australian iron ore operations, its biggest-earning unit, to raise production capacity by 50 percent to 330 million metric tons by 2016. That growth may cost "double-figure billions," Elliott said.
Profit at Rio's iron-ore division more than doubled in the first half, helping the company slash debt by $6.9 billion to $12 billion. Rio has the capacity for a $10 billion share buyback next year, Nomura said.
"Now that our balance sheet is recapitalized we are able to reemphasis investment in value-adding growth projects," Elliott said at an analyst briefing in Sydney. "We're constantly reviewing potential opportunities to undertake small-to medium-sized acquisitions and we will continue to do so."
Before it's here, it's on the Bloomberg Terminal.
LEARN MORE