Pfizer May Gain as U.S. Devises Alternative to Animal Testing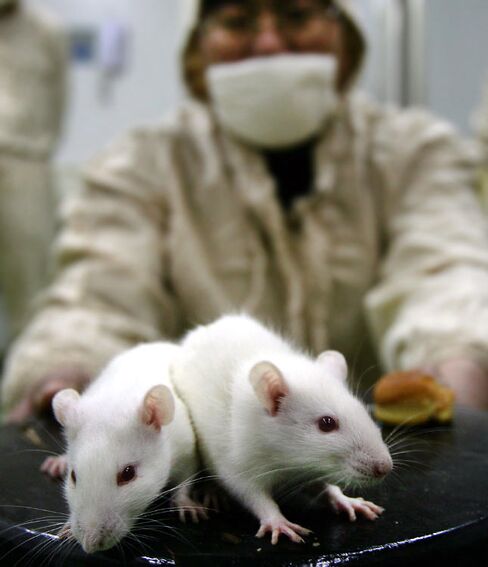 Aug. 5 (Bloomberg) -- Drugmakers led by Pfizer Inc. will soon gain access to a new testing system that can shrink by months to years the time needed to determine an experimental drug's safety, potentially adding millions of dollars in research savings and revenue.
Since 1938, U.S. regulators have required pharmaceutical companies to test for toxicity using animal studies before costly human testing begins. That can take months for most compounds, and years for cancer medicines. The new system, developed by three federal agencies, uses computers to test products against human and animal cells, rather than living creatures, to find chemical reactions linked to toxicity.
Speeding approvals by just six months can lift net income over the average 12.8-year, patent-protected sales life of a typical product by 5.5 percent, based on the declining value of the dollar over time, data compiled by Bloomberg shows. The new test, which may be available for use as early as next year, may also be more precise, helping eliminate more dangerous compounds.
"The earlier you can kill a drug" that's unsafe "the more economic sense it makes," said David Jacobson-Kram, Food and Drug Administration executive director for pharmacology and toxicology, in a telephone interview. His agency last month teamed up with the Environmental Protection Agency and the National Institutes of Health in developing the system.
Drug Failures
About 30 percent of potential drugs that pass animal testing make it through the first two of three phases of human trials usually needed for U.S. regulatory approval. Almost a third of those medicines typically fail in the final phase, according to Joseph DiMasi, a researcher at Tufts University in Medford, Massachusetts, and Henry Grabowski, of Duke University in Durham, North Carolina, in a 2003 study published in the Journal of Health Economics.
The cost of failure is high. Drugmakers on average spent $86 million in 2000 for final-phase human testing, according to the study. Jacobson-Kram said the new system is likely to decrease the number of bad drugs that make it to final testing.
Using animal data to predict what will happen in humans has been shown to be "a jump," because of the vast differences in species, said David Dix, acting deputy director of the EPA's national center for computational toxicology.
The collaboration, dubbed Tox21, is built around a database that will include 3,000 pharmaceutical and 7,000 environmental chemicals, Dix said. Researchers will use an automated system to screen sets of pharmaceutical chemicals against biological targets over the next several years, giving regulators and drugmakers access to data.
80 to 800 Animals
Using the new system, made possible by recent advances in robotics and software and the sequencing of the human genome, can take one to five days, compared with animal testing that often lasts a month and may involve about 80 animals, said Bob Chapin, a senior research fellow at New York-based Pfizer, in a telephone interview.
Longer-term animal studies, such as those used to assess cancer risk, may take two years and involve 800 mice and rats, the FDA's Jacobson-Kram said. The average cost of a longer-term animal test was $5.2 million in 2000, according to the Journal of Health Economics.
"We want to migrate away from animal testing," Jacobson-Kram said. "We also want to see drug development become more efficient so that fewer resources are wasted."
Pfizer, the world's biggest drugmaker, donated 90 failed pharmaceutical candidates, more than 20 of which had produced liver toxicity in mice or rats, for the Tox21 effort. Other companies have donated, though FDA wouldn't release their names.
Screening Struggle
Drugmakers have been conducting screening programs of their own for years, Chapin said. They have struggled to use the test-tube method as successfully as they would like because of the limited number of chemicals they can screen on their own, making Tox21 a potential breakthrough.
"Finding the real, meaningful signal that happens in a cell has been much more difficult than anybody thought it would be," Chapin said. "That means to sift out the signal from the noise, we need a lot more compounds."
While animal testing has been mandated by law for more than seven decades, use of alternative methods would be allowed since the data provided would be equal to or better than the findings from living creatures, the FDA said in May, in response to a request from the advocacy group Mandatory Alternatives Petition Coalition to eliminate animal testing.
Tox21 began as an EPA and NIH program focused on improving risk assessments for environmental chemicals. The FDA joined last month as improvements in technology allowed researchers to better understand what the potential for toxicity might look like in pharmaceutical products as well.
Human Outcomes
The FDA will add much-needed human data to Tox21 that the other agencies don't possess, allowing researchers to "better predict human outcomes" from the animal studies and test tubes, the EPA's Dix said.
One side benefit of Tox21 is that live animals will no longer be used to test harmful compounds, or killed afterwards, said Jessica Sandler, director of regulatory testing at People for the Ethical Treatment of Animals. She praised the project for its promise to "eliminate crude and cruel animal tests."
To contact the reporter on this story: Anna Edney in Washington at aedney@bloomberg.net.
To contact the editor responsible for this story: Adriel Bettelheim at abettelheim@bloomberg.net.