Rudd to Join Gillard's Australian Election Campaign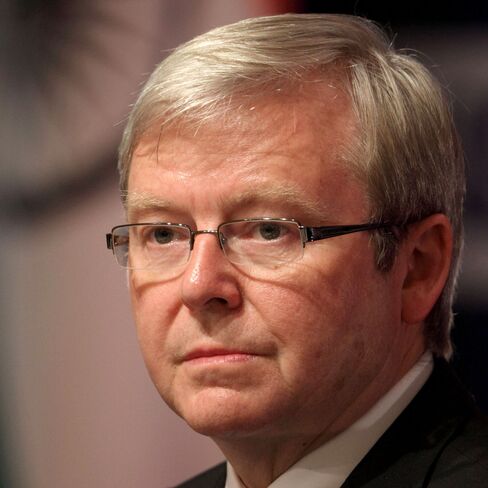 Aug. 5 (Bloomberg) -- Former Australian Prime Minister Kevin Rudd said he'll join the election campaign of Julia Gillard, the woman who ousted him, as her Labor Party struggles in opinion polls in the run up to the Aug. 21 ballot.
Rudd, who lost his job on June 24, said he will rejoin the campaign from next week in a bid to defeat the Liberal-National coalition led by Tony Abbott.
"I cannot sit idly by and watch Mr. Abbott slide into office, I can't be silent," Rudd, who was hospitalized last week to have his gallbladder removed, told reporters in Brisbane today in a news conference broadcast by Sky News. "Today I have been requested by Prime Minister Gillard to join the national campaign. Of course I have said yes."
Rudd could provide an injection for Labor in his home state of Queensland, where it is facing a big enough voter backlash to result in an election loss, according to a Newspoll published yesterday. Labor holds six Queensland parliamentary seats that could change hands with the switch of just hundreds of votes.
Rudd's tenure as prime minister from 2007 crumbled within 24 hours in June as a clash with his colleagues on a proposed resource tax and climate change came to a head. Party factions and key labor unions switched their allegiance to Gillard from Rudd in a late night coup.
Saving Labor
"The guy they knifed will save the government's bacon," Andrew Hughes, who specializes in political marketing at the Australian National University in Canberra, said by phone. "He can turn things around in Queensland, stop the blood-letting and secure the seats there the government needs to win the election."
Labor will open its campaign in the Queensland capital, Brisbane, on Aug. 16. The coalition, which also holds six so-called marginal Queensland seats, begins its campaign on Aug. 8 in the city.
"Queensland is devastatingly important to both parties," said Nick Economou, a political scientist at Monash University in Melbourne. "Voters feel Rudd's demise was wrong and they don't like it. It is good that he will be part of the campaign."
Rudd, a former diplomat to China, didn't comment on speculation he'll be named foreign minister if the government is re-elected, saying it is a matter for Gillard.
Political Capabilities
"Kevin Rudd is a man of enormous capabilities and obviously he is a man with public policy passions in many areas," Gillard said. "He's spent a lifetime in foreign affairs, what first got him really active and interested in politics was his fascination with China."
The Labor Party also faces a challenge in the nation's most populous state, New South Wales, according to the Newspoll survey published in the Australian newspaper yesterday. New South Wales Labor voters changing allegiance may cause the party to lose the election, the newspaper said.
The telephone poll of 3,437 people had a margin of error of as much as 3.8 percentage points.
Gillard's election campaign has been damaged by leaks that have been linked to Rudd. The former prime minister has denied being the source of the information.
"That's a question that should go to journalists," Rudd told the ABC last night. "The source isn't me."
To contact the reporter on this story: Gemma Daley in Canberra at gdaley@bloomberg.net
To contact the editor responsible for this story: Bill Austin at billaustin@bloomberg.net